Just Blotted
New Since Last Update
9/21/2004
Chris Blight
9/21/2004
I've long been a fan of Singer Sargent's work and your site has helped my appreciation of that with such a comprehensive chronology of his work.....being an artist myself I can appreciate a little more what I see in his work (go to)
Steve Milton
9/21/2004
Some time ago I promised to obtain a photo of the charcoal sketch of Mrs. Cockerell. [Here she is]. (go to)
[As you may remember my interest with the artist John William North] I am ashamed to draw attention to my pathetic web pages - they will improve!

The-Idyllists (go to)

Erica Rex
9/21/2004
I am doing research for a fictional work based on the painting The Daughters of Edward Darley Boit . . . I was wondering if you [and the Co-maniacs] could name some historical books which would have good background/ descriptions of the world of 1880s-1920s London / Paris / New England (late Victorian, in other words.) (go to)
Matt Davies
9/21/2004
Attached is an interesting article I recently found on de László. This one is different from most of the other articles on de László I have passed you, as it focuses on his life more so than on his specific works. It gives some neat little tidbits about his hobbies (e.g. golf) and his home life:

"The Who's Who Painter" (Private Lives, No. 137: Philip de László) (go to)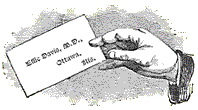 Letters to the Editor
F. Clason Kyle
9/10/2004
I would very much like to see the portrait of Edwin Booth that Sargent painted. It is in the Players in N.Y.. and Mr. Booth "played" the Springer Opera House here in Columbus in 1876. (go to)
Francesca Miller
9/2/2004
I'm sending you another Sam Medal, this time one that features him in profile...what a gorgeous man he was! (go to)
Daniel Craig
9/2/2004
I wanted you to know that I LOVE your pics of San Marco. I intend to link to this site for my college music appreciation students. Editor's Note - 50 bonus points to those who can guess why. (go to)
Udo Dünnebacke
9/2/2004
I am returned from Cancale [and I have an answer to the question.] (go to)
Simone Simonian
8/18/2004
A while ago I wrote to you about working on a painting of a young boy. After a few long months the painting is finished, and as I promised, I'm sending you a picture of it complete. (go to)
Jon Aymon
8/8/2004
The fog was just right yesterday to form a frame for this picture (go to) Editor's Note - what is the relevance you ask?
This would be on the grounds of yet another "Sargent Gallery" which, it so happens, is a copy of a building in France which, it turns out, just happens to house the highest distinguished honour in France, which, surprisingly enough, was awarded to . . . you guessed it -- Sargent in 1889 -- see how that works?
Joan Jackson
8/18/20048
Elizabeth Asquith as a child (go to)
Sheila D'Amico
8/18/2004
An artist you might want to add to your list: Clarence R. Mattei (go to)
Matt Davies
8/18/2004
As has happened so often, where there's some de Laszlo research to be done, there follows some Sargent tidbits as well.
I recently purchased a copy of an old book by H. Montgomery Hyde entitled Londonderry House and its Pictures (Cresset Press Ltd., London, 1937). On page 60 of this book it gives an entry for each of three works that were then in the possession of the family of the Marquess of Londonderry. (go to)
Udo Dünnebacke
7/20/2004
I am an enthusiast of Cancale . . .You are interested in the label on the postcard [of the lighthouse at Cancale from my website] . . . I am pleased that you also have taken this picture to explain the paintings of John Singer Sargent. . . [I have the translation of the label for you] (go to)
Michael Del Priore
7/16/2004
I have had the privilege in seeing and working in Sargent's studio at 33 Tite St. I'm a personal friend of Richard Ormond (Sargent's Great Nephew) and Julian Barrows (Owner of 33 Tite Street). (go to)
Tony Perez
7/16/2004
I've been trying to obtain a copy of the 1926 article "The Real John Singer Sargent, As His Valet Saw Him" . . . Our reference librarian says it is . . .from the Boston Evening American, February 7, 1926. (go to)
Joan Jackson
7/14/2004
I told you that Frederick Barnard's father was a silversmith. Well, here is one of their pieces. William Barnard [also a silversmith] is Elinor Barnard's grandfather who was dead by 1851. These pieces show up on ebay from time to time. (go to)
Wendy & Gordon Hawksley
7/7/2004
We have come across the attached Sargent painting of Dr Morton Prince on some recent research - we are not sure whether you have seen it (go to)
Michael & Susan Roller
7/7/2004
Attached is about as much as we know [regarding Sargent's paintings of the Rollers] (go to)
Steve Moppert
7/2/2004
You are most certainly on the right track and I, and many of my artist friends, are most appreciative to be able to see such a compendium of Sargent's works (go to)
Joan Jackson
7/2/2004
More on Alice Faraday Barnard's family (go to)
7/7/2004
Geoffrey Barnard, Alice's oldest child, died in 1891 (go to)
Francesca Miller
7/2/2004
Just wanted to send a lovely little bio about Sam [Pozzi] and another, more complete biography about Catherine, his daughter. They had a very strained relationship and she was much closer
to her mother. (go to)