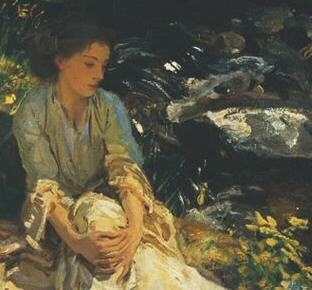 The Black Brook
(close-up)
1908
8,300,000 . . . . . . . Estimated combatants killed, all nations
7,000,000 . . . Estimated combatants maimed for life, all nations
8,000,000 . . . Est. civilians killed in Great War: Non-influenza
The Great War in Numbers

Title

Jascha Heifetz
March 1918
Isabella Stewart Gardner Museum, Boston
Pencil
9 1/2 x 8 3/4 in.


Ruined Cathedral, Arras
1918
Thumbnail only
Private collection, U.K.
Oil on canvas
22 x 28 in.


Henry Tonks
1918
Natasha
Syndics of the Fitzwilliam Museum,
Cambridge, England
Pencil and ink on paper
24.8 x 37.1 cm (9 3/4 x 14 5/8 in.)




A Street in Arras
1918
Natasha
Imperial War Museum, London
Watercolour
39 x 52 cm




Wheels in Vault
1918
Metropolitan Museum of Art, New York
Watercolor, graphite, and wax on white wove paper
39.1 x 52.9 cm (15 3/8 x 20 13/16 in.)
Gift of Mrs. Francis Ormond, 1950 (50.130.56)




Arras
1918
Owner?
Sketch
Size?




Ruined Cellar—Arras
1918
Metropolitan Museum of Art, New York
Watercolor and graphite on wove paper, mounted to cardboard
36.5 x 54 cm (14 3/8 x 21 1/4 in.)
Gift of Mrs. Francis Ormond, 1950 (50.130.78)
Inscriptions: [on verso at upper right]: 28 [underlined]; 990 // Arass [sic] [encircled]; [at center]: 18 / T[?]; [along left edge]: by J.S.Sargent 1914; [at lower left]: V.O / (trust); [stamped at center]: C.ROBERSON & CO. ARTISTS' COLOURMEN, 99 LONG ACRE, 154 PICCADILLY, LONDON









Gassed
1918-19
Natasha Essay
Imperial War Museum, London
Oil
231 x 611.1 cm (91 x 240 1/2 in.)











The Road
1918
Museum of Fine Arts, Boston
Oil on canvas
38.1 x 67.31 cm (15 x 26 1/2 in.)
The Hayden Collection.
Charles Henry Hayden Fund 19.759




Truck Convoy
1918
Metropolitan Museum of Art, New York
Watercolor and graphite on white wove paper
34 x 53.4 cm (13 3/8 x 21 1/16 in.)
Gift of Mrs. Francis Ormond, 1950 (50.130.54)




Artillery on the March
c 1918
Private collection
Sketch
Size?




Six Head Studies for "Gassed"
1918-19
The Corcoran Gallery of Art, Washington, D.C.
Charcoal and stump on beige laid paper
18 3/8 x 24 1/8 in.




Studies of a Soldier Drinking, for Gassed
1918-1919
Cleveland Museum of Art, Ohio
Charcoal (stumped in places) (left figures) and graphite (right figure); squared in graphite (right figure)
48.1 x 62.6 cm, Overall: 48.1 x 62.5 cm
Inscription: signed?, lower left, in graphite: JS.312.
Gift of Jane Iglauer Fallon in memory of Harold Fallon 1997.256.a




Study for Gassed (2)
1918
Private collection
Mixed
18.7" x 24.3 in.




Camouflaged Field in France
1918
Metropolitan Museum of Art, New York
Watercolor, gouache, graphite, and wax crayon on white wove paper
33.9 x 53.1 cm (13 5/16 x 20 15/16 in.)
Gift of Mrs. Francis Ormond, 1950 (50.130.52)




Soldiers at Rest
1918
Fitzwilliam Museum, Cambridge, UK
Watercolour over traces of pencil on paper
34.3 x 53.5 cm
Lent by the Syndics of the Fitzwilliam Museum, Cambridge, 1151




Poperinghe: Two Soldiers
1918
Museum of Fine Arts, Boston
Watercolor on paper
33.7 x 52.1 cm (13 1/4 x 20 1/2 in.)
The Hayden Collection—Charles Henry Hayden Fund 21.140




Thou Shalt Not Steal
1918
Natasha
The Imperial War Museum, London
Watercolor on paper
52.7 x 33.6 cm (20 1/4 x 13 1/4 in.)




Tommies Bathing
1918
Metropolitan Museum of Art, New York
Watercolor and graphite on white wove paper
15 5/16 x 20 13/16 in. (39 x 52.8 cm)
Gift of Mrs. Francis Ormond, 1950 (50.130.48)




Tommies Bathing (2)
1918
Metropolitan Museum of Art, New York
Watercolor, gouache, and graphite on white wove paper
33.9 x 53.1 cm (13 5/16 x 20 15/16 in.)
Gift of Mrs. Francis Ormond, 1950 (50.130.58)




Camp with Ambulance
1918
Metropolitan Museum of Art, New York
Watercolor and graphite on white wove paper
39 x 52.7 cm (15 5/16 x 20 3/4 in.)
Gift of Mrs. Francis Ormond, 1950 (50.130.50)




Tents, Bailleul
1918
Museum of Fine Arts, Boston
Watercolor
33.7 x 52.4 cm (13 1/4 x 20 5/8 in.)
The Hayden Collection. Charles Henry Hayden Fund 21.139




Camouflaged Tanks, Berles-au-Bois
(Black and White Image)
1918
The Imperial War Museum, London
Watercolor on paper
34 x 52.3 cm (13 3/8 x 20 9/16)




Military Camp
1918
Metropolitan Museum of Art, New York
Watercolor and graphite on white wove paper
34 x 53.1 cm (13 3/8 x 20 7/8 in.)
Gift of Mrs. Francis Ormond, 1950 (50.130.51)




The Interior of a Hospital Tent
1918
Natasha Essay
The Imperial War Museum, London
Watercolor on paper
38.5 x 51.9 cm (15 3/16 x 20 7/16 in.)




Title?
(Garden Gate watercolor)
1918
The Imperial War Museum, London
Watercolor on paper
Size?
(probably something like 39 x 52 cm)




Crashed Aeroplane
1918
Owner?
Watercolor
Size?




Berles-au-Bois, France
1918
Private collection
Watercolor
15.2" x 20.7 in.




A Wrecked Sugar Refinery
1918
Imperial War Museum, London
Watercolor and graphite
13 1/4 x 20 3/4 in.




Dugout
1918
Metropolitan Museum of Art, New York
Watercolor and graphite on white wove paper
39 x 53 cm (15 5/16 x 20 7/8 in.)
Gift of Mrs. Francis Ormond, 1950 (50.130.53)




Mules
1918
Metropolitan Museum of Art, New York
Watercolor, graphite, and wax crayon on off-white wove paper
33.4 x 53.1 cm (13 3/16 x 20 15/16 in.)
Gift of Mrs. Francis Ormond, 1950 (50.130.49





Mrs. Percival Duxbury




and her Daughter




1918




Manchester Art Gallery, UK




Oil on canvas




143.5 x 120.7 cm (56 1/2 x 47 1/2 in)




Inscription: (Upper left:) John S. Sargent (Upper right:) 1918 signed




Presented by Duxbury, Percival, Mrs., 1945. #1945.41



1918 (62 years old)
Year In Context

"On March 29, 1918, Sargent's niece Rose Marie, daughter of Mrs. [Violet] Ormond and widow of Robert Andre' Michel who had fallen while fighting on October 13, 1914 was killed in Paris. She was attending a Good Friday service in the church of St. Gervais when a German shell struck
the building, killing seventy people, among whom was Madame Michel. She was a person of singular loveliness and charm, and had figured in Sargent's works, notably in Chashmere, The Pink Dress and the Brook .. .. She had traveled with him on some of his sketching tours, and her youth and high spirits and the beauty of her character had won his devotion. Her death made a deep impression on him." (Charteris, P210)

By 1918 Rose-Marie Ormond Michel would have been approximately 28 years old. John, of course, had never married and was childless. He must have been drawn to her like a doting father for he was very close to all his family and I think Rose-Marie was his favorite model. The loss he felt must have been no less than the loss of a parent.

The war has hit home now -- twice. John's sister Violet won't leave Britain because her boys are enlisting, and Emily won't leave her sister Violet. In the tragic aftermath and with Sargent still in the States, he feels the growing isolated from his sisters.

In America, Bas-Reliefs are installed in the rotunda of the Boston Museum of Fine Arts.

Afterwards he returns to London.

May: he agrees to be an artist for the allies.

In June, at the age of 62, he travels to France as an official war artist and is stationed near the front lines. He is joined by Henry Tonks in July.

In August he travels to Arras.

In September, near Pernne, he makes sketches for Gassed.

Sargent also paints many other paintings and sketches done in the field, there are ones of bombed and burned out churches.

That year, the Armistice is signed and goes into effect at eleven AM, the eleventh day of the eleventh month. The human tragedy to all sides between 1914 and 1918 is horrific.














Back in London his efforts and work are praised and he is pressed to accept the presidency of the Royal Academy. Probably due to his intense fear of public speaking, probably the most important part of the job description, John threatens to flee the country if elected against his wishes. He successfully resists.