artcyclopedia.com


If you know the artist start here -- this is the best index to thousands of artists links on the net (the former Realist fine art links)
Art History Resources on the Web

appears to be an excellent index to the WebMuseum 11//14/98
Jeffery Howe's 19th and 20th Century Art Links Nice little list -- hey it's got me included, it has to be good, right?
Artnet.com Good souce to seach for news articles, galleries and artists
Resource Library Magazine online Magazine for Representational Art published weekly since 1997, the happenings in the art world 1/22/02
Arts Journal.com


One of the best digest and directories for current daily art news from some of the major newspapers -- The world art scene. I often start my mornings here!!
The Art Newspaper


another good read 2/3/2004


John Singer Sargent Web-Ring
Art, Artist, people Sargent painted between 1856-1925
how to be included

Sargent at Harvard

has extensive holdings of Sargent art much of it is on the net. Very important contriution to Sargent understanding, I just wished the images were a little larger
Sargent's Retrospective Exhibition '98-'99 the best overview of the past exhibition
Seattle Art Museum: JSS Webpage devoted to their show: December 14, 2000 – March 18, 2001
The Gilded Age: the Smithsonian American Art
Sargent log-on page A start page that doesn't have pop-up ads created by Ransford Pyle
La Bella Rosina- Rosina's Vision Sargent at Capri
Bob Speel's 19th century art Good overview on major artists -- mostly British and Pre-Raphaelites
The Victorian Web George P. Landow, Brown University, all things Victorian
Proust by Gabriella Alu (Italian)
Frank Hyde English Artist (1849 - 1937) painted with Sargent at Capri. Run by family of Frank
Charles S. Hopkinson Virtual Gallery American artist from Massachusetts (1869-1962) knew Sargent from Boston connections R2/5/02

Places I search for Sargent images
Artnet.com
Sothebys
Christies To search type (excluding quation marks) "*John_Singer_Sargent*"
Ebay

Helpful Links
FreeTranslation.comDon't understand a foreign language? copy and paste text and it translates it for you. Works better than i thought
Babel Fish Sometimes a second opinion is nice

Research Links
Smithsonian Institution Research Information

(21) Purely a research oriented site, but if you are serious about American artists, this is a MUST! Hint on searching: Last name first no commas.
SIRIS-collections

Even a better search resource than the one above, includes pictures
Cornell University Library (Making of America)


(22) contains a large collection of old American magazines (1815-1926) searchable with an easy engine. Not just the text but also actual reproduction image of the magazines -- outstanding!!R4/9/01
Used & Out of Print Book Search Best search for used books
Internet Archive - Historial reference of the Internet
Wayback Machine

Have a link that went bad? Try looking in the history of the interenet

Contributors to the JSS Gallery websites

Linda Hollander Reads Gertrude Stein audio readings and insight (one of the most knowlageable people on Dr Pozzi) R2/6/02
Artiwizzerd.com, by Sundance Arizona, a great friend of mine and a neat artist
Fuego Flamenco Colette Marie Illarde's page on Flamenco dancing
Genway Gao, painter
Philip Resheph's Lists (1) wonderful man to chat with and has contributed greatly here, thanks Philip R11/8/98
Sandro Botticelli's The Calumny of Apelles paintng Discussion R3/8/99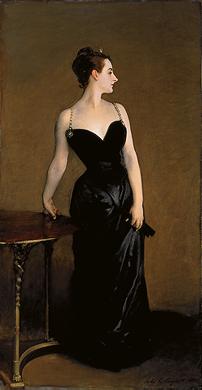 Madame X
John Singer Sargent -- American painter
(1884, Metropolitan Museum, New York)
Jpg: CGFA

Madame X John Sargent portrait Discussion R11/16/98


Individual & Contemporary Art

ArtCafe.Netresource for artists and chat groups
Sandra Van Tuyl architectural structures as a meditative focal point. Her craft superb, site is excellent. R11/30/99
Big CityARTSteve Skinner watercolorist, urban art with great links for all things watercolor. R3/16/00 Ralph Segert "Seven"


How webpages should be designed -- a great introduction to "Minimalistic Web Design" think about it. (updated 1/17/2003)

Gripmonkeymy very best web-page eye candy-- just enjoy it R3/17/99


Helpful links
SearchEngineGuide.org lists web address with multiple search engines in one stroke -- free
GlassdogA fun read site that has some very helpful things on web design
Frameshop site that help build framed web pages
Doc. conversion Converts Microsoft doc. to html


Figure Drawings

exhaustively compiled links to art of Figure Drawing and nudes, wonderful resource! R1/14/02
ArtLex - Visual Arts Dictionary Art dictionary with more than 3,000 definitions, including illustrations
Art School on Line (6) lessions on painting and drawing, "100 greatest paintings ever painted" and some Bios R12/4/98
How to Paint with Watercolors some guidelines and helpful hints on painting in Watercolors R3/16/00
Eyes on Art a learning to look curriculum R12/4/98




Please help me find great locations. Your assignment is to find exceptionally neat, creative, well presented sites from artists and let me know so I can link them here. Drop me a short note below. Thanks.

Natasha :-)
Art Renewal Center


Champions the Romantic period, very good quality pics, scads of artists
CGFA


(1) Outstanding quality, wonderful site, thousands of paintings, grouped by artist and time period.
The Athenaeum


(1)a brand new site that has incredible potential with user submissions of images.
Mark Harden's Artchive

Virtual Exhibits and thousands of painting by artists -- excellent critical analysis 11//14/98
Giorgio Vasari


(1) Italian 1550 and previous --"The Lives of the Most Excellent Painters, Sculptors and Architects" load of pictues good qaulity R1/15/99
Homer


A visual display of Homers stories of the Trojan War from the wealth of western art. loads of images. R10/5/00
Web Gallery of Art


Gothic, Renaissance and Baroque periods (1150-1750) European painting and sculpture over 6,000 images with tours -- excellent. R2/24/00
Virtual Museum of Arts el Pais

Best Virtual Exhibition Site of 1998 juried competition and a lot of fun R11/10/98
Christus Rex et Redemptor

(1) Links to art in the Vatican, the Holy Land, Christian Art, Renaissance, Sistine Chapel, and more
1200 Years of Italian Sculpture

- wow! This site offers a wide-ranging archive of images, organized by sculptor and by region.
The Renaissance Café Painting of the 19th century -- Romanticism, scads of painters and paintings, all of the highest quality, excellent!!
Brian Yoder's Art Gallery & Critic's Corner Victorian artists, great selection of paintings from lesser-known artists R12/1/98
Johannes Vermeer Dutch genre painter (1632-1675) images are smaller than I like but nice -- see also web-museums
Elisabeth Louise Vigée Le Brun

(1) French portrait artist (1755-1842) very in-depth Excellent site R12/4/98
InfoGoya 96Goya, Spanish painter (1746-1828) excellent pages full of info with pictures, incomplete R3/30/99
Manet, Edouard, french painter (1832-1888) the better of the two Manet sites, lots of pictures time line R2/26/99
William Holman Hunt

Pre-Raphaelite artist (1827-1910)- good pics and essays
James McNeill Whistler American Etcher

painter (1834-1903). Excellent graphics and look at Whistlers, the people in his life and etchings. Outstanding! R6/26/00
Whistler Correspondence

Searchable correspondence of James McNeill Whistler
Claude Monet, another

(4) this one is award wining (thumbs up here to) R11/10/98
John Singer Sargent Virtual Gallery

American Painter (1856-1925) part of Natasha's Art Tour Pages, links to over 300 paintings, essays R3/5/99
Paul Gauquinn Good effort by an idividual R11/24/98
The Vincent van Gogh Information Gallery

High quality, everything about him -- personal letters cross ref. to paintings etc. you could spend days here.
Toulouse-Lautrec French print artist (1864-1901) a great presentation by the Sandiego Museum.2/25/02
Online Pablo Picasso Project Spanish Cubist Painter and Sculptor, 1881-1973 everything about him, Pics had to be deleted because of copyright law. R4/10/01


Museums and Institutions of Fine Art

Linked Lists
Virtual Library museums pages
Smithsonian page of museum links

Sites
Dutch University Institute for Art History (DUIA ) in Florence (Italy) No art on the net but important institution. The main thing is the online IRIS catalogue.
The Getty The Getty, again
MOMA
Louvre(7) official site R12/14/98
Derby Museums

(23) of particular note is the paintings of portrait artist Joseph Wright (1734-1797)
Isabella Stewart Gardner Museum holds many Sargent paintings but not too much on the net
The Prado
The Hermitage Museum (20) St Petersburg Russa with high res zoomable images. R3/16/00
The British Museum
The Tate Gallery

Good site but you need to know what your looking for, very little discussion of paintings R12/1/98
The Met
Birmingham Museum of Art Very little art
Van Gogh Museum Check out links to artists across The United States
The National Gallery of Art

Audio and multimedia is available on some exhibits.
Fine Art Museums of San Fran.

thousands of images online. R3/17/99
Detroit Institute of Arts The American Collections Good !!! presentation of art with essays high quality pictures R1/30/99
Musee d'Orsay
The Nelson-Atkins Museum of Art. The collections exhibit is very good
The Art Institute - Chicago
Museum of Fine Arts, Boston

working towards getting all their art online -- wonderful!!
The Cleveland Museum of Art Begining to put all their art online currently have 5 Sargent's online 11/9/01
Chateau of Versailles (9) mildly interesting 360 degree panoramic views are fun R1/6/99

Digital Archive of American Architecture

outstanding database of images
Carfree Cities Cities without cars, think about it, a nice presentation R1/14/02
Antoni Gaudi

(12) Spanish Architect (1852-1926) Marc Robinson essay, example pictures, link index to Gaudi, loads slow but worth the wait -- COOL! R2/15/99
Architecture Through the Ages (4)virtual tour of architecture around the world and other links R11/18/98
Palladio's Italian Villas (1) discussion some pictures I wish there were more pics R11/24/98
History of Architecture and Art (9) some pics, apears to be minial text R1/5/99

Survey of American Literature II. A very well concise link list to American Lit -- wonderful -- by Dr. Lesley Ginsberg
A Classification of American Wealth History and genealogy of the wealthy families of America Gives a pretty good account of many of the names which sargent painted 2/20/2002
American Memory:


The U.S. Library of Congress with more than 7 million digital items from more than 100 historical collections 3/18/2002