Natasha's What's New Index (current)
This Issue
** (out of print)
Spring 2001 **
Fall-Winter 2000-01 **
Summer 2000 **
Spring 2000 **
Winter 99-2000 **
Fall 99 **
summer 99 **
May, 1999 **
April, 1999 **
March, 1999 **
February, 1999 **
January, 1999 **
Nov - Dec, 1998 **

Now Showing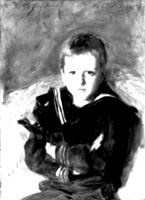 Great Expectations: John Singer Sargent Painting Children


Portland Art Museum, Portland, Oregon:
June 18 - September 11, 2005
Madoka Ito
6/17/2005
We will have Father's Day event this Sunday with several activities for children [which go on throughout the show]. (Go to) Thank you for the great resources!
Madoka Ito
Education Department
Portland Art Museum
Impressionism Abroad: Boston and French Painting
Royal Academy of Arts
2 July—11 September 2005
Norton Museum, Palm Beach, FL
19 November 2005 -- 5 March 2006
Explores the influence of the French Impressionist painters on Boston's artists and collectors during the nineteenth and early twentieth centuries. The exhibition, drawn largely from the Museum of Fine Arts, Boston (USA), will tell the story of Boston's early recognition of and enthusiasm for the work of the Impressionists and the French Barbizon School, in particular their landscape painting. Work by American artists such as William Morris Hunt, John Singer Sargent and Childe Hassam will be placed alongside paintings by Claude Monet and Camille Pissarro as well as earlier French painters such as Jean-Baptiste-Camille Corot and Jean-François Millet, who they also admired and emulated.
From London the show will travel to Florida (Go to)

Painting Madame X:
A One-man Theatre Piece
Bob Diven
5/24/2005
I thought you of all people should know about a show I've created. "John Singer Sargent: Painting Madame X" recently debuted at the Black Box Theater in my home city of Las Cruces, New Mexico. It's a one-man show that I wrote and for which I've recreated Sargent's sketches of Virginie Gautreau, as well as the Salon version of his Portrait of Madame X. I was directed by Tony-Award winning playwright Mark Medoff (Children of a Lesser God). It's a 40-minute piece and features a bit of Sargent-esque piano noodling, banjo strumming and singing, as well as drawing as Sargent works on a cartoon for one of his mural projects. I set the show in his London studio on the evening in January, 1916, when he makes the decision to sell Madame X to the Met. He has received word of Gautreau's death, and finds himself compelled to overcome his usual reserve and tell the story of her painting and their relationship.(Go to)

Carnation, a Book, and a Lily Rose Revisit
Hugh Brewster
7/15/2005
I'm a Canadian children's writer and book producer with a passion for Sargent. The JSS Gallery has been hugely helpful in a children's book I've been writing about the story behind the painting of Carnation, Lily, Lily Rose.
Kate Millet is the narrator of the story which describes Sargent and Ned Abbey arriving at Farnham House in Broadway in September 1885 after their boating trip and Sargent's diving accident at Pangbourne Weir. The story then goes on to describe the Broadway scene in '85 and '86 -- using incidents described in Lucia Millet's letters. It ends with the Millets attending the Royal Academy show in London where Carnation Lily is the hit of the season.
( . . .) I've done extensive research ( . . .) [and] went to Broadway last year and visited Farnham House (Go to)
MFA Redesigns Online Collection Database
7/8/2005
I just recently discovered a major change in the Museum of Fine Art, Boston's online collection of images and they have added some additional images of the Base-relief's seen in the Rotunda and Stairway decorations. This has given us another good step in understanding of Sargent's work there which I have included at the MFA mural pages. (Go to)
The redesign came unexpectedly to me (as is often the case when I go surfing) and I was quite floored with excitement that they have adopted my feelings regarding larger thumbnail images and larger webplate images of their artwork. Major kudos are in order for the webmaster and his/her team (if they have a team) that worked on this as well as the administration for understanding the benefits in doing so. In some ways this reporter would like to think that this paper might have had a hand in convincing them of this project in the article "So you Want to Build a Virtual Gallery" which first appeared at the Co-maniacs in February of this year. The thought that this paper might have caught the attention of the MFA and that they were receptive to some ideas is reflective of a World Class organization striving to make the full experience of their museum and thier World Class collection of art they own, the best it can be for both the good people of Boston and the World at large.
From all the Co-maniacs from all over the world including this reporter – we thank you MFA (Go to)
Natasha's Blog



So you Want to Build a Virtual Gallery
2/4/2005
More thoughts by Natasha Wallace (Go to)

Matt Davies
5/5/2005
Christopher Wood Gallery is currently offering for sale a de László portrait [here] and there were two paintings offered at Christies [here] and [here]
Peter Harrison
4/25/2005
I thought you might be interested in the attached pictures both of which I found recently at the Colorado Springs Pioneer Museum. The connection to this museum was due to an e-mail I wrote to you about my grandfather Lawrence (Peter) Harrison and which you published on your Sargent website. I was contacted by Leah Davis Witherow [with the Colorado Springs Museum and . . . you will love what happened next] (Go to)
Watercolors wash Christies Sale
5/19/2005
Three Sargent's watercolors sold at Christies in New York from their Important American Paintings, Drawings and Sculpture, on May 19th. Both Venetian Canal, 1906?; and Palazzo Zattere, Venice, 1906, brought exactly $144,000 USD each; and Egyptian Water Jars, 1905, fetched $66,000 USD. Why the latter painting would be estimated and finally sold at roughly half the others, I haven't a clue but there it is.
Arthur O. Anderson, M.D.
5/24/2005
I can recall seeing a drawing [by Sargent at Johns Hopkins] hanging near the back door of the women's fund building on Wolf Street. This was back in the early 1970's when I was a pathology resident (Go to)

Players Club had to sell Sargent painting
Marielle
5/24/2005

It is very sad and quite amazing to think that in Mr. Booths own home which he bequeathed to actors his own portrait by the great Sargent would be sold. (Go to)
Special Features for your next Museum Visit
5/31/2005
When was the last time you re-watched a DVD movie with the audio set to special features so you could listen to the director or some of the leading actors talk? If you've done that recently -- especially one in which you loved, then you know how interesting, informative and how entertaining the special features can be.
Now the next time you're fortunate enough to be on a docent tour of your local art museum how about hitting the special features button and listen to something that might sometimes be irreverent, sometimes insightful, and sometimes playful banter of a private art tour all mixed to your favorite music instead of the often dry scripted talk of the museum's "official" version of your favorite art piece.
The future is now and it has got to be one of the most exciting things to emerge in the world of art. Instead of a DVD player, the technology of choice is the ipod. Just download the audio to your portable player and off you go with your own personal tour of the museum, produced and disseminated from a group of friends which has completely bypassed the establishment.
It is the most exciting democratization revolution to ever hit public art museums and one of the most exciting things ever to get kids and the general public actively involved in their art – it is that important.
Randy Kennedy recently caught this growing phenomena in a New York Times article (May 28th "With Irreverence and an iPod, Recreating the Museum Tour")
Late teens and 20-somethings are designing their own tours of the MOMA (Museum of Modern Art, New York) and they are making these audio tours available to everyone on the web – for free. David Gilbert, a professor of communication at Marymount Manhattan College who is encouraging this, describes it on their Web site as a way to "hack the gallery experience" or "remix MoMa," The website of some of these tours is at Web site, mod.blogs.com/art_mobs
With attendance of major art museums on the decline from younger audiences in recent years, these institutions would behoove themselves not to squelch such a creative form of participation. Personally, I can't think of anything more exciting and given the cost of producing something like this so inexpensive, the potential for some mind expanding experiences is phenomenal!!!!! Certainly there will be junk put out, but there well also be voices heard that never would have had a chance to navigate the stuffy one-size-fits-all mentality of curatorial haughtiness (Go to)