Natasha's What's New Index (current)
This Issue
** (out of print)
Spring 2001 **
Fall-Winter 2000-01 **
Summer 2000 **
Spring 2000 **
Winter 99-2000 **
Fall 99 **
summer 99 **
May, 1999 **
April, 1999 **
March, 1999 **
February, 1999 **
January, 1999 **
Nov - Dec, 1998 **

Now Showing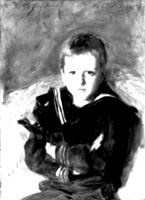 Great Expectations: John Singer Sargent Painting Children
Brooklyn Museum of Art
October 8, 2004—January 16, 2005

Chrysler Museum of Art, Norfolk, Virginia:
February 25 - May 22, 2005

Portland Art Museum, Portland, Oregon:
June 18 - September 11, 2005
Sotheby's Auction Sets Record Price
12/6/2004
When the hammer fell on December 2nd in the halls of Sotheby's what had stood for eight years and seemingly unreachable, lay shattered in a million pieces. The former high water mark set by Cashmere in 1996, when it sold for $11,112,500 to Bill Gates, was more than doubled by Sargent's painting of Group with Parasols which realized a price of $23,528,000 USD including buyer's premium -- far exceeding the estimated price between 9,000,000 -- 12,000,000 USD. Five bidders competed for the painting and eventually ended up with an anonymous buyer according to a recent BBC News story.
Other works that were sold, which came from the collection of Rita and Daniel Fraad, were A Spanish Barracks, c.1903 realizing $142,400 USD; and a drawing called Studies for Venetian Street Scene, c. 1880-1882 which brought $36,000 USD.
Across the street, so to speak at Christies, a sketch of Carolus Duran done after Sargent's oil of him brought a hefty price of $724,300.00 USD, the painting Corfu sold for $95,600.00 USD which was, surprisingly, less than it sold the previous year; and a portrait of Sir Charles Macpherson Dobell, went for 50,190. British Pounds.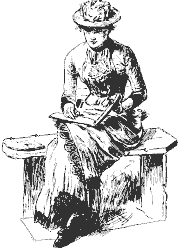 Natasha's Blog
12/6/2004
It has been red letter days at the Bailey Building and Loan. So much has gone on since I have made any updates to the Co-maniacs and as much as it might seem I might have fallen off the earth, or that I might have sold out to Mr. Potter. I can assure you that the doors are still open to this little shoestring of an effort I call the Co-Maniacs. What has kept me from making any updates has been my life outside of the JSS Gallery which has been pretty busy as well.
This doesn't mean, however, that little has been going on at JSS Central. I have been learning new programs which, hopefully, will make my life easier and I have been trying to get some really neat things online which have been sitting in the wings for weeks. This will show up here shortly in this issue of the paper.
What's on my Christmas list? More Lists
12/7/2004
In November Andy Holzopfel (a Friend of the JSS Gallery) wrote to the Brooklyn Museum regarding a listing of work for the Exhibition currently underway. Meg Holscher, Dept. Assistant, of American Art, was kind enough to respond wherein she wrote "Please see the following list of paintings that are on view. I have included the corresponding plate numbers from the catalogue." (Go to)

New Paintings
Basin with Sailor, Villa Vizcaya, Miami, Florida, 1917; Venice, 1880–82; Chalets, Breithorn, Murren, 1870; Studies of a Dead Bird; 1878; Antonio Mancini, c.1898; The Model: Interior with Standing Figure, 1876; Katherine Chase Pratt, 1890; Girgenti, c. 1901; Rio dell'Angelo, 1902; Mrs. Gardiner Green Hammond (Esther Fiske Hammond), 1903; Rio dei Mendicanti, 1903; Rio di San Salvatore, Venice, 1903-04; Bedouin Mother, 1905; Black Tent, 1905-06; Arab Stable,1905-06; Falconieri Gardens, Frascati, 1907; Guiudecca, c.1907; All' Ave Maria, c.1907; In the Simplon Pass, 1910;
Sargent Places
12/10/2004
Andy Holzopfel went to the Brooklyn Museum of Art and a new listing is added (Go to)
So you Want to Build a Virtual Gallery
1/12/2005
Preparation of Virtual Galleries, thoughts by David Hyde (Go to)
Thoughts by Natasha Wallace (Go to)