Portrait of the Artist: Lawrence Alexander "Peter" Harrison
1902
Giovanni Boldini (1845 -1931) Italian-French portrait painter
Property from the Collection of an American Ambassador, Washington, D.C.
Oil on canvas
126.1 by 101cm. (49 5/8 by 39 3/4 in.)
signed and dated Boldini/1902 (lower left)
jpg: Sothebys
Lawrence Alexander "Peter" Harrison (1866-1937) was an English portrait artist and landscape painter, as well as a collector of contemporary art. In 1890 he married Alma Strettell (a friend and subject of John Singer Sargent). He was a member of the "Chelsea set" and joined the New English Art Club in 1904. He rarely exhibited his work -- just a few times with the NEAC. He was friends with Henry Tonks, and Philip Wilson Steer.

From: Sothebys
Boldini's depiction of Lawrence Alexander "Peter" Harrison is among the most distinguished and sophisticated of Boldini's male portraits. Boldini may have first met Peter Harrison through American artist John Singer Sargent, with whom Boldini was friends and whose portrait Boldini painted in

Giovanni Boldini

John Singer Sargent
1889

1889 [thumbnail]. Peter and his brother Leonard Frederic "Ginx'' Harrison, nephews of Robert Harrison of Wargrave, Berkshire, were Sargent's close friends and traveling companions. They accompanied Sargent on his travels to Switzerland and Italy, where Sargent featured them in a series of dazzling watercolor studies, including Group with Parasols [thumbnail], as well as Siesta [thumbnail], both in private collections. . . .

Unlike Boldini's official portrait of Peter Harrison, Sargent offers a private glimpse of friendship and casualness in Peter Harrison Asleep, which serves as a striking contrast to Boldini's public portrait. Peter Harrison is shown dozing unaware, his left hand hanging over the side of the bed, his right still propping up a book. Sargent captures the outline of Harrison's towering form, also elegantly conveyed as a salient feature in Boldini's sinuous rendition. In Boldini's portrait of "Peter'' Harrison, the use of space is unconventional yet brilliant, as Boldini creates the illusion that Harrison's imposing figure cannot be contained by the mere boundaries of canvas. The sitter sits diagonally on the chair, affording Boldini the opportunity to show-off his skill at conveying a sense of motion in the subtle but sensual curve of his body. The depiction of Harrison's left hand alone is a tour de force; its assured and forceful character bespeaks the nature of the sitter. The British Harrison, painted in varying gradations of grey, appears royal in stature, as Boldini depicts him in keeping with the great portrait traditions of Gainsborough and Reynolds. This portrait purports a subtle elegance and grace, eschewing the pitfalls of caricature and exaggeration.

As the great American writer and doyenne of Parisian artistic and literary circles Gertrude Stein presciently noted, "when times have established values at their correct places, Boldini will be recognized as the greatest painter of the last century. All the new school was born of him, since he first, simplified the line and the planes.''

Boldini's Portrait of Lawrence Alexander "Peter" Harrison is one of his last paintings of an artist remaining in private hands. His portraits of Whistler, Degas, Helleu and Menzel have already entered museum collections in America and Europe.
(Sothebys)

From: Peter Harrison
peter har ris on@comcast.net
Date: Wed, 26 Feb 2003

I stumbled across your website by accident and was delighted to find a portrait of my grandfather Lawrence Alexander "Peter" Harrison by Boldini.

I knew this picture existed because my Father had mentioned it and I knew it was in the possession of his sister, my aunt Sylvia Harrison after my grandfather died. But I had never seen it, so it was a great pleasure to finally get a viewing.

I think your Sargent website remarkable, to say the least. It really shows how incredibly prolific he was ... he never stopped working. While his friends snoozed under umbrellas he was not snoozing but making pictures of them.

My family owned quite a few Sargents. Some of these have gone but the family still owns the portrait of my grandmother Alma Strettel (numbered 895 on your list). Also one of the
watercolors of Harrisons in a field under umbrellas. Sargent and his friendship with the Harrison family was often discussed.

John Singer Sargent

Prophets Micah, Haggai, Malacchi, Zechariah
Boston Public Library Murals
(Peter Harrison modeled for Malacchi --third from the left)

When I last visited the Boston Public library there was the Sargent mural and there was my grandfather depicted as one of the prophets.

When my grandfather died during WW2 my father inherited a full length portrait of my aunt sylvia. It was very big and we lived in a small house in London with no place to hang it so my father unwisely decided to sell it. It went at auction for 35 pounds to a buyer in Manchester! At that time Sargent paintings had a very low value and he was considered too slick and old-fashioned in his style [1]. Warren Adelson recently gave me an 8x10 transparency of this picture which has ended up in the hands of somebody in New York I believe. I understand they paid more than 35 pounds for it!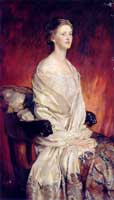 Sylvia Harrison
1913
(daughter to Peter Harrison)

Mon, 25 Apr 2005

I thought you might be interested in the attached pictures both of which I found recently at the Colorado Springs Pioneer Museum. The connection to this museum was due to an e-mail I wrote to you about my grandfather Lawrence (Peter) Harrison and which you published on your Sargent website. I was contacted by Leah Davis Witherow [with the Colorado Springs Museum].

She told me that they had a lot of photo album scrapbooks and some paintings by Peter Harrison. On a drive across country I visited Leah at the museum and she showed me what they have there. I took a couple of photos (see below) but did not have much time to go through the collection. The attached drawing of my grandfather by Sargent was found amongst the scrapbook material which belonged to Dorothy Palmer and which the museum had recently acquired from the Palmer family descendants in England.


John Singer Sargent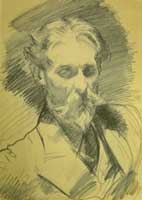 Peter Harrison Mug
Undated
Peter Harrison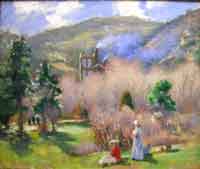 General Palmer's house in the Garden of the Gods
1906
The painting is by Peter Harrison and is of General Palmers house in the Garden of the Gods in Colorado Springs. It was painted in 1906 when Harrison visited the Palmers. There is another landscape by him in the museum which I was unable to photograph.

The photo albums are fascinating and are full of pictures of the Harrison family (including my father at about nine years old) and many including Sargent on various holidays around Europe and Colorado.

You might also be interested to know that I have had a couple of other enquiries about
Alma (Strettel) Harrison and her association with the art world of London at the turn of
the last century. Aslo because of your connection.

with best wishes...Peter Harrison

Note:
Sold at Sotheby's; Sale N07782; Session 1; 24 Apr 2002; lot 109; $1,439,500

1)
For more on how Sargent's Art fell from popularity see The fall and rise of Sargent



Provenance:
Miss Sylvia Harrison, Portofino, Italy (the sitter's daughter)
Collection of Sir Valentine Abdy, Bt.
Sale, New York, Sotheby's, February 28, 1990, lot 95, illustrated
Acquired by the present owner from the above sale
Literature:
Jean Feray, "Beaucoup de Boldini," Connaissance des Arts, No. 431, January 1988, p. 87, illustrated
Tiziano Panconi, Giovanni Boldini: L'uomo et la Pittura, Pisa: Pcini Editore, 1998, pp. 90-91, illustrated p. 91