Sampling of works
by Boldini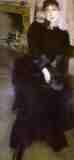 Alaide Banti
1860-1870
Oil on Wood
23x37 cm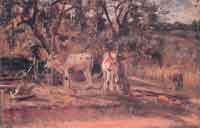 Paesaggio Agreste
(Agreste Landscape)
1867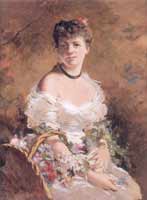 Signora con Fiori
(Lady with Flowers)
1870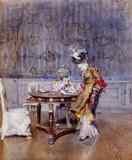 The Letter
1873
Private collection
Watercolor over pencil on paper attached at the edges on board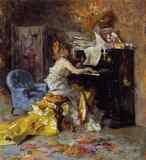 Woman at a Piano
c 1870's
Private collection
Oil on panel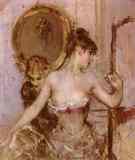 Putting on her Dress
Christie's, New York
Oil on wood
21.6 x 17.5 cm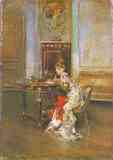 Young Woman Writing
Larin, Guilloux and Buffetaud, Paris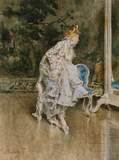 The Beauty Before The Mirror
Date?
Watercolor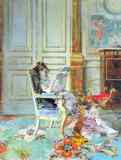 Liseuse dans un Salon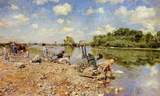 The Laundry
1874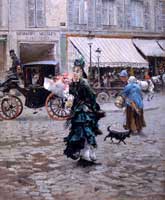 Crossing the Street
1875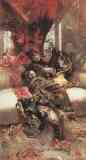 Young woman seated on the divano
(Mondana that re-enters)
1878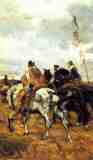 Horses and Knights
Oil on tablet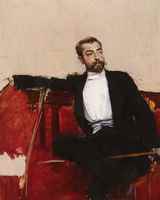 A Portrait of John Singer Sargent
c. 1880-1884?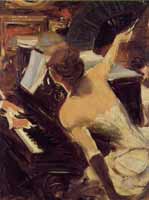 La cantante mondana
(The Mondona Singer)
1884

The Piano paintings
before July 1886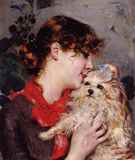 Madame Rejane (Gabrielle Rejane)
c 1885
Oil on canvas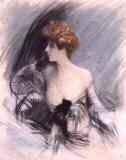 Ritratto
Pastel on cardboard
(Portrait of Sarah Bernhardt?)
about 1880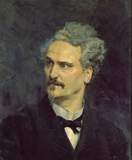 Henri Rochefort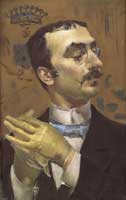 Henri de Toulouse-Lautrec
Date?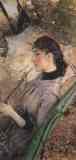 Profile of Alaide Banti
1885
Oil on table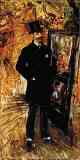 Ferrara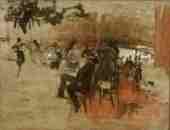 Cafe Scene
c. 1887
oil on panel
30 1/2 x 39 (77.5 x 99.1 cm) inches
Bequest of Whitney Warren Jr. in memory of Mrs. Adolph B. Spreckels 1988.10.5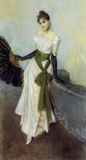 Signorina Concha de Ossa
1888
Pastel on prepared canvas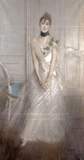 Portrait of Emiliana Concha de Ossa
c. 1888
Pastel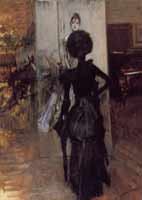 Donna in nero che guarda il pastello della signora Emiliana Concha de Ossa
(Woman in black who watches the pastel of . . .)
1888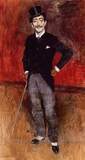 Portrait of the Comte de Rasty
Date?
Watercolor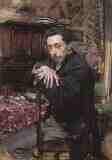 Il pittore Joaquin Araujo Ruano
1889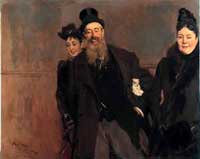 John Lewis Brown with wife and daughter
1890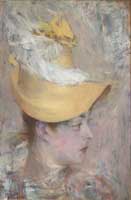 Testa di signora con capellino giallo (Il cappello giallo)
1890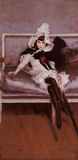 Giovanetta Erraruiz
1892
(daughter of Madame Josephina Alvear de Errazuriz)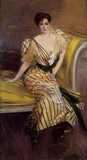 Madame Josephina Alvear de Errazuriz
1892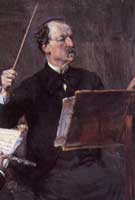 Il maestro Emanuele Muzio sul podio
1892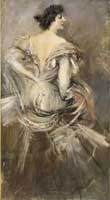 Signora Bruna in Abito Da Sera
1892-1894

Portrait of the Artist Ernest Ange Duez
1896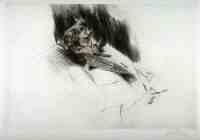 Portrait of Whistler Asleep
1897
Drypoint
19.8 x 29.8 cm (image) inches
Achenbach Foundation for Graphic Arts purchase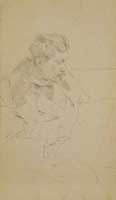 Portrait of James Abbott McNeill Whistler
c. 1890-1900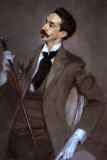 Count Robert de Montesquiou
1897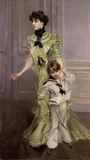 Madame Georges Hugo (Jeanne Hugo) and Her Son
1898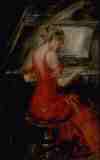 La femme en rouge
(The Woman in Red)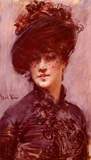 La Femme Au Chapeau Noir
Date?
Pastel on linen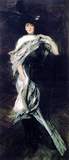 Edith Stuyvesant Dresser Vanderbilt
1900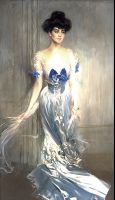 Portrait of Mrs. Graham Fair Vanderbilt (1875-1935)
(First wife of William Kissam Vanderbilt II, and mother of Muriel and Consuelo Vanderbilt)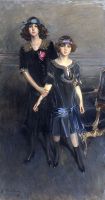 The Misses Muriel and Consuelo Vanderbilt
Oil on canvas
224.2 x 120 cm (88 1/4 x 47 1/4 in.)
Gift of Mrs. Vanderbilt Adams 67.31.2
(daughters of William Kissam Vanderbilt II, and first wife Virginia Graham Fair Vanderbilt)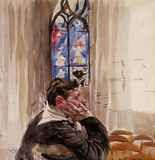 Portrait of a Man in a Church
1900
Watercolor on paper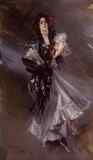 Anita de la Ferie,
'The Spanish Dancer'
1900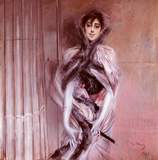 Portrait of Emiliana Concha de Ossa (2)
1901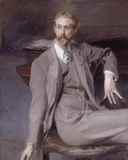 Portrait of the Artist: Lawrence Alexander "Peter" Harrison
1902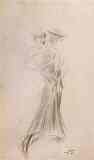 Deux Promeneuses (Two Ladies Out For A Walk)
1902
Crayon on paper

Profile sketch of John Singer Sargent and Paul-César Helleu
1902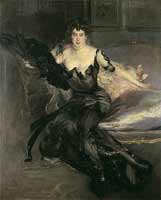 Florence, Mrs. (later Lady) Lionel Phillips
1903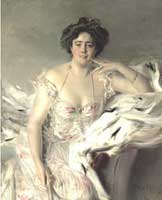 Portrait of Lady Nanne Schrader (Née Wiborg)
1903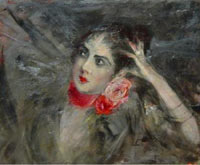 Princes Radziwill with red ribbon
1904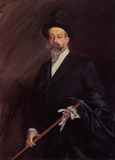 'Willy', The Writer Henri Gauthier-Villars
1905
Private collection
Oil on canvas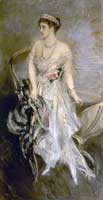 Princess Anastasia of Greece
Date?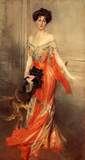 Lady Decies
Mrs Henry Lehr
(nee Elizabeth Drexel)
A.K.A
Lady Decies
("Bessie")
1905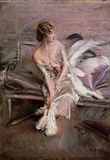 Gladys Deacon (1881-1977)
c, 1905-1908
Oil on canvas
(Second wife of the Duke of Marlborough after he and Consuelo were divorced)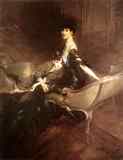 Consuelo Vanderbilt (1876–1964), Duchess of Marlborough, and Her Son, Lord Ivor Spencer-Churchill (1898–1956)
1906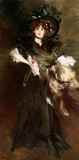 Ritratto di Mlle Lanthelme
(Miss Lantelme)
1907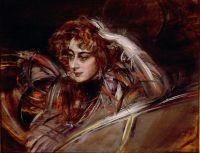 Portrait of Madame X,
1907
Oil on panel
10 1/2 x 14 (26.7 x 35.6 cm) inches
Bequest of Whitney Warren, Jr. in memory of Mrs. Adolph B. Spreckels1988.10.6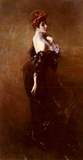 Portrait of Madame Pages in Evening Dress
Date?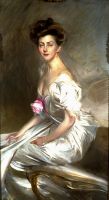 Portrait of Mrs. Whitney Warren, Sr.
1908
Oil on canvas
60 x 33 (152.4 x 83.8 cm) inches
Bequest of Whitney Warren, Jr. in memory of Mrs. Adolph B. Spreckels1988.10.8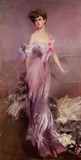 Mrs. Howard-Jouhston (Dolly Baird of Dunbarton)
1908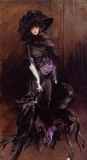 Marchesa Luisa Casati, with a Greyhound
1908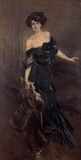 Madamoiselle de Nemindoff
1908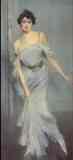 Madame Charles Max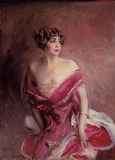 Mlle. de Gillespie, 'La Dame de Biarritz'
1912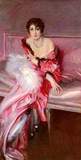 Madame Juillard In Red
Giovanni Boldini -- Italian-French portrait painter
1912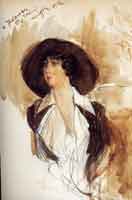 Donna Franca Florio Portrait
1912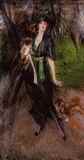 Lina Bilitis, with Two Pekinese
1913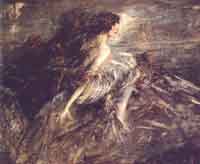 La marchesa Luisa Casati con penne di pavone
(Portrait of the Marquise with peacock pens)
1914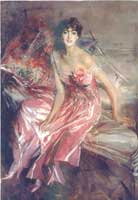 La Signora in Rosa
(Emilia Concha de Fontecilla)
1916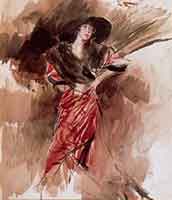 Signora in abito rosso
c. 1916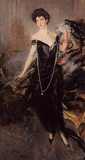 Portrait of Donna Franca Florio
1924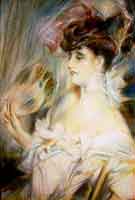 Madame Marie-Louise Herouet
Date?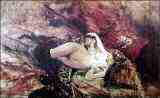 Naked Young Lady with Blanket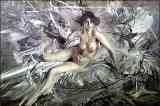 Nude of Young Lady on Couch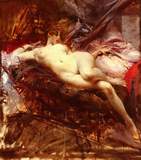 Reclining Nude (2)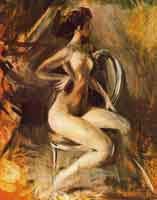 Nudino Scattante
(Nude Casting Off)