1890 (34 years old)
Year In Context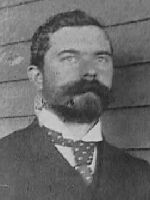 John Singer Sargent
Photograph 1890
January: Sargent, for the first time shows his Impressionist work to the public in Boston at the St. Botolph Club where he exhibited A Morning Walk (1888), but he finds that the public liked Dennis Bunkner's work better.
Then in February 13th thru 15th he exhibited again at the New York Union League Club. Here, Sargent was almost alone in showing an Impressionist painting which included Paul Helleu Sketching with his Wife (1889) and A Morning Walk (1888). Again, the critical reaction was muted at best.
While he's in New York, he goes with James Carroll Beckwith and sees Carmencita perform whom he saw the previous year at the Exposition Universal, Paris. 10 days later he arranges to have her perform privately at a party at William Merrit Chases' 10th street studio. He talks her into letting him paint her.
Paul Helleu Sketching with his Wife (1889) travels from New York to Chicago and then back to Philadelphia. In each city the reaction was mixed between indifference and open hostility to Impressionism. Though American audiences had been exposed to both French and American Impressionism since 1883 -- at least to some degree -- the warm welcome Sargent had found in America had suddenly turned to a cold shoulder regarding his Impressionism.
March: he begins painting La Carmencita.
May: he exhibits several painting at the Society of American Artists, New York.






May: John and Edwin Austin Abbey, whom he knew from Broadway, England, both are approached about doing public mural work for the Boston Public Library. The building was under construction and designed by Charles McKim. Those in charge wanted very much to find artists to decorate the building in a fashion of the great public buildings of Europe with public art. Through Stanford White, architect (whom Sargent had met in 1887) and Augustus Saint-Gaudens, (met in Paris in '78) they got their man. The architects meet with Sargent, Abbey, and Saint-Gaudens on May 9th, and both are excited about the wide-open possibilities. Afterwards McKim quickly writes to the Library trustees to get their approval.
June-August: He goes to Massachusetts, Nahant, Manchester, Worcestern for portrait commissions.
In June he paints Mrs. Edward L. Davis and Her Son, Livingston.




End of August and first of September he is in Buzzards Bay Massachusetts where he paints Booth, Jefferson and Lawrence Barrett.


November 7th, He formally receives his commission for the Boston Public Library. Though Sargent had first considered Spanish literature, he eventually chose the history of religion as his subject.
Sargent embarks on public mural projects that would span close to 30 years of his life.
Sometime during the year John is painted by Giovanni Boldini.
He returns to England from United States with his sister Violet. He meets his mother and his sister Emily a Marseilles.
1890 continued . . .