Profile Portrait of James Carroll Beckwith
June 1874
Sargent at Harvard
Graphite on gray wove paper
22.9 x 15.2 cm (actual)
Gift of Mrs. Francis Ormond
Inscription: l.r., graphite: J. C. Beckwith / June 1874
verso, l.r., graphite: 1937.8.3
Jpeg: Sargent at Harvard
James Carroll Beckwith (1852-1917) was another American artist at Carolus-Duran's atelier. Having been there prior to Sargent, Beckwith already knew a number of the expatriate American students -- many of whom came from the New York National Academy of Design.
(See Beckwith's account of meeting Sargent)
James Carroll Beckwith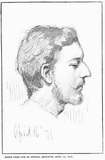 John Singer Sargent -- drawn from Life 1876
John and Carroll (Beckwith hated using his first name) became fast and dear friends and would share studio space in Paris. It would be through Beckwith that Sargent quickly became acquainted with the other expatriates.
Carroll was four years older than John. He was born in Hannibal Missouri (the same town Mark Twain came from) but grew up in Chicago where his father started a business. In 1868 he studied art at the Chicago Academy of Design under Walter Sherlaw until the great fire of 1871 destroyed eveything (including much of the heart of the city). He then went to New York and studied at the National Academy of Design under Lemuel Wilmarth, but eventually, like many other students, traveled on to Europe to learn from the Mecca of the art world -- Paris -- arriving there in November, 1873 (six months before John).
Like John, his timing wasn't good. The ateliers were mostly filled having resumed in October to coincide with the term of the Ecole des Beaux-Arts. Beckwith tried two other ateliers before finding space at Carolus-Duan's.
In 1877, Carolus-Duran picked both Sargent and Beckwith to help him with the mural decoration work for the Palais du Luxembourg, The triump of Maria de Medici.
In the Summer of 1878, Carroll left Paris and returned to the United States. He eventually became an associate member of the National Academy of Design (don't know if he ever became a full member) and taught at the Cooper Union.
He married Bertha Hall, June 1, 1887, and Sargent gave them a Venetian watercolor as a present.
Beckwith took an active part in the formation of the Fine Arts Society and was president of the National Free Art league which worked to secure the repeal of the US duty on works of Art into the United States. Among his portraits are those of W.M. Chase (1882) (Sargent painted Chase), X. Jordan (1883),
Mark Twain, T.A. Janvier, Gen John Schofield, and William Walton.
Beckwith received many awards including Honorable Mention at the Paris Exposition of 1889 and a Gold Medal at the Atlanta Exposition in 1895. He exhibited at the St. Louis Worlds Fair (1904) showing "The Nautilus" along with a portrait of his wife -- Mrs. Beckwith.
Carroll returned to paris in 1893 to paint a number of murals and then back for murals in the Liberal Arts Building at the World's Columbian Exposition in Chicago. He lived in Italy from 1910 to 1914 and painted many plein-air studies of monuments, buildings, and landscapes.
He died in New York City on October 24, 1917
This is one of Sargent's longest friendships. Beckwith visited John in London and they see each other when he was in the States.
Notes:
Most of this information comes from Olson's book which shows 28 references between the pages of 40 and 266. Also, Encyclopedia Britannica, Vol. 3, William Benton, 1962, P.291