Close-ups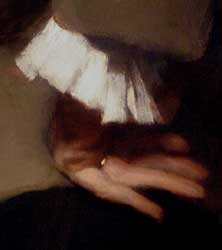 Left hand
Photo by Andy Yelenak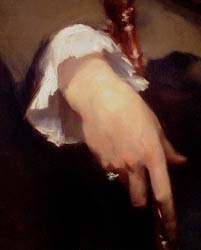 Right hand
Photo by Andy Yelenak

John Singer Sargent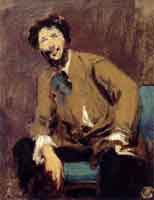 Carolus-Duran (Oil Study)
c. 1878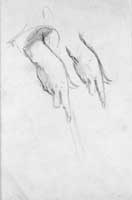 Hand for "Carolus-Duran"
1878–79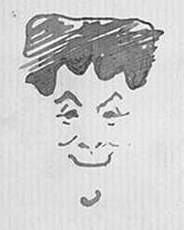 Carolus-Duran Letter-Sketch
(Within series of letter from John Singer Sargent to Madame Allouard-Jouan)

Carolus-Duran 2nd painting
John Singer Sargent -- American painter
1879
Clark Art Institute, Williamstown, Massachusetts
Oil on canvas
116.8 x 95.9 cm (46 x 37 3/4 in.)
Jpg: Carol Gerten's Fine Art
Charles Auguste Émile Duran (1837-1917) better known as Carolus-Duran was Sargent's teacher and would have a profound impact on him.
When Sargent went to Paris in May of 1874, it was with the goal of gaining entrance of the Ecole des Beaux-Arts. To achieve this, however, the family knew he needed to study at one of the independent ateliers and in a matter of only ten days they had searched, interviewed, and then finally accepted by Carolus-Duran. In truth, it wouldn't be the Ecole, but Carolus-Duran who would have the most impact on the young artist.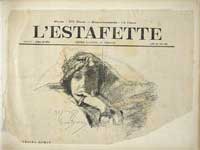 Page from "L'Estafette" with Reproduction of Carolus-Duran Drawing
(Pasted in John Singer Sargent's sketchbook)
June 28, 1880

* * *
Carolus-Duran was born at Lille on July 4, 1837. He studied at the Lille academy with the sculptor Augustin-Phidias Cadet de Beaupré then at the age of 15 began an apprenticeship in the studio of François Soucho. In 1853 he moved to Paris and took classes at the Académie Suisse. Then in trips to Italy and Spain from 1862-70 when he paid special attention to Velazquez -- the Spanish Master whom he felt was the most important of all the Masters. Returning once again to Paris where he opened his own studio in 1872.
With his success he made a number of artistic acquaintances, including Fantin-Latour, Courbet, Manet, Monet, and Astruc all of whom he would establish life-long friendships.
He became best known as a portrait painter and his status as head of his atelier. The Assassination (1866) was one of his first successes. His Lady With the Glove (1869), a portrait of his wife was bought for the Luxembourg museum is another. In 1878 he finished a mural The Triumph of Maria de Medici first intended for the Palace Luxembourg in which Sargent help.
Carolus-Duran reveled in the attention of his status as one of the leading portrait artists and teacher in the city. His flamboyance was almost unmatched. In an article dated June of 1885 in "Art Age" gives you a glimpse:
Everybody familiar with the artistic haunts of Paris knows Carolus Duran, with his bushy black curls thickly streaked with gray, his costume always at the height of the mode, his hat always a little in advance of it, his flowing wristbands and gold bracelets soldered upon his wrists, and his general air of a Fortuny cavalier toned down to walk the Boulevards. . . . [as many] old Parisians ... were familiar with the sight of the young Carolus drawing his blouse tightly about his figure and writhing to see himself from all points of view in large restaurant mirrors as he exclaimed, 'The torso of an Apollo !'

(Art Age, June 1885, quoted in Barbara Weinberg, Uncanny Spectacle : The Public Career of the Young John Singer Sargent)
In 1889

Carolus-Duran

became one of the founders of the Société Nationale des Beaux-Arts, then became president in 1898.

By 1904 Carolus-Duran was awarded membership to the

Legion d'Honneur. The following year was appointed director of the French academy at Rome: Socitété Nationale des Beaux-Arts.

L' Illustrat 29 Oct 1910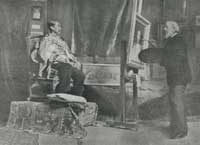 Carolus-Duran painting King Chulalongkorm
1907


He died in Paris on Feb. 17, 1917.

(Encyclopedia Britannica, Vol. 7, William Benton, 1962, p.748)


As for Sargent's portrait of his dear teacher, John was eager to get it out in the public for full viewing:

The first place, appropriately, would be to show it off in Paris at the annual Salon where Carolus-Duran was best known. The painting would be a sure thing -- if he didn't make any major mistakes -- and would assure a ton of exposure for the young artist -- it worked:

Le Journal amusant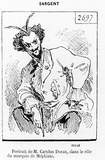 Le Salon de 1879

Paris 1879 - Salon de 1879

(R., "The Last Paris Salon. II," American Architect and Building News 6, no. 199, 18 October 1879)

If I kept for the last Mr. John S. Sargent's portrait of his master, Carolus Duran, it is that I may criticise him, not merely as an American, but as a painter who has already fairly won a place in the foremost rank of young French painters ... Without giving Mr. Sargent too much credit for the admirably spirited pose - it is quite in Duran's temperament himself to take the most becoming pose - one cannot fail to admire his original and masterly scheme of color. It was a happy idea to paint his sitter in a loose morning jacket, of soft pale yellow, against a cold gray background, but only the highest artistic sensibility would have thought to call out all the subtleties in this gray harmony, and set it vibrating by a single gleam of turquoise blue from the arm of the chair. The interest centres in the pale expressive head, - flattened [flattered?], Duran's enemies say; a fair and generous expression of the man when at his best and aglow with his noblest thoughts, cry his friends; and a portrait is painted for a man and his friends, not for his enemies. A quite unconscious idealization is a characteristic of Mr. Sargent's talent. Even in his daily atelier studies he manages, without sacrificing their value as studies, to throw over the coarse vulgarity of the model a charm and elegance quite his own. It is a rare gift, this atmosphere of sentiment, which is too distinguished ever to be sentimental. But this would attract little attention from the prosaic French art-world were it not seconded by as distinguished technical qualities. Mr. Sargent, like a true colorist, models, rather than draws, but there is no suggestion of feebleness in drawing, and the only adverse criticism I have heard brought against this much-noticed portrait was a thinness in the painting. This, however, taking in view the rather sketchy scheme of the work, has little weight, and is quite lost sight of in the charm of the wonderful simplicity and freshness of the brush work, qualities which are at present so much the fashion here that many clever painters are sacrificing all else to them.

* * *

Outremer, "American Painters at the Salon of 1879," Aldine 9, no. 12, 1879

John S. Sargent received "honorable mention" for his portrait of Carolus Duran, which was really one of the best portraits of the Salon. Mr. Sargent has the trick of making the "human face divine" more so, infusing a soul into his model where very little exists.

1880
The following year Sargent sent the painting to New York
New York 1880 - Society of American Artists Third Annual Exhibition

("Fine Art. Society of American Artist," New York Daily Tribune, 25 March 1880)

We note also the arrival of a picture by Mr. John S. Sargent, a portrait of the artist Carolus Duran ... Nothing that the artist has sent home heretofore will have introduced him so effectually to his countrymen as this portrait, a work which must challenge admiration and from which criticism cannot escape if it would.

* * *

("One Day in the Gallery. Society of American Artists," New York Times ,26 March 1880)

The new sensation since the opening of the exhibition is a most life-like and speaking portrait of the French painter, Carolus Duran ... who is cordially liked or cordially detested by each member of the art colony of Paris. He is seen to be a typical Frenchman, even to the very curl of his mustache, and evidently dead in earnest. No one could imagine him humorous for a moment. Mr. Sargent has caught the very spirit of the man, and reproduced him bodily, with almost the same cleverness Duran himself shows.

* * *

("Fine Arts. The Society of American Artists. - Modern American endency," Nation 30, no. 770;1 April 1880)

Mr. Sargent has contributed the portrait of Carolus Duran from last year's Salon, with a well-moulded colorless head, and hands treated on an entirely different principle of modelling, so that we seem to see a sculptured head with paper extremities ; his inconsistency here shocks the sight in America, as it lost him a medal in France.

* * *

("The American Artists. Close of the Exhibition," New York Times ,16 April 1880)

This portrait may be termed celebrated, for not only did it enter the Salon and create much talk among artists in Paris, but it has been reproduced in the fine books of art that describe the Salon, and had the somewhat doubtful honor of a piece of "chiseled" verse at the hands of one os the minor French poets of today. It must be a pleasure to an artist to examine the workmanship of this thoroughly workmanlike production. There is a fine certainty and breadth to the strokes, an audacity in pose, a vigor in expression of character, which would make it remarkable anywhere. Mr. Sargent gives a somewhat effeminate effect to his "dear master Carolus" by showing the lace cuffs of his shirt, the broad stripe of his trousers, his jaunty cravat, and a colored handkerchief. To sober Americans this "master" may seem a little on the order of fops, but how thoroughly the pupil has learned his lesson ! How admirably he has placed color by color, and brought harmony out of shades of gray and brown put cleverly side by side.

* * *

(S. G. W. Benjamin, "Society of American Artists. Third Exhibition," American Art Review I, no. 6; April 1880)

In every particular Mr. Sargent's Duran is not only a grand rendering of a striking subject, but also as good an example as we can probably get of the present state of portraiture in France.

* * *


At the Society's rooms, to cease from generalities, the two canvases that attracted us first, were Mr. Chase's portrait of General Webb, and Mr. John Sargent's of Carolus Duran. They were apt to be noted together, not only for the excellence common to them both, but for their divergence from one another ... [Sargent's] is French work through and through. French no less in the technique, which is twin to that of more than one Parisian we know of, than in its feeling and its meaning as a work of art.


M. G. van Rensselaer, "Spring Exhibitions and Picture-Sales in New York.-1," American Architect and Building News 7, no. 227 (1 May 1880)
After the Society of American Artists the painting went on to Boston:
Boston 1880 - St. Botolph Club Inaugural Exhibition

("Art Notes," Boston Evening Transcript, 21 May 1880)

The two famous portraits by William M. Chase and John S. Sargent (both young New York artist), facing each other in the midst of the gallery, are almost enough in themselves for an exhibition ... Both these portraits have the insouciance of pose that so shocks the old-fashioned portrait-painter who has to obey the directions of his sitter and the intelligent jury of relatives and friends usually called in to sit on his work ... The young Parisian in the elegant negligence of a morning dress, with frilled shirt cuffs, gray lounging jacket and striped trousers, leans forward, his hands or arms lightly resting upon his knees, but with an instinctive grace and politeness even in this most unceremonious of postures ... Mr. Sargent's portrait is painted much more simply, even slackly, one thinks ... But it will be seen on carefully looking at Mr. Sargent's work that the face and head have been wrought out with the finest knowledge, feeling and care, supplemented with the finest skill, as was befitting so rare a subject, and that the whole head is as "solid" as it is dashing in effect.

* * *
(See Carolus-Duran theory on painting: The Century; 1886 "A French Student and His Pupils")

(See Mary Crawford Volk's take on Carolus-Duran)

Notes:


Exhibitions

John Singer Sargent, An Exhibition

-- Whitney Museum, NY & The Art Institute of Chicago 1986-1987
See the year in review 1879

Works by Carolus-Duran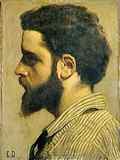 Zacharie Astruc (1833-1907)
c. 1860 ?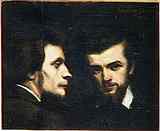 Fantin-Latour and Oulevay
1861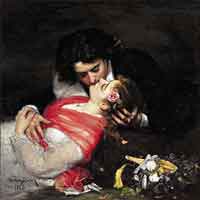 Le Baiser (The Kiss)
1868
(the artist and wife as a newlyweds)

Lady with a Glove
1869
(artist's wife)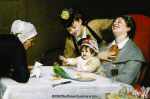 Merrymakers
1870
(Thumbnail only)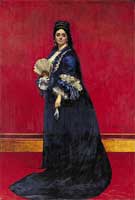 Countess Ratazzi
(née Maria-Laetitia Bonaparte-Wyse)
1872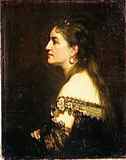 Portrait of woman with décolletée
c. 1875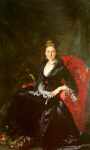 Portrait of Nadezhda Polovtseva
1876
CGFA
Hermitage Musuem
Oil on canvas
206x124.5 cm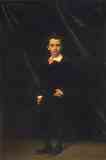 Portrait of Philippe Durand
1876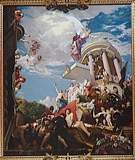 The Triumph of Maria de Medici
1875-1878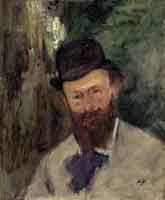 Portrait_d'Edouard_Manet
c. 1877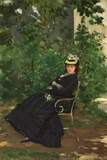 Portrait of Madame Alice Hoschedé (afterwards, Madame Monet)
1878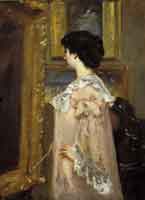 Artiste dans son atelier (Artist in her workshop )
c. 1880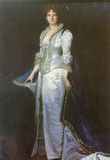 Queen Maria Pia of Portugal
1880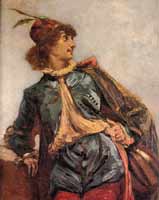 Count Robert de Montesquiou the role of the traveler
1880s?


Study of Lilia
1887
Natational Gallery of Art, Washington DC
Oil on canvas
.55 x 46 cm (21 5/8 x 18 1/8 in.)
New Century Fund, Gift of Edwin L. Cox - Ed Cox Foundation 1999.45.1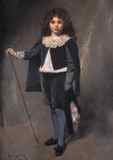 Louis Rene Count of Gramont
c. 1890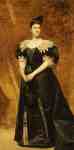 Mrs. William Astor (Caroline Webster Schermerhorn, 1831–1908)
1890
Metropolitan Museum of Art
Oil on canvas
212.1 x 107.3 cm (83 1/2 x 42 1/4 in.)
Gift of R. Thornton Wilson and Orme Wilson, 1949 (49.4)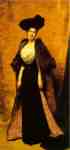 Margaret Anderson, Wife of the Honorable Ronald Grenville
1891
CGFA
Oil on canvas
Polesden Lacey, Surrey.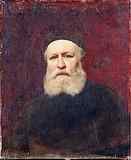 Charles Goundod (1818-1893)
1898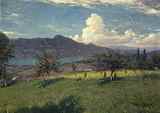 Les Pommiers (Apple Trees)
1900