Sampling of works by Chase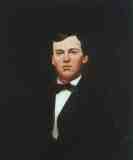 Portrait of William Gurley Munson
1868
Natasha
Indianapolis Museum of Art
Oil on canvas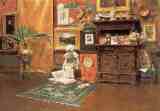 In the Studio
1882
Natasha
The Brooklyn Museum
Oil on canvas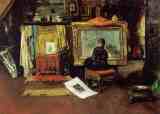 The Tenth Street Studio
1881-82
Natasha
Henry E. Huntington Art Collections & Botanical Gardens
Oil on canvas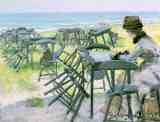 The End of the Season
1885
Natasha
Mount Holyoke College Art Museum, South Hadley, Mass
Pastel on paper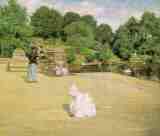 Early Morning Stroll
1887-91
Natasha
Private collection
Oil on canvas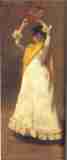 A Tambourine Player
c. 1886
Natasha
Montclair Art Museum, New Jersey
Oil on canvas
65 x 30 in.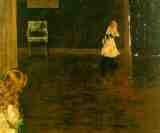 Hide and Seek
1888
Natasha
Phillips Collection, Washington D.C.
Oil on canvas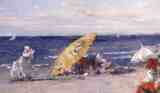 At the Seaside
c 1892
Natasha
Metropolitan Museum, NY
Oil on canvas
20 x 34 in. (50.8 x 86.4 cm)
Bequest of Miss Adelaide Milton de Groot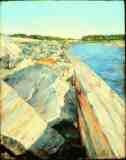 The Lone Fisherman
1890s
Natasha
Hood Museum of Art, New Hampshire
Oil on panel
38.1 x 30.1 cm
Gift of Mr. and Mrs. Preston Harrison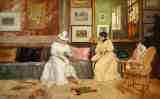 A Friendly Call
1895
National Gallery of Art, D.C.
Oil on canvas
76.5 x 122.5 cm (30 1/8 x 481/4 in.)
Chester Dale Collection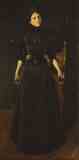 Portrait of a Lady in Black
c. 1895
Natasha
Detroit Institute of Arts, Michigan
Oil on canvas
182.9 x 91.4 cm (6 x 3 ft.)
Gift of Henry Munroe Campbell; 43.486

Did You Speak to Me
1897
Natasha
Butler Institute of American Art, Ohio
Oil on canvas
96.52 x 109.22 cm. (38 X 43 in.)
Signed, lower left
Museum purchase, 921-0-102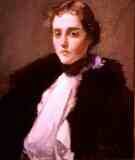 Portrait of Fra Dana
1897
Natasha
University of Montana Museum of Fine Arts
Oil on Canvas
19 1/2 x 23 1/2 inches
The Fra Dana Collection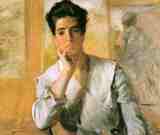 Portrait of Kate Freeman Clark
1902
Natasha
Kate Freeman Clark Art Gallery
Oil on canvas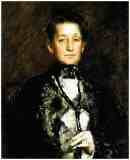 Marianne Heyward Taylor
c1902-1906
Natasha
Columbia Museum of Art, South Carolina
Oil on canvas
Gift of Mr. J. Henry Fair - 1992.12.2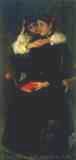 Mrs Chase and Cosy
No date
Sheldon Memorial Art Gallery at the University of Nebraska
Oil on canvas
55 1/4 by 261/4 in.
F. M. Hall Collection 1933.H-16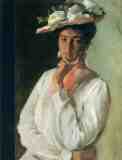 Woman in White
1910
Natasha
Indianapolis Museum of Art
Oil on canvas

William Merritt Chase (1849-1916)
American Painter
William Merritt Chase was an eclectic painter known for his portraits, landscapes, and still lifes. He worked in all mediums -- oils, water colors, pastels and etching. He loved teaching and was greatly influential with young artists for 36 years. Among his pupils were Georgia O'Keeffe, Joseph Stella, and Charles Sheeler. For many years he was a fixture of the New York art scene.
John Singer Sargent first met Chase in 1881 when the latter was on a trip for Spain but first visited Paris (probably to see the Salon) where he met Sargent and Mary Cassatt. Both Cassatt and Sargent had been to Spain previously and both gave Chase suggestions. They certainly crossed paths often being members of same organizations such as the Society of American Artists and most certainly exhibited at some of the same shows. Sargent painted Chase in 1902. But the most interesting connection was when Mrs Isabella Stewart Gardner used Chases' 10th Street Studio in New York to host a party in which Sargent hired the Spanish gypsy dancer Carmencita to perform.
Chase trained at the National Academy of Design (1869-71) in New York and at Munich's Royal Academy of Art (1872-77) where he adopted the techniques and style of that school -- characterized by rich and direct brushwork and a dark palette which had its roots to artists as Frans Hals (1580/6-1666) and Diego Velasquez (1599-1660).
Much of his early work is of this style and he was so taken by Velasquez that he named a fifth daughter Helen Velasquez, even painting her as an infant along with his wife in different paintings in homage to the Spanish master's court pictures. He wrote from the Prado in Madrid to one of his students in New York:
The Old Gallery of pictures is simply magnificent. [Velazquez] is the greatest painter that ever lived. How you would enjoy the pictures by him here. I am sure you would be inspired and encouraged; [Velazquez] is not like many of the great painters; he never discourages one -- but on the contrary -- makes you feel that everything is possible for one to accomplish. [1]
He would continue to do portraits in this style throughout his life (Portrait of a Lady in Black c. 1895), though in the 1880's his interest developed in the effects of light after a trip to Venice, and through the influence of a growing group of his American contemporaries -- people like John Singer Sargent, James McNeill Whistler, and Mary Cassatt -- he lighten his pallet for landscapes and scenes and became increasingly impressionistic (The End of the Season 1885). You can also clearly see the influence of Whistler's darker work in the interior painting Hide and Seek (1888).

From the time he returned to America after studying in Munich in 1878 he taught continually until his death on Oct. 25, 1916. In New York city he established a school of his own, after having taught for some years at the Art Students league. Some of his most important works came out of his teaching in plein air at his beautiful summer house at Shinnecock Hills, Long Island, designed by Mckim, Mead and White (At the Seaside c.1892).

Case was born at Franklin, Ind. on Nov. 1, 1849. From his output of more than 2000 paintings he won many honors at home and abroad. He became a member of the National Academy of Design, New York (1890) and for ten years was president of the Society of American Artists. During his last decade he had numerous one-man shows in many major U.S. cities. In 1912 he was awarded the proctor prize by the National Academy of Design for his "Portrait of Mrs. H." (n/a). At the Panama Pacific exposition (1915) a specific room was assigned to his works. Among his most important canvases are "Ready for the Ride (n/a)", "The Apprentice" (n/a), "Court Jester" (n/a), and portraits of his friends and painters -- Whistler (1885; Metropolitan Museum of Art, New York City) (n/a), and Duveneck (n/a) and more than a hundred still lifes of dead fish.




.

Notes:

See the year in review 1902
Encyclopedia Britannica, Vol. 5, William Benton, 1962, P.312
M. Elizabeth Boone book; Espana, American Artists and the Spanish Experience, (Hollis Taggart Galleries) Nov 98, p. 56
The image is from ebay, I'm looking for a larger and better image.
Footnote 1
Letter from William Merritt Chase to Dora Wheeler, Madrid, 24, July 1881, Archives, Cincinnati Art Museum, gift of Miss Cadance Stimson; quoted in M. Elizabeth Boone book; Espana, American Artists and the Spanish Experience, (Hollis Taggart Galleries) Nov 98, p. 56.