Title

Sketchbook ("1871-72"); Alpine Travel Sketches and Figure Studies
1871 - 1872
Fogg Art Museum, Cambridge, Massachusetts
Sketchbook with black paper-covered cardboard covers and leather spine
11 cm. x 17.4 cm. x 1.8 cm., actual
Gift of Mrs. Francis Ormond, 1937.7.8

(Click on "View more Images")





Forest Scene at Ramsau
(graphite)
1871
The Corcoran Gallery of Art, Washington DC
Graphite with gray wash
11 3/8 x 15 3/8 in.
Gift of Emily Sargent and Violet Sargent Ormaond


Thistle
ca.1870–72
The Metropolitan Museum of Art, NY
Watercolor and graphite on off-white wove papers
16.8 x 11.6 cm (6 5/8 x 4 9/16 in.)
Inscriptions: [on verso at center right]: EP
Gift of Mrs. Francis Ormond, 1950 (50.130.141w)


Shrines in the Forest
1871
Fogg Art Museum, Boston
Graphite on off-white wove paper
10.3 cm. x 17.2 cm., actual
Inscription: u.r., red-brown ink: 27
Inscription: l.r., graphite: [Damelplatz or Dumelplatz?] / Innsbruck
Gift of Mrs. Francis Ormond, 1937.7.5.27


Rocky Landscape, Hintersee
1871
Fogg Art Museum, Boston
Graphite on off-white wove paper
29 cm. x 40.7 cm., actual
Inscription: u.r., red-brown ink: 17
Inscription: l.r., graphite: 18
inscription: l.l., graphite: Hintersee
Gift of Mrs. Francis Ormond, 1937.7.4.17


Mountain Landscape
1871
Fogg Art Museum, Boston
Graphite and white gouache on gray wove paper
10.3 cm. x 17.2 cm., actual
Inscription: u.r., red-brown ink: 17
Gift of Mrs. Francis Ormond, 1937.7.5.17


Mountain Living Scene
c. 1869-1871
Sargent at Harvard
Graphite and some watercolor on off-white wove paper bound in a black imitation leather sketchbook; ALBUM is
embossed in gold leaf on the cover
11.2 x 18 cm (actual)
Gift of Mrs. Francis Ormond

(Title by Natasha)



Boats on the Elbe
verso: Study of a Head
1871
Fogg Art Museum, Boston
Graphite on gray wove paper
9.5 cm. x 15 cm., actual
Inscription: u.r., red-brown ink: 16
Inscription: l.r., graphite: Elbe
Gift of Mrs. Francis Ormond, 1937.7.6.16


Engelsburg
May 1872
Natasha
British Museum, London
Black chalk and pencil on paper
27 x 36.2 cm (10 5/8 x 14 1/4 in.)
Presented by Mrs. Ormond


Deer
c. 1872-1874
Worcester Art Museum, Massachusetts
Pencil on paper
28.9 x 38.6 cm ( 11 3/8 x 15 3/16 in.)


Mountain Shrine
verso: Sketch of Tree, 1872
1872
Fogg Art Museum, Boston
Graphite on gray-green wove paper
15.6 cm. x 11.3 cm., actual
Inscription: l.r., red-brown ink: 10
Inscription: verso, l.r., graphite: Carlsbad
Gift of Mrs. Francis Ormond, 1937.7.7.10


Sketch Heavy Load
1872
Sargent at Harvard
Graphite, watercolor and gouache on wove paper bound in beige canvas sketchbook
12.2 x 16.1 cm (actual)
Credit Line: Gift of Mrs. Francis Ormond
Inscription: Page 1 (recto), u.r., graphite: J. S. Sargent/ Berlin/ 1872
Label on front pastedown, l.l.: EMIL GELLER / Kunsthandlung/ DRESDEN/ Waisenhausstr.

(Title by Natasha)



Man Sitting on a Wall
1873 or 1875?
Private collection
Pencil drawing
Size:?
signed and titled on mat-
"Leaf from the sketch book of J.S. Sargent . France."


Woman and Man on Cot
c. 1874-1877
The Corcoran Gallery of Art
Pencil on beige wove paper


Profile Portrait of James Carroll Beckwith
June 1874
Natasha Essay
Sargent at Harvard
Graphite on gray wove paper
22.9 x 15.2 cm (actual)
Gift of Mrs. Francis Ormond
Inscription: l.r., graphite: J. C. Beckwith / June 1874
verso, l.r., graphite: 1937.8.3


Two-sided drawing after Jacopo Tintorettolot
1874
Natasha
Private
"The Worship of the Golden Calf" (recto) and "The Liberation of the Slaves by St. Mark" (verso). pencil on paper, unsigned, unframed. 8-1/8" x 5-1/8" paper size, once mounted at the corners to a grey sheet of paper (11-1/4" x 8-1/2")


Man Wearing Laurels
1874-1880
Los Angeles County Museum of Art
Oil on canvas
44.45 x 33.4 cm (17 1/2 x 13 3/16 in.)
Mary D. Keeler Bequest


The Dancing Faun, after the Antique
1873-1874
Fogg Art Museum, Boston
Black chalk and charcoal on off-white laid paper (two sheets attached at center)
76.6 cm. x 49.9 cm., actual,
Watermark: black chalk, l.r.: Sargent: J. WHATMAN 1883
Gift of Mrs. Francis Ormond, 1937.8.16




Forearm and Hand Holding a Book, after Andrea del Sarto
Date?
Natasha
Fogg Art Museum, Boston
Black chalk on off-white wove paper
26.3 cm. x 34.3 cm., actual
Inscription: l.l., graphite: J. S. 133,
l.r., graphite: Andrea del Sarto
Gift of Miss Emily Sargent and Mrs. Francis Ormond in memory of their brother, John Singer Sargent, 1931.98




Bartholomy Maganosco
c. 1875 (Jan 28th)
Philadelphia Museum of Art
Pencil on paper
25.4 x 19.7 cm ( 10 x 7 1/2 in.)
Inscribed Bartholomy Maganosco / Nice Jan 28


St. Malo (from scrapbook)
May 1875
Metropolitan Museum of Art, New York
Graphite on off-white wove paper
3 1/2 x 5 11/16 in. (8.9 x 14.4 cm)
Inscriptions: [on lower left]: St. Malo. / Mai 1875.
Gift of Mrs. Francis Ormond, 1950 (50.130.154w)


Sailboat Towing Dory (from scrapbook)
c. 1875
Metropolitan Museum of Art, New York
Graphite on off-white wove paper
6.8 x 9 cm (2 11/16 x 3 9/16 in.)
Gift of Mrs. Francis Ormond, 1950 (50.130.154t)


Schooner and Bark in Harbor (from scrapbook)
c. 1875
Metropolitan Museum of Art, New York
Graphite on off-white paper
10.2 x 16.5 cm (4 x 6 1/2 in.)
Inscriptions: [on lower right]: Schooner & Bark.
Gift of Mrs. Francis Ormond, 1950 (50.130.154p)


Sailors in Rigging of Ship (from scrapbook)
c. 1875
Metropolitan Museum of Art, New York
Graphite on off-white wove paper
10.2 x 16.5 cm (4 x 6 1/2 in.)
Inscriptions: [at left]: grey / light yellow [and other illegible color notations]
Gift of Mrs. Francis Ormond, 1950 (50.130.154u)


Sails (from scrapbook)
1874–77
Metropolitan Museum of Art, New York
Graphite on tan wove paper
15.9 x 10.8 cm (6 1/4 x 4 1/4 in.)
Gift of Mrs. Francis Ormond, 1950 (50.130.154z)


Study of a Head of a Woman, A Standing Nude verso An Artist Sketching and Seated Nude
1875
Private colection
Pencil on tan paper
8 x 9 ½ in
Inscribed verso JS Sargent


Wineglass
1875
Private collection
Oil on canvas
45.7 x 36.8 cm (18 x 14 1/2 in.)
Inscribed lc "1874"



Windmill and Reapers (from scrapbook)
1875
Metropolitan Museum of Art, New York
Graphite on off-white wove paper
10.2 x 16.5 cm (4 x 6 1/2 in.)
Gift of Mrs. Francis Ormond, 1950 (50.130.154oo)


Resting
1875


Sterling and Francine Clark Art Institute, Williamstown, Massachusetts


Oil on canvas


21.6 x 26.8 cm (8 1/2 x 10 9/16 in.)




Inscribed, upper right: John S. Sargent


No. 579



Woman Seated on the Ground
Two Sketches - a. Double-sided Drawing : (Recto) Woman Seated on the Ground, (Verso) Standing Male Figure b. Man Working at a Table
about 1875
Museum of Fine Arts, Boston
A.(Recto) Charcoal and graphite pencil on paper; (Verso) Charcoal b. Graphite pencil on paper
Sheet a. 9.5 x 14.9 cm (3 3/4 x 5 7/8 in.) Sheet: b. 10 x 16.3 cm ( 3 15/16 x 6 7/16 in.)
Gift of Miss Emily Sargent and Mrs. Violet Ormond in memory of their brother John Singer Sargent 28.952
Noon after Jean-Francois Millet
ca. 1875
Metropolitan Museum of Art, New York
Graphite on off-white laid paper
14.9 x 21.9 cm (5 7/8 x 8 5/8 in.)
Inscriptions: [at lower left]: J. F. Millet.
Gift of Mrs. Francis Ormond, 1950 (50.130.154d)


Violet Sargent
c. 1875
Private collection
Oil on canvas
26.67 x 23.5 cm (10.5 x 9.25 in.)


Coastal Scene (from scrapbook)
c. 1875
Metropolitan Museum of Art, New York
Graphite on off-white wove paper
16.8 x 10.2 cm (6 5/8 x 4 in.)
Gift of Mrs. Francis Ormond, 1950 (50.130.154s)


Seascape
1875
Private collection
Oil on canvas
27.9 by 21cm (11 by 8¼ in)






Study of a Woman's Head (charcoal)
C 1876
Private collection
Charcoal on paper
6 1/4 x 4 in.


Becalmed
1876
Private collection
Pencil
8.2 x 11 in.


Men Hauling Lifeboat onto Beach
1876
Metropolitan Museum of Art, New York
Graphite on off-white wove paper
16.8 x 24.8 cm (6 5/8 x 9 3/4 in.)
Gift of Mrs. Francis Ormond, 1950


Study of Six Men Rowing a Boat
Date?
Fogg Art Museum, Boston
Graphite on off-white wove paper
25.4 cm. x 34.2 cm., sight
Gift of Miss Emily Sargent and Mrs. Francis Ormond in memory of their brother, John Singer Sargent, 1931.88


Sketch of a sail of a boat
1876 ??
Museum of Fine Arts, Boston
Graphite pencil on paper
29 x 22.5 cm (11 7/16 x 8 7/8 in.)
Gift of Miss Emily Sargent and Mrs. Violet Ormond in memory of their brother John Singer Sargent 28.957


Sailors Relaxing on Deck (from scrapbook)
1876
Metropolitan Museum of Art, New York
Graphite on off-white wove paper
11 x 18.4 cm (4 5/16 x 7 1/4 in.)
Gift of Mrs. Francis Ormond, 1950 (50.130.154x)


Atlantic Storm
1876
Private collection
Oil
23.5 x 31.7 in.


Portrait of the Artist's Cousin
1876
Private collection
Pencil on beige paper
8.5 x 10.5 in


Study Off Newport, Rhode Island
1876
Private colection
Pencil on paper
5 x 10 in.
Estate signed l.l.: JS265A


Mrs. Charles Deering
c. 1877 ??
Rhode Island School of Design, Museum of Art
Oil on canvas
55.88 x 43.18 cm (22 x 17 in.)


La Gitana
1876
Metropolitan Museum of Art, NY
Oil on canvas
73.7 x 60 cm (29 x 23 5/8 in.)


The Model:Interior with Standing Figure
c. 1876
Museum of Fine Arts, Houston
Watercolor on paper, laid down on board
29.54 x 22.86 cm (11.63 x 9 in.)




Frank O'Meara
c. 1876
Private collection
Oil on canvas
44.45 x 39.37 cm (17.5 x 15.5 in.)

1871 (15 years old)
Year In Context

The family spends the summer in the Tyrol.

By October they are in Munich. With strong plans to get John a formal education and they move to Dresden where John studies Latin, Greek, mathematics, geography, history and German in preparation for the entrance exams for Das Gymnasium zum Heilige Kreuz.

While there he does some copy work in the Albertina. They all winter in Dresden.
(Germany)



1872 (16 years old)
Year In Context
The family, not accustom to harsh winters, finds Emily seriously ill. By early spring they abruptly end John's education and travel to Berlin, then Leipzig, Carrlsbad, Munich and Auchensee and possibly on to visit Venice.
September they are back in Florence at two apartments in the Villino Torrigiani, 115 via de Serragli. Sometime during this month John and Emily spend ten days in Bologna with Vernon Lee. There they engage in discussions about art and aesthetics.


1873 (17 years old)
Year In Context
May through July, Mrs. Sargent and the children are in Venice while Dr. Sargent travels to America.
By July, Dr. Sargent meets the family in Pontresina, Switzerland, and then they all travel to the Alps.
October -- they are in Florence and live in a new apartment at 15 via Magneta. John enrolls in the Accademia delle Belle Arti, but by December it closes for lack of funds. He meets the American artists Walter Launt Palmer, Edwin White, and Frank Flower, the English artists Edward Clifford and Heath Wilson. Palmer writes in a diary "He is but 17 & had done a most remarkable amount of work very little oil".


1874 (18 years old)
Year In Context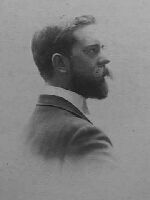 John Singer Sargent
Photograph 1874
March: the Accademia in Florence reopens. John is back in classes but finds it unsatisfactory and is frustrated. On the 22nd he writes to Mrs. Austin (paints her daughter Mary Turner Austin 1878) about getting photographs of pictures he had seen in Dresden and his admiration for the painters Titian, Tintoretto, and Michelangelo. In April he tells of the families intention to to go to Paris to look for an atelier for him.
They arrive in Paris on May 16th but find most of the Master ateliers already full.
On May 26, John and his father visit Carolus-Duran's atelier and find space available. Carolus-Duran looks at John's portfolio and agrees to take him on. In a span of little over a week John had made the decision as to which artist to study under. In part, the plan is to learn enough to pass the very difficult examinations for admission to the Ecole des Beaux-Arts, though passage in the first year is unlikely. Dr. Sargent leaves John to his studies -- Sargent is on his own for the first time. The American James Carroll Beckwith is also at the atelier and they become good friends. Within three weeks at the atelier Sargent paints his first head.
(See Beckwith meets Sargent)
On July 3rd, the atelier closes for the summer and Sargent travels to Caen to meet his family, then together on to Rouen, and Benzeval.


By September he's back in Paris with his family and prepares for the concours des places at the Ecole des Beaux-Arts (the exams are held twice annually -- October and March -- for students wanting to continue, and non-students wanting to join -- these exams are in perspective and anatomy, ornament drawing and life drawing). The exams take place between September 26 and October 16. He lives with his family at 52, rue Abbatrice.
(see Ecole des Beaux-Arts)
October, he meets the American artist Julian Alden Weir and works at his friend James Carroll Beckwith's studio and also Leon Bonnat's studio.
On October 19, Carolus-Duran's atelier resumes.
October 27th, the "test" results are announced and John passes the concours placing 37th out of 162 entrants. He is accepted into the Ecole des Beaux-Arts. A high honor for a foreigner (the previous year only two foreigners got in out of 60 that tried) and for a first-time exam student -- an amazing distinction. He is the only student from Duran's atelier to pass that autumn.
Sargent's work routine includes a full day at Carolus's atelier, then as an Ecole des Beaux-Arts student, two hours in the evening at the coveted Monsieur Adolphe Yvon's life classes, then two more hours at the studio of Leon Bonnat.
In short order, Sargent's achievements begin to outstrip his colleagues who look on with amazement.
Colleagues during this period include James Carroll Beckwith, Will H. Low, R.A.M. Stevenson, C.M. Newton, John Tracey, Stephen Parker Hills, Paul Batifaud-Vaur, Robert C. Hinckley and occasionally the law student Robert Louis Stevenson from Scotland (before he became a novelist).


1875 (19 years old)
Year In Context

January, each year Carolus-Duran has an annual dinner with his students, after which he takes Sargent and two other students (Parker Hills and Robert Hinckley) on a painting trip to Nice.

March, Sargent sits again for the concours of the Ecole des Beaux-Arts and on the 16th, passes -- this time placing 39th. He continues his studies at the Ecole and Duran's atelier, although less time actually at the atelier and more and more at his friend Beckwith's studio.

(Most of the paintings that survive this period are those done in plein air. Very little studio work survives since it's common practice to paint, then scrape the canvas, then paint again to save money as was described by R.A.M. Stevenson)

June, the atelier closes for summer, he joins his family in Saint-Enogot, near Dinard, Brittany and paints sketches that would lead to the paintings Oyster Gatherers (1878).

August, Sargent and Beckwith go in together and share a rented studio at 73, Notre Dame de Champs.

October, he again passes the concours and Carolus-Duran re-opens the atelier. Sargent is living at Mme Darode's boarding house, 19 rue de l'Odeon.

Beckwith joins him and his family for Christmas at Saint Malo.






1876 (20 years old)
Year In Context

March, he passes the concours. Writes to Fanny Watts "the question ought to be no longer merely to get in, but to get in high, which makes it more interesting." (March 10, 76 letter to Watts quoted in Olson p. 50)

In April he visits Claude Monet exhibition at the Durand-Ruel gallery, Paris. He may have met Monet then. Monet himself thought they met during this exhibition.

May 13 -- in order to retain his United States citizenship he visits the States with his mother and sister Emily. On the trip over he makes sketches of life ont he boat.

Once he's there he visits the Centennial Exhibition in Philadelphia. At the exhibition he sees Winslow Homer's paintings among others. He meets his Newbold and Sargent cousins. In Newport, they are guest of Admiral Case and John paints Case's son-in-law Charles Deering (n/a).

Then the Sargent travels to Canada -- Montreal and Niagara Falls.

September, Sargent travels (with an unidentified artist friend from Paris) to Chicago for a few days then back to Philadelphia.

October 4th, they sets sail for Liverpool, England and by November he returns to Paris. He continues his studies with the Ecole and Carolus-Duran.

He may have met Auguste Rodin and Monet during this period as well as painters Albert Basnard and Albert Belleroche.