1856
Year In Context
John Singer Sargent was born January, 12th (approximately), in Florence, the son of American parents, Dr. Fitzwilliam Sargent (1820-1889) and Mary Newbold Singer Sargent (1826-1902) who had been on vacation.
His parents had left Philadelphia for Europe in the fall of 1854 a year after the death of their first child (Mary Newbold born '51, died July of '53) leaving Mrs. Sargent crushed. Mrs. Sargent insisted they travel to Europe to regain her health and so they did the following autumn (1854) after Dr. Sargent took a leave of absence from his position as Attending Surgeon at Wills Hospital and his promising career in Philadelphia. He had every intention of returning upon the successful emotional convalescence of his wife. However, while over there, Mary got pregnant again with John and he is born.
That year the family spends the summer in Geneva and the winter in Rome. Mrs. Sargent once more finds herself pregnant.



(map)

1857 (1 year old)
Year In Context
His sister Emily is born in Rome (1856-1936). Any pretense that Mrs. Sargent is going to consent to return to the United States is pretty much shattered by the second birth of their child and Dr. Sargent resigns his position as surgeon at Wills Hospital at the age of 37.
They spend the spring and summer in Vienna.
(Austria)
1858-59 (2-3 years old)
Year In Context
John's maternal grandmother dies in Rome. The family spends the summer in Switzerland.
1860-61 (4-5 years old)
Year In Context
Back to Rome in the fall of 1860. Emily has an accident which leaves her spine deformed. Mrs. Sargent is incapable of handling the illness of her daughter and Dr. Sargent spends a great deal of time aiding Emily. Mrs. Sargent is already pregnant with another child.
The first known drawing of John is done of Dr. Sargent writing a letter to his own father which he encloses.
February 1, '61, a new daughter, Mary Winthrop "Minnie" is born (1861-1865).
The family spends the spring and summer in Switzerland and September they travel back to Nice for the winter.
Dr. Sargent follows the Civil War in the press with intense interest.
The continual change of local nannies from city to city and country to country is exposing John to the various European languages which he begins to pick up without accent.


1862 (6 years old)
Year In Context
Nice. The family lives in the Maison Virello, rue Grimaldi. Sargent becomes friends with Ben del Castillo, a son of other expatriate Americans (originally from Cuba).
The family travels to London to consult doctors about Emily's back, and then on to Switzerland in July. By October they return once more to Nice for the winter.


1863 (7 years old)
Year In Context
May, in response to growing English Southern sympathies for the Civil War, Dr. Sargent publishes a pamphlet entitled England, the United States, and the Southern Confederacy, in which he pleads for reason on the part of England to not stoop to short-term self interest (the supply of cotton to England's mills) but long term ideals -- politically and economically.
They find the American expatriate community as fractious as their native country and one neighbor at Nice flies the Confederate flag at every news of a Union defeat.
Switzerland from June to October and Nice again for late autumn and winter.
1865 (9 years old)
Year In Context
Minnie, John's youngest sister (age 4), catches a bronchial infection which she can't shake and her health slips fast. They travel to Pau, France with the hope of an improved climate but find the weather is no better and she dies.
It seems the only way Mrs. Sargent knows how to cope is to travel more.
May, they are in Biarritz
Dr. Sargent plans a trip alone back to the States to visit his parents. The rest of the family remains in Switzerland and rejoins Dr. Sargent in London by September. They spend October in Paris and November in Nice.

1866 (10 years old)
Year In Context
By '66 John has met his friend Violet Paget (a.k.a. Vernon Lee). The family spends the summer around Lake Como and the Engadine and then returns to Nice in the fall where Mrs. Sargent is once more pregnant. John, Emily and Violet spend time painting in watercolors with Mrs. Sargent who painted often as recreation.

1867 (11 years old)
Year In Context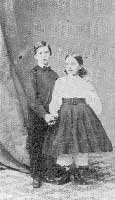 Sargent and sister Emily 1867, age 11
Winter in Nice.
March 7, another child is born to the family, this time a brother -- Fitzwilliam Winthrop (1867-1869). The baby's health is poor.
The itinerary only gets fuller. In the summer the family travels to Paris, the Rhine, Muich, the Tyrol, Salzburg, Milan, then Genoa. In October the family returns to Nice for the winter.
1868 (12 years old)
Year In Context
By March the family is in Spain, May they are in Biarritz then back to Nice by October. Dr. Sargent sees a need for formal education for John, and at Nice John attends a school run by an English clergyman and his wife -- but the stay is brief.
November, Mrs. Sargent -- ever restless -- pushes the family on to Rome where they live at 17 Trinita de Monti, above the Piazza di Spagna. Here, John helps the German-American landscape painter Carl Welsch (1828-1904) in his studio and copies watercolors.

1869 (13 years old)
Year In Context
They Winter in Rome and by May the family travels to Naples, Capri, Sorrento, Pompeii and from Padua to Bozen (seemingly never resting with the itinerary almost frantic). On these trips John writes to his friend Ben del Castillo.
On June 28, John's bother, Fitzwilliam Winthrop dies at Kissingen.
July, the family is in St. Moritz and Mrs. Sargent finds herself pregnant again, then to Florence by October where John paints copies at the Bargello.




1870 (14 years old)
Year In Context
Still in Florence on February 9th, Violet Sargent is born (1870-1955) -- the youngest and last of the children.
John attends M. Joseph Domengs day school, in the former Convent I Servi di Maria in the Piazza della SS Annumziata and has dancing lessons at 43 via Romana.
May, they are in Venice and Lake Maggiore
June to October in Switzerland where John paints a number of Alpine watercolors.
October, they are back in Florence for the winter.