George W. Vanderbilt's Biltmore, N. C.
1889-95
Richard Morris Hunt, architect
Frederick Law Olmsted landscape architect

Jpg: Net



John Singer Sargent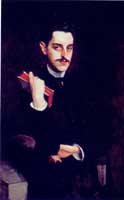 George Washington Vanderbilt
1890
From www.biltmore.com:
George Vanderbilt engaged two of the most distinguished designers of the 19th century: architect Richard Morris Hunt (1828-95) and landscape designer Frederick Law Olmsted (1822-1903) to create a little bit of Eden on some 8,000 acre estate.
Hunt modeled the architecture on the richly ornamented style of the French Renaissance and adapted elements, such as the stair tower and the steeply pitched roof, from three famous early-16th-century châteaux in the Loire Valley: Blois, Chenonceau, and Chambord.
Boasting 4 acres of floor space, the 250-room mansion featured 34 master bedrooms, 43 bathrooms, 65 fireplaces, 3 kitchens, and an indoor swimming pool. Priceless art works and furnishings adorned its interiors. The surrounding grounds were equally impressive, encompassing 125,000 acres of forest, park, and gardens.
Notwithstanding its grandeur, Biltmore Estate was very much a home. It was here that George pursued his interests in art, literature, and horticulture, and also started a family. He married American socialite Edith Stuyvesant Dresser (1873-1958) in June 1898 in Paris, and the couple came to live at the Estate that fall after honeymooning in Europe. Their only child, Cornelia (1900-1976), was born and grew up at Biltmore.
It took six years to build it and in December of 1895, at his grand opening party, it was still unfinished (taking 3 additional years to complete).
(www.biltmore.com)

Subject: There were 6 total paintings owned by Biltmore estate
From: Brian Hawley
B rian.Ha wley@wachovia.com>
Date : Thu, 4 Oct 2001
[Editor's Note -- Brian sent two wonderful letters, the first was on the 4th and the second was on the 8th. I have combined both meshing them together somewhat for readability only]
Natasha, I found your fantastic site about Sargent and have been avidly reading it recently. I am currently doing research on George Vanderbilt, and his amazing home Biltmore here in NC. As I am sure you know he owned 6 Sargent portraits. Can you give me more information about these oils? So far I only have been able to learn who the subject was, and about the time they were painted. Any help you can provide would be great! I am interested in the cost of a portrait such as those at Biltmore in 1890s dollars. I have read the write-up you give to Sargent's time at Biltmore and enjoyed it immensely!
The current portraits at Biltmore by Sargent consist of:

1) Mrs. William Henry (Kissam) Vanderbilt 69" X 51 1/2" (his mother) painted around 1888 so I am told. This I have noticed is not on your site. I wonder if it was painted along with her daughters Margaret Sheapard.

These next 3 were painted at Biltmore NC:

2) George Washington Vanderbilt 42" X 26" painted around 1895. This is the smallest Sargent in the home and I have always wondered why?

3) Richard Morris Hunt, 91 1/2" X 60", the architect almost if not completely life sized painted 1895

4) Frederick Law Olmstead also nearly life-sized 91" X 61 1/4, painted 1895, this one is slightly smaller than the Hunt portrait.
I am surprised you don't mention or have photos of these next two paintings.

5) His Aunt Mrs. Benjamin P. Kissam (I don't have the dimensions) painted around 1888.

6) His Cousin Mrs. Walter Rathbone Bacon 81 1/2" X 38 1/2" (These last were acquired I believe after 1896 but I am not certain of the date)
Here is a bit more background info. Mrs. Benjamin P. Kissam and Mrs. W.H. Vanderbilt were sisters. Both appear to have been painted around 1888, about the time Margaret Sheaperd (Mrs. W.H. V.'s daughter) was painted. It appears that Sargent painted the 2 sisters and one daughter all about the same time. I would also suppose that this is the first time George had contact with Sargent. George did not commission the Kissam portrait, he acquired it later from Mrs. Kissam's daughter Ethel. I am currently trying to find out more about how, when and why he received this painting. Sadly I am not currently able to get a good image for the Mrs. Benjamin Kissam portrait. I do have OK images for the Mrs. W.H. Vanderbilt portrait and Mrs. Walter Rathbone Bacon. I will send those tonight.

The Bacon painting is a favorite of mine with Mrs. W.H. V. coming second. Mrs. Bacon's portrait was also enjoyed by Paul Ford the novelist who was a good friend of George Vanderbilt. On his visits to the home he would blow kisses to the painting! George commissioned the Bacon painting which was completed in 1896. George acquired his mother's portrait apparently right after her death. I will send a photo have of the tapestry gallery taken in 1895 or 1896 that shows both his Sargent painting and his mother's on the wall.

Also you mention the wellhead that Sargent painted Hunt standing next too might not have yet been setup or even shipped down from NYC since the final flurry of construction was going on. However George Vanderbilt did own a 13th century unpolished Italian marble wellhead that is on the site today.

It is also certain that the wellhead in the Sargent painting is nearly if not completly identical to the wellhead on the property today. See the photo of me taken in a Hunt pose in the fall of 1998. it is my belief that the wellhead in the painting is that very one still on the property.



Brian Hawley as
Richard Morris Hunt
1998

Richard Morris Hunt
1895



You may know that George Vanderbilt inherited a HUGE three million dollar art collection from his father (William Henry Vanderbilt). This collection was accumulated from the late 1870's until 1885. After some financial trouble in the panic of 1907 George had to sell most of this art. Sadly his father had relied on outside advice on the purchase of these works and by 1907 most were worth less than the original purchase price. I surmise that George realized less than one million from the sales. It is however fortunate that the family portraits and some cherished other works were not sold. These exceptions to the sale obviously include the Sargents. My point is similar to your essay concerning eBay and the possible Sargent forgery. I have always found it sad that William Vanderbilt did not pick up the fantastic works available in the 1880s. Even with unlimited resources and good advice, art collecting it seems can be a difficult endeavor.

Have you had the opportunity to go to Biltmore and see the Sargent paintings?


Brian


From: Todd
Todd n NC@aol.com
Date: 14-Oct-05

I am a huge Biltmore Estate History junkie and have in my collection a set of cards published in 1994 that I purchased at Biltmore House and in the collection of cards (greeting type) is one of this wonderful painting of Virginia Bacon [Mrs. Walter Bacon]. It is my favorite piece in the house.

If your interested in joining fellow Biltmore History and Collector fans join us at our growing club that I have started.

We try to discuss the history into a much more indepth way than your Biltmore guide book will.

(Go to)


Notes: