Homer Saint-Gaudens and his Mother
John Singer Sargent -- American painter
1890
Carnegie Museum of Art, Pittsburgh
Oil on canvas
151.8 x 142.2 cm (59 3/4 x 56 in.)
Patrons Art Fund
Jpg: Local
Painted in a barrowed studio in New York on twenty-third street and Lexington Avenue, this portrait was done in exchange for the sculpted bronze that Saint-Gaudens was doing of John's sister. The two friends took great pleasure in each of their assignments.
The unusual arrangement here begs only one explanation. Though it's not really explained in any source that I've found, it appears (to my mind) this portrait, like the one Saint-Gaudens' was doing of John's sister, was to be of one person -- one portrait for one portrait.
John wrote Saint-Gaudens about what he felt was needed for his sister's portrait requesting a full-rounded sculpture instead of a relief but quickly realizing he was playing the part of any number of difficult patrons: 'Pardon my silly interference. I am surprised at myself behaving just like the worst bourgeois, and you can have your revenge on me about your boy. I like his head very much by the way'
(undated letter from Sargent to Saint-Gaudens. Saint-Gaudens Collection, DCL, quoted in Ormond & Kilmurray, John Singer Sarsgent's Portraits of the 1890's, p. 30).
Saint-Gaudens, of course, dismissed Sargent's suggestion -- not out of spite -- but out of love; and each took their task in the manner in which each felt moved by his own art.
In Sargent's case, the boy whom is featured center and prominent as expected of a formal seated portrait (with formal clothes) shows Homer Saint-Gaudens (1880-1953), ten years old at the time. He would later recall that he had been fidgety and restless and only through the sittings and attentiveness of his mother and the quiet reading of the great battle between two great warships at sea -- the Constitution against the Guerriere from the book The Blue Jackets of 1812 -- for it to calm him enough for Sargent to paint him. (Ormond & Kilmurray)
The subtlety of Sargent here is everything. What was to be a formal portrait of just a child is anything but. Homer sits obediently (it is true) but slightly slumped, his head listing in the quintessential boredom of any ten year old boy who would much rather be climbing trees pretending to be Captain Hull in the rigging of "Old Ironsides" then to be stuck in front of some boring painter.
It's honest! It's truthful! It's sweet!
But the whole thing really comes together when instead of leaving out his mother, as was probably intended by the mother, Sargent puts her in -- helpful -- loving -- unsuspecting -- lost in the pages and words recounting the tale of heroes and glory for her son. The painting itself, I think you would agree, makes a definite turn from what it might have been. One is left wondering, though the focus is on the boy, might not the TRUE focus be of a loving intimate study of his dear friend's wife and her bond with her child.
Both men, it would seem, would have surprises for the other.
Augustus Saint-Gaudens
American sculpture (1848-1907)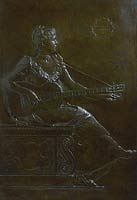 Violet Sargent
1890
Each gift was cherished. Sargent would later requested two copies of the bas-relief -- one for himself and one for Violet's mother-in-law when his sister married in the summer of the following year, and Sargent's painting would hang prominently in the Saint-Gaudens' home.
Exhibitions
Saint-Gaudens would release the painting often to Sargent for shows:
1890 - Philadephia, Art Club
1891 - Paris, Salon du Champs de Mars
1892 -- New York, Society of American Artists
1893 -- the World Columbian Exposition, Chicago, along with eight other portraits.
1897-98 -- Pittsburgh
1899 -- Boston
1901 -- Buffalo
1903 -- New York
1924 -- Buffalo then New York for retrospective
1925 -- Boston Musuem of Fine Arts

( . . . )

2004-2005 -- Great Expectations
Notes:

See the year in review 1890