Edwin Austin Abbey
John Singer Sargent -- American painter
1888-1889 ?
Yale University Art Gallery, New Haven, CT
Pencil
14 x 10 1/8 in.
Jpg: local
Edwin Austin Abbey, (American artist, 1852-1911) best known for his illustrations for Harpers magazine, his mural work for the Boston Public Library; murals at his native state capitol in Harrisburg, Pennsylvania; his many theatrical / literary paintings; and The Coronation of Edward VII (1902-1904, Buckingham Palace)
Edwin was born in Philadelphia, began his training as an artist under Isaac Williams, a portrait and landscape painter who had studied with John Neagle and Christian Schussele, a German-born history painter.
He moved to New York when he was 14, taking a full-time position drawing for Harper and Brothers, the publisher of a news weekly, a literary monthly, and books. Through Harper's he became friends with Francis Davis Millet and other prominent Harper illustrators such as Edwin Blashfield, Alfred Parsons.
In 1878, Harper's sent him to England to do background research for an edition of Robert Herrick's poetry. From that moment on, the pull to Great Britain and Europe would never abate and he finally settled in London in 1882 at the age of 30. When his friend Frank Millet moved to Broadway, Abbey went with him forming the nucleus of an artist colony that would included John Singer Sargent among others.
Most of his early work was in pen and ink, which he showed a strong ability for; but once he turned to oils and color, he did so in a big way .
After Edwin married, he settled in Morgan Hall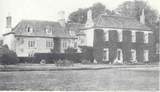 Morgan Hall
where he and Sargent set up a studio to begin the Boston Public Library murals.
Abbey along with his other friends from Harpers tended to lean more towards the English Pre-Raphael Brotherhood style in their artwork of genera scenes which was popular in the public. In his mural work for the Boston Public Library, a commission he received in 1890 along with John Singer Sargent and Augustus Saint-Gaudens, the paintings followed more of a theatrical arrangement of characters on stage than a "recreation" of a supposed historical scene. This trend carried forward in his series on Shakespearian plays in the mid to late '90's.

From: The Butler Institute of American Art
Edwin Abbey was a man whose facility for illustration subverted his potential and reputation as a fine artist. A major portion of his career was spent in the fulfillment of illustration and mural commissions. He was fascinated by medieval England and English literature, and was lucky to have an equally interested public. Because of his affiliation with Harper's, Abbey's audience was large.
Abbey's career was driven more by his imagination of historic events than by his direct observation of the light and life around him, for he surely had sufficient ability to place him among the best of his contemporaries. In choosing to be an illustrator of medieval life he satisfied a personal and public interest, rather than breaking new ground as an observer or technician.
The principle monuments of his career are his murals, Quest for the Holy Grail (1890-1902, Boston Public Library), The Coronation of Edward VII (1902-1904, Buckingham Palace), and the decorations of the Pennsylvania State Capitol in Harrisburg which, unfinished at his death in 1911, were completed by Sargent. Two of his principal oil paintings were May Day Morning (1890, Yale University Art Gallery), his well-received first Royal Academy entry, and Richard, Duke of Gloucester, and the Lady Anne (1896, Yale University Art Gallery), which was based on a scene in Shakespeare's Richard III.
(JOSEPH KEIFFER)

---



Notes:
I have seen Sargent's drawing dated 1888 and 1889. I don't know which is correct. I know for a fact it was featured in Henry James' article: "Our Artist in Europe"; for Harper's New Monthly Magazine, Volume LXXIX, Page 50-66; June to November 1889 -- the magazine is reproduced at Cornell Making of America


American painter and illustrator, active in England. He began his artistic training in 1866, studying drawing with the Philadelphia portrait and landscape painter Isaac L. Williams (1817--95). In 1868 he attended evening classes in drawing at the Pennsylvania Academy of the Fine Arts under Christian Schussele (?1824--79). In the same year Abbey began to work as an illustrator for the Philadelphia publishers Van Ingen & Snyder. In 1870 Harper's Weekly published the Puritans' First Thanksgiving, and in 1871 Abbey moved to New York to join the staff of Harper & Brothers, thus inaugurating his most important professional relationship. Throughout the 1870s Abbey's reputation grew, both for his detailed exhibition watercolours and for his elegant line drawings, which, translated to wood-engravings in numerous periodicals, illustrated both factual and fictional events of the past and present. The influences on him were mainly English, in particular the works of the Pre-Raphaelite Brotherhood and illustrations in the English press, which he studied avidly. The success of his illustrations to some of Robert Herrick's poems, such as Corinna's Going A-Maying in Harper's New Monthly Magazine (May 1874), prompted Harper & Brothers in 1878 to send Abbey to England to do a complete series of drawings for an illustrated gift-book, Selections from the Poetry of Robert Herrick (New York, 1882). On his arrival in England, Abbey found his spiritual home, and except for a few trips, he never left.

Abbey, a small, handsome, athletic man, had a genius for forging long-lasting and often profitable friendships. In 1877 he helped to found the Tile Club, which included among its members the architect Stanford White, Augustus Saint-Gaudens and Winslow Homer, whose activities resulted in gift-books and lengthy magazine articles. Abbey's most intense friendship was with the English landscape painter and illustrator Alfred Parsons (1847--1920). The two artists shared studios and gallery exhibitions, travelled together widely and collaborated on several projects, most notably the gift-books Old Songs (New York, 1889) and The Quiet Life (New York, 1890). Abbey derived much of the inspiration for these from his long sojourns in the English countryside, especially, from 1885 to 1889, as one of the central figures in the artists' colony at Broadway (Hereford & Worcs), along with Parsons, Frank Millet (1846--1912) and John Singer Sargent.

Abbey undertook illustrative commissions throughout his life (his illustrations to Shakespeare's plays being especially noteworthy), but from 1889 on he devoted more time to mural projects and oil paintings. In 1890 he sent his first major oil, May Day Morning (New Haven, CT, Yale U. A.G.), based on one of the Herrick illustrations, to the Royal Academy Summer Exhibition, where it was favourably received. Until 1910 Abbey exhibited there frequently, and he was elected ARA in 1896 and RA in 1898. His exhibited works were usually based on Shakespearean, troubadour or Renaissance themes. Large and richly coloured, the paintings reflect Abbey's fascination with the stage, particularly in the arrangement of the figures, their poses and sumptuously coloured costumes (Abbey designed the costumes for John Hare's Tosca (1889) and Sir Henry Irving's Richard II (1898), among other productions). Although he received many honours and awards, the signal event of Abbey's career was the commission in 1902 to paint Edward VII's coronation (London, Buckingham Pal., Royal Col.).

The major projects of Abbey's later life were commissions for murals. He decorated the delivery room of McKim, Mead & White's Boston Public Library with a 15-panel series (1890--1901) based on the Quest for the Holy Grail (see fig.). Works for the Royal Exchange, London, and other commissions followed. In 1902 Abbey began the decorations for the Pennsylvania State Capitol at Harrisburg. An allegory of the state's history and its resources, Abbey's work here departed from the schematic narrative of his other murals and adopted a full-blown rhetorical style related to the work of Kenyon Cox and Edwin Howland Blashfield.

BIBLIOGRAPHY
E. V. Lucas: Edwin Austin Abbey, Royal Academician: The Record of his Life and Work, 2 vols (London, 1921)
Edwin Austin Abbey (1852--1911) (exh. cat., ed. K. A. Foster and M. Quick; New Haven, CT, Yale U. A.G., 1973)
M. Simpson: 'Windows on the Past: Edward Austin Abbey and Francis Davis Millet in England', Amer. A. J., xxii/3 (1990), pp. 64--89
------: Reconstructing the Golden Age: American Artists in Broadway, Worcestershire, 1885 to 1889 (diss., New Haven, CT, Yale U., 1993)
Unfaded Pageant: Edwin Austin Abbey's Shakespearean Subjects (exh. cat. by L. Oakley, New York, Columbia U., Miriam & Ira D. Wallach Gal., 1994)

SOURCE: www.groveart.com