Portrait of the Hon Charles Alfred Lister "Mug"

John Singer Sargent -- American painter

1899

Private collection

Pencil

11 x 8 in.

Jpg: Askart.com


The Hon. Charles Alfred Lister, son of Lord Ribblesdale whom Sargent painted in 1902. The drawing was reproduced as the frontispiece of the book which Ribblesdale later wrote as a memorial after Charles was killed in World War I: "Charles Lister: Letters and Recollections with a Memoir by his Father" (1917).

On the tissue guard covering the frontispiece drawing, it reads:

"Charles Lister, Gisburne, August, 1899. When Mr. Sargent was paying a visit at Gisburne, he was impressed by a fidelity to type conspicuous in this mid-seventeenth century portrait and the Charles Lister of 1899. This accounts for the background of his drawing."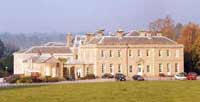 Lord Ribblesdale's home at Gisburn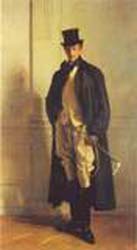 Lord Ribblesdale
1902
(Father to Charles Lister)
Note:
Offered but not sold by Christies; 12/4/1996; Lot 78; estimated $15,000-$25,000
See the year in review 1899