Emma (Margot), Countess of Oxford and Asquith
1897
National Portrait Gallery, London
Chalk
54.9 x 39.7 cm (21 5/8 x 15 5/8 in.)
Jpg: Friend of the JSS Gallery
Margot Asquith (nee' Tennant) 1864 to 1945, wife of Herbert Henry Asquith, the one-time Prime Minster of England between 1909 and 1916. She was a member of "The Souls," an important literary and aesthetic group in England.
Sargent also drew her children and again herself later:

Anthony Asquith
c. 1908
(son to Margot)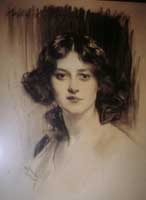 Elizabeth Asquith
1914
(daughter to Margot)

Notes:
Special thanks to Matt Davies, of Kansas City, a friend of the JSS Gallery, for sending me notes regarding this image.