Margaret Louisa Vanderbilt

(Mrs. Elliot Fitch Shepard)

John Singer Sargent -- American painter

1888

San Antonio Museum of Art

Oil on canvas
213.36 x 121.92 cm (84 x 48 in)


Jpg: ARC / San Antonio Museum of Art


From: Dale Headington
(Westlon 123 @ aol.com)
Date: Wed, 30 Oct 2002

Margaret Louisa Vanderbilt (1845-1924) was the eldest daughter of William Henry Vanderbilt and Maria Louisa Kissam Vanderbilt (and therefore the sister of William Kissam Vanderbilt I and George Washington Vanderbilt). She married Elliott Fitch Shepard (1833-1893) in 1868. They lived in the double mansion on 5th Avenue and W 52nd Street (built by their father for Margaret, her sister Emily and their families) and at a magnificent country estate in Scarborough NY.
The girl pictured in the thumbnail, Alice Shepard (1874-1950) was her daughter, married in 1895 to Dave Hennan Morris (1872-1944). Alice and Dave Morris had eloped as the Vanderbilt family thought him an unsuitable husband - he was a pre-med student at Harvard and his father was head of the Louisiana lottery and involved in horse racing. Worse still, according to Gertrude Vanderbilt Whitney, 'we had never heard of him'! By the time he died he must have thoroughly vindicated himself to the family, having become Vice President of the St Louis Southwestern Railway, US Ambassador to Belgium and an Officer of the Legion of Honor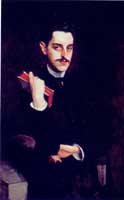 George Washington Vanderbilt
1890
(younger brother to Margaret Louisa Vanderbilt)

From: Todd
Todd n NC@aol.com
Date: Oct 25, 2005 10:12 PM

Margaret was very close to George Vanderbilt and was booked with him and his family on Titanic but for whatever reason no one has ever known they canceled and sailed a week early on the Olympic.

Notes
Special thanks to Dale Headington, a friend of the JSS Gallery, for sending me a note regarding this image.