Sampling of work by
Phineas Paist
Phineas Paist
1904-1910?


(Photo of painting)


Artist?
Owner?
Size?
Jpg: Michael Turbeville
Phineas P. Paist
(1873-1937) worked closely under
Paul Chalfin during the contruction of James Deerings summer home Vizcaya




Vizcaya





From:

Michael Turbeville
t ur bo9@verizon.net
Date: Thu, 01 Sep 2005
(c) Copyright 2005
Printed by permission


Phineas is responsible for the original design for the University of Miami, as well as the Florida pavilion at the Chicago Worlds Fair 33/34 also the Florida pavilion at the 39 Worlds Fair the largest participation by any state in this nation, although he passed in 37, he deserves all the credit for it and possibly the modern designs termed modernity see the "Florida Home" at Chicago Worlds Fair.



Sat, 03 Sep 2005



At the time of Deerings watercolor [thumbnail "Fountain"] Paist was 47, I don't think I have a photo of Paist in 1917, but I do have a pic done in 1920, 3 years later, and Paist is considerably older than the photo of Paist (with Deering?), which I think dates to 1907.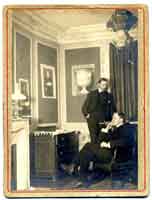 Phineas Paist with possibly James Deering?
1907?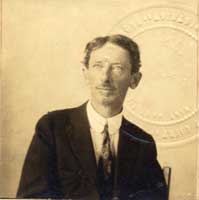 Phineas

Paist




1920





Sun, 11 Sep 2005



PHINEAS P. PAIST was 64 at the time of his death at Miami in 1937.

By 1893 the 20 year old Phineas was working for Philadelphia architect S. Gifford Slocum, and also in Cleveland as a draftsman for Architect Charles Schweinfurth. Around 1893 Paist will begin his association with G.W. and H.D. Hewitt

The 1893 World Columbian exposition in Chicago was later to have a strong influence on him. Attending school after work In april of 1896 at Drexel Institute of science and industry, Paist wins first prize in the evening architectural water-color class , winning him $10 from Drexel president James Mac Alister. In 1897-98 Phineas exhibited at the Drexel School, a large watercolor rendering of the Hall of Machinery from the 1893 Chicago Fair.

The 1893 exposition will start a life long interest in world's fairs. Later in life he and his partner Harold Steward will create the
Florida Pavilion at the 1933 Chicago WF where they present the modern Florida home a design by associate architect Robert law Weed a modern designer show house that featured the works of many modernist designers of the 30's. Also on the drawing board at his death in 1937, the design for the Florida exhibit, at the 1939 New York worlds fair. It was the largest participation by any state in the nation.

On August 19th 1904 he is second holder in the Pennsylvania Academy's Scholarship in architecture, and is afforded a farewell dinner at the Manheim Cricket Club. This is a good year for the 31 yr. old Phineas. This 1904 award sends Paist and wife Anna to Paris where they will live while Phineas attends the Ecole De Beaux Arts, thru the Atteliers of Chifflot and Duquesne. 1905 Paists tour is extended until 1906. Walking in the masters footsteps,

It is in this time period that I think Paist may be acquainted with John S. Sargent. The missing portrait of Paist [featured above], I believe is done at this time.



(Editor's Note

- Michael thought the above painting - which is an image of an old photo of a painting now unlocated -- might have been by JS Sargent)

1905 and 1906 proves to be a very productive time for Phineas, he travels and paints in Plein air profusely and produces hundreds of small landscapes and Architectural renderings. These small paintings and watercolors will remain un-discovered for 85 years. Paists classical skillful watercolor renderings and plein airs will prove to be a window into the mind of this un-recognized American post impressionist painter.

Around 1920 in Miami Phineas will evolve from his association at the Deering estate [Vizcaya] to become a city planner and lord of architecture for The Coral Gables Plantation heir George Merrick.

Phineas Paists contributions of the Douglas entrance, the Police and Fire Station bldg. and the new Miami Federal Courthouse
will prove to be a unique collection of buildings in the Beaux Arts Style,

Paists architectural styles make Coral Gables unique in all of America, as a city planed and overseen by an Ecole des Beaux Arts
architect. Other cities like Boston, Chicago, New York and Washington can only boast of individual buildings, by Ecole des Beaux Arts architects, not a whole city plan as in CG. Along with the dozens of homes, City and Federal buildings Paist will design, a regretfully never realized original plan for the University of the Sun ... the University of Miami.

After Returning from Paris to Philadelphia in 1906 Phineas continues to pursue a career in architecture for the firm of G.W. and W.D. Hewitt which in 1906 becomes Hewitt Stevens and Paist. His wife Anna will start the first Montessori school in Bucks County
PA. after her return from Italy. In Philadelphia his work continues for George C. Boldt a hotel man (Waldolf Astoria) and owner of the Heart Island Castle on the St. Lawrence seaway, which was built by the Hewitts and Paist also the Willard hotel in Washington and additions to the Bellevue Stratford in Phil. By 1915 Paist has closed his office in Philadelphia and will move to Miami leaving for what his wife believes to only be a short time ... to live and work for Paul Chalfin at James Deerings Villa Viscaya. He will live in Miami until his death in 1937. By 1926 besides the City Hall, the Colonade building The Venitian Pool,

Mr. Paist had designed for George Merrick a plan for an Arts and Crafts center in the Gables to rival what Elbert Hubbard of the Roycroft Shops of East Aurora, and what William Morris of Hammersmith England or what Fredrick L. Seely had ccomplished in the Biltmore industries at Asheville. All of these plans crumbled after the Hurricane of 26 and the following crash of 1929.



* * *

I am probably jumping the gun declaring Paist deserves credit for the moderne styles but by 1931 Paist and Steward had just completed The Miami Federal Courthouse. Phineas now in his 60's had been considered a god of Classical building styles.

The firm of Paist and Steward lost profit on the courthouse project due to faulty building materials. However the 1933 worlds fair project the Florida Home in the post depression era suggest a deeper interest in newer architectural styles and construction techniques such as cast cantilevered roofs, ship railing etc seen at Chicago set in play by the work of Robert law Weed at the Florida Home, overseen by Paist and Steward.



Notes
Special thanks to Michael Turbeville, a friend of the JSS Gallery, for sending us this image of a watercolor of Vizcaya



Sampling of work by
Phineas Paist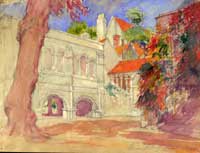 Inviting Entrance
Watercolor & pencil
1904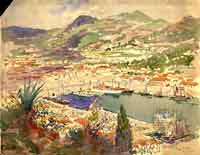 Harbor in Nice, France
Watercolor & pencil
1905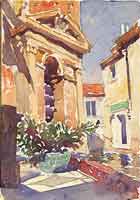 Italy
1904-1906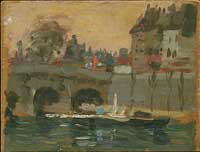 Bridge Scene
1905-1906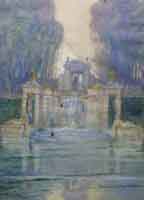 Fountain
Watercolor
after 1910?