Vizcaya


Vizcaya was the winter home of International Harvester vice president James Deering. It was located just south of the then-infant city of Miami facing Biscayne Bay (now in the heart of the city). Completed in 1916, it was built as an Italian Renaissance country villa, self-sufficient on 180 acres with a dairy, poultry house, mule stable, greenhouse, and staff residences. The house took two years to build and is based on a composite of a many Italian villa styles. The home was fully furnished from numerous trips to Europe by Deering and was intended to look as if it had been occupied by many generations of his family. Room decorations represented Renaissance, Baroque, Rococo and Neoclassic finish. The formal gardens were certainly begun when Sargent visited in 1916 but were not completed until 1921 due to the outbreak of World War I.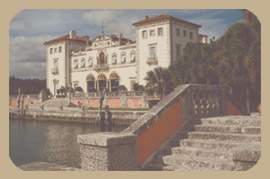 Three architects were involved: F. Burrall Hoffman designed the buildings; Diego Suarez planned the gardens; and Paul Chalfin was the general artistic supervisor for every phase of the project and under him worked Phineas Paist who handled the day to day oversight. Hoffman, Chalfin and Phineas all studied at the Ecole des Beaux-Arts.

In many ways Vizcaya was the apex of the American Renaissance movement which incorporated interest in the Italian gardens. And when John Singer Sargent visited here in 1917, he was already deeply interested himself and had been painting Italian gardens since 1900. (see Sargent and the Italian Gardens - Villa di Marlia, Lucca: The Balustrade )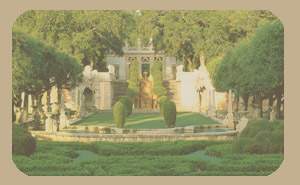 For Vizcaya, the site consisted of 180 acres which included mangroves and hardwood hammock along Biscayne Bay, In addition to the main house and multiple gardens and lagoons, the estate included cow pastures, citrus groves, nature trails through the dense subtropical forest, tennis courts, a yacht harbor and village that provided flowers and vegetables.
* * *
In 1952, Miami-Dade County purchased Vizcaya and opened it as a museum. Today, extensive restoration has brought the house and the remaining 50 acres back to the way they appeared in Deering's day.
(Vizcaya Museum and Garden)

Notes

See Sargent's paintings at the Vizcaya during his stay in 1917
See exterior Photo's (note -- page on file if link goes bad let me know)



From: Laurie

Ossman


Deputy Director for Collections and Curatorial Affairs Vizcaya Museum and Gardens
Laurie. Os sman@vizcayamuseum.org
Date: Nov 4, 2005

I'll email you an image of [another Sargent painting] we have --it's a curious thing, indeed. I think Richard Ormond is about the only person who knows we have it -- a small oil sketch mounted on panel that was apparently painted by Sargent on a nursery wall in France in 1877.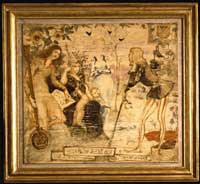 Oil sketch mounted on panel




1877



We also have some fun information about Sargent's visit to Miami in 1917 that might be of interest -- anecdotes about his critiques of Stirling Calder's work here, and an encounter with Lilian Gish at the swimming pool. Paist is indeed a major player at Vizcaya, so I'll get in touch with Mr. Turbeville as well. As a sidebar, Chalfin studied painting at the Ecole and was an advisor to Mrs. Jack as well as to Deering, and as you may know, Sargent and Charles Deering knew one another from Paris art student days, and hung out with Zorn, Gari Melchers and a host of other Beaux-Arty types, in Miami as well as Chicago and at Charles' place in Spain.

Small world, indeed.
Best,
Laurie O.