The Church of San Stae, Venice
John Singer Sargent -- American painter
c. 1907
Oil on canvas
22 x 28 inches
Jpg: Adelson Galleries, Inc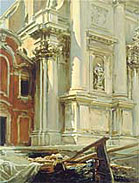 Corner of the Church of San Stae, Venice
c. 1913
Private collection
Oil on canvas
71.1 x 55.9 cm (28 x 22 in.)
The church of San Stae has a baroque facade by Domenico Rossi. It sits on the south side of the Grand Canal, Northwest of the Rialto Bridge -- around the bend.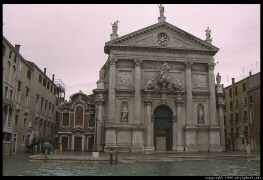 Photo by Philip Greenspun
Downes, William Howe. John S. Sargent, His Life and Work. London: Butterworth, 1926, p. 326.:
Venice was nearly a second home to Sargent who had known the city from his early youth. In the 1880s, his somber-toned Venetian paintings focused on local life seen through doorways and along the narrow streets far removed from the activity along the canals. After the turn of the century, he began to look closely at the architecture of the city and the effects of light on its spectacular facades and stone surfaces. He visited Venice nearly every year through 1913 and often stayed with his cousins, Mr. and Mrs. Daniel Curtis and their son Ralph, who lived at the Palazzo Barbaro on the Grand Canal. Although Sargent painted over 125 works in Venice between 1900 and 1913, fewer than a dozen were oils. These exceptional works include The Rialto, Venice (Philadelphia Museum of Art), Santa Maria della Salute (Johannesburg Art Gallery, South Africa), and The Entrance to the Santa Maria della Salute (The Fitzwilliam Museum, Cambridge, England). The subject of this oil is the Venetian church of San Stae, not the Gesuiti as it had first been identified in the artist's studio sale [after his death in 1925]. The facade, cut off just above the pediment of the main door, is characteristic of Sargent's Venetian architectural paintings.
One window of the red Scuola dei Battiloro e Tiraoro is seen to the left. Sargent painted only one other oil of the Church of San Stae (private collection) in which he omitted the elaborate architectural detail of the entrance and facade.
Exhibition:
London, Royal Academy, Exhibition of Works by the Late John Singer Sargent, R.A., 1926, no. 30 (as The Church of the Gesuiti, Venice)
Notes:
See the year in review 1907