Madame Roger-Jourdain
John Singer Sargent -- American painter
1883-1885?
Private collection
Watercolor on paper
30.5 x 55.8 cm (12 x 22 in)
Inscribed ll: a Madame Roger Jourdain/
hommage de John S. Sargent
Jpg: Sothebys

(click on the image to step closer)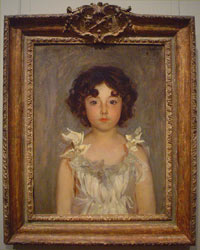 Mademoiselle Roger-Jourdain
1889
(Daughter to Madame Roger-Jourdain)

From: Sothebys

Madame Roger-Jourdain is an elegant and sensual watercolor depicting Sargent's Parisian friend and neighbour, Henriette Roger-Jourdain, daughter of the artist Henri Moulignon. She lived with her husband Joseph, also an artist, along the boulevard Berthier, adjacent to Sargent and other 19th century luminaries, including painters, composers and poets. Ever a stylish couple, the Roger-Jourdains acted as frequent hosts and art patrons and were entrenched in the artistic milieu of Paris in the 1880s. Madame Roger-Jourdain particularly captured the imagination of those around her, inspiring musical compositions and portraits alike. Giovanni Boldini, who took over Sargent's studio on the boulevard Berthier in 1886, painted his Portrait of Madame Roger-Jourdain (figure 1) in 1889. As Richard Ormond writes: "Henriette Roger-Jourdain (d. 1928) was the daughter of one French painter, Henri Moulignon, and the wife of another, Joseph Roger-Jourdain (1845-1919). Wealthy and charming, she was a noted hostess and the friend and confidante of many prominent artists, writers and musicians of the time. The Roger-Jourdains were neighbours of Sargent in the boulevard Berthier and, together with Albert Besnard and Ernest Duez, formed part of a circle of artist friends in the mid-1880s. It was through this group that Sargent met the French composer Gabriel Fauré, who dedicated 'Aurore' to Madame Roger-Jourdain in 1884. . . .
"The water-colour of Madame Roger-Jourdain, reclining provocatively on the grass, her parasol upturned above her head, is a rarity in Sargent's work. The motif was to become a favourite one with the artist after 1900, when his nieces posed for him in alpine meadows, but there is nothing quite comparable from the eighties. Mount dates the water-colour to 1879, but there is no evidence that Sargent knew the Roger-Jourdains as early as that, and the work has more in common with the few water-colours of figure subjects datable to the mid-1880s.
"In 1889 Sargent painted a portrait of the Roger-Jourdains's daughter, which he inscribed à mon amie Madame Jourdain. Sargent and Joseph Roger-Jourdain were contributors to the fund to buy Manet's Olympia for the Louvre in the same year.
"The mood of the water-colour is intimate and sensual, like Sargent's studies of Judith Gautier, and the inscription carries with it an implication of gallantry. The slight and attractive Madame Roger-Jourdain is said to have had many lovers. Her particular quality of beauty and vividness is well given in the full-length portrait of her by Albert Besnard of 1886 (Musée des Arts Décoratifs, Paris). She died at Blois from an overdose of sleeping pills, inconsolable, it is said, at the death of her son in the First World War" (John Singer Sargent: The Early Portraits, New Haven, Connecticut, 1998, pp. 154-55)
(Sothebys)

Notes:

Exhibitions
London, England, The Tate Gallery, The John Hay Whitney Collection, December 1960-January 1961, no. 53, illustrated
Bibliography
Charles Merrill Mount, John Singer Sargent: A Biography, New York, 1955, p.59; 1957 ed., p. 52; 1969 ed., p. 59

David McKibbin, "A complete checklist of Sargent's portraits," Sargent's Boston, with an Essay & a Biographical Summary, Museum of Fine Arts, Boston, Massachusetts, 1956, p. 104

Charles Merrill Mount, "Carolus-Duran and the Development of Sargent," Art Quarterly, Winter 1963, p. 407, illustrated fig. 2
Russell Lynes, The Art Makers of Nineteenth Century America, New York, 1970, illustrated p. 432

Richard Ormond and Elaine Kilmurray, John Singer Sargent: The Early Portraits, New Haven, Connecticut, 1998, no. 152, pp. 154-55, 254, illustrated in color pp. 148 (detail), 155
Provenance
Macbeth Gallery, New York, 1928
Babcock Gallery, New York
Governor John G. Winant
Carroll Carstairs, New York, 1936
Mrs. Payne Whitney, New York
John Hay Whitney (her son), New York, 1944
Mrs. John Hay Whitney, New York, 1982
Sale
Sold at Sothebys, New York, 19 May 04, Session 1, 10:15 AM, Sale NN07997
lot 7, estimated 1,000,000—1,500,000 USD
from the collection of Mrs. John Hay Whitney, Hammer Price with Buyer's Premium: 2,696,000 USD