Madame Roger Jourdain
Paul Albert Besnard -- (1849-1934) French painter
1886
Musée d'Orsay, Paris, France
Oil on canvas
jpg: CGFA
Albert Besnard exhibited his portrait "Le Portrait de Madame Roger Jourdain" at the Salon of 1886.
He was born in Paris in 1849 to parents who were both artists. his mother was a miniaturist of some note. He began his his more formal art studies under Cabanel and at the Ecole des Beaux-Arts at age 17 and in 1874 (the year that John Singer Sargent arrived in Paris to study) Besnard was awarded the Grand Prix of Rome.
Prior to 1880 he was mostly an academic artist, but then he hooked up Ernest Duez and John Singer Sargent who were greatly influenced by the impressionist and the tonal style of Carolus-Duran. Madame Roger Jourdain was in this group of artists and friends during this time. Between 1881-1884, Besnard exhibited at the Royal Academy in London. In 1889, Besnard's "Woman Warming Herself By the Fire" was exhibited and is now in the Musee d'Art Moderne.
Besnard went on to a successful career and was appointed Member of the Academy des Beaux-Arts, the Acadamie Francaise, Grand-Croix de la Legion d'Honneaur, Director of the Villa Medici at Rome and the Director of the Ecole Beaux-Arts.
As a decorative artist he worked on a large scale, such as his frescoes at the Sorbonne, the Ecole de Pharmacie, the Salle des Sciences at the htel de ville, the maine of the first arrondissement, and the chapel of Berck hospital, for which he painted twelve Stations of the Cross in an entirely modern spirit.
(www.annalies.com)
(1911encyclopedia.org)


John Singer Sargent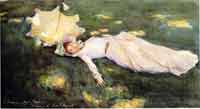 Madame Roger-Jourdain
1883-1885?



Notes