The Museum of the Brooklyn Institute of Arts and Sciences
(Conceptual Rendering)
McKim, White and Mead, architects
1893
Francis L.V. Hoppin, artist (1867-1941)
The Brooklyn Museum
Gouache and ink on paper
62.9 x 166.4 cm (24 ¾ x 65 ½ in.)
Jpg: BrooklynMuseum / local
At its conception, the idea was to make it the largest museum in the country -- a single building which would be the largest museum-structure in the world; and it would house collections of art, natural history, and science, as well as serve as an educational and research institution.

It was a grand proposal put together in the year of the Chicago Worlds Fair with a design that would proclaim the building as a temple of art and learning.

Of course, reality had to be faced and what was realized was a beautiful, but much more modest version.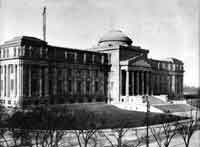 The Brooklyn Museum 1914
Photo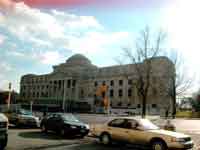 The Brooklyn Museum Today
2004

Notes: