Portrait of Katie Lewis
Edward Coley Burne-Jones -- (1833-1898) Pre-Raphaelelite
1886
Private collection
61 x 127 cm. (24 x 50 in.)
signed and inscribed l.l.: EB-J to GBL : and dated 1886 on the pages of the book
Jpg: Sothebys.com
From: Sothebys
The touching friendship between Edward Burne-Jones and the sitter for this sensitive informal portrait, reveals a lighter side to the character of perhaps the most influential British artist of the Nineteenth Century.
Katherine Elizabeth Lewis was born in 1878, the youngest daughter of George and Elizabeth Lewis, close friends of the Burne-Joneses. Sir George Henry Lewis (1833-1911) was probably the most famous solicitor of the Nineteenth Century, involved in every major court-case of the day, including the Tranby-Croft baccarat scandal from which the Prince of Wales required extricating, the Phoenix Park and Balham Mystery murder enquiries and the Overend Bank fraud case. He represented many leading figures in society and the art world,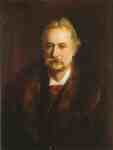 including Sargent (who painted his portrait), Wilde, Alma Tadema, and Whistler who he advised concerning his bankruptcy after the Ruskin libel case. Burne-Jones described Lewis as 'the terror of the aristocracy of England' as he 'knew enough to hang half the Dukes and Ducchesses in the Kingdom' but to those people whom he admired, especially artists, he was the most hospitable of friends and patrons.
As the youngest child, attention was lavished upon Katie and by 1882 when Burne-Jones began this portrait, the four-year old was already headstrong and highly intelligent, with a wicked sense of humour and explosive vitality. She was not a character to be painted as a pretty cherubic child sitting quietly for her portrait in the traditional manner and Burne-Jones was not the painter to paint such a portrait of her. His portraits of young women are far from the conservative Victorian norm, having the same mysterious energy and enigmatic mood of his fanciful pictures, which recalls the work of da Vinci in its dreamlike expression. Portraits of Cecily Horner (private collection), Caroline Fitzgerald (on loan to the Art Gallery of Ontario, Toronto), Dorothy Drew (private collection) and his own daughter Margaret (private collection), have both a power and a fragility, which make them immediately haunting. This portrait is even more unusual as Burne-Jones cast out all traditional notions of how a sitter should be presented and did not paint her sat rather stiffly in a chair facing the spectator as in the portrait of Margaret Burne-Jones, also exhibited at the Grosvenor Gallery in 1887.
Katie is outspread on a couch, the sleeves of her very simple velvet dress are rolled up, her hair is loose and a little tangled and her stocking feet are bare. In short, she is presented the way a little girl really is, her shoes cast aside no doubt so that she could chase the little dog that now lies beside her. An orange is pushed aside as she immerses herself in a book and no doubt when she has finished the page, she will leap up and be off to more mischief elsewhere.
Katie entered Burne-Jones life at a time when he was without the company of children, his son and daughter being to old to be children and too young to present children of their own to play with and adore. Burne-Jones lavished illustrated letters upon Katie in which he told humorous stories and allowed himself to indulge in childish wickedness once more. These letters were republished in 1988 as Letters to Katie from Edward Burne-Jones, and are absolutely charming. The rather precocious Katie enjoyed the attention of a man as famous as Burne-Jones and no doubt played up to her role as Burne-Jones' new object of paternal affection. She invented the name Mr Beak for her artist friend and it was often under this name that he wrote to her. Burne-Jones wrote to his son in 1882 whilst staying with the Lewises, 'Katie has turned wonderfully affectionate towards me and embarrasses me with gifts, and this morning appeared before I got up in my bedroom and insisted with screams on stopping while I got in my tub – and I never had such trouble to get free in all my life… She says tomorrow she will see me in my tub, which fills me with terror.' Katie never lost her energy or her ability to attract genius and later in life when she settled in Broadway in the Cotswolds, her circle of friends included the likes of Osbert Sitwell, Max Beerbohm, Rex Whistler, Rupert Hart-Davis and Margot Asquith and she conducted a flirtation with the great unrequited love of her life Bernard Berenson.
The couch littered with cushions and the drapes behind, recall one of Burne-Jones' most famous images of maidenhood The Sleeping Princess, which was painted as part of the Briar Rose Series at Buscot Park, which portrayed the artist's daughter laid out upon a similar couch. The informality of the reclining pose is strikingly unconventional and makes the portrait so charmingly intimate. The pared down simplicity and the limited colour scheme of gold and dark blackish-blue, adds to the intensity of what is perhaps the most Symbolist of British portraits.
Katie's pose appears to have derived from the figure reading on the right side of an early panel painted for a piano entitled Girls in a Meadow, which was owned by Lewis (Sotheby's, 7th June 1995, lot 146). Another close artist friend of the Lewises' Lawrence Alma-Tadema, often painted figures reclining on their front on marble sofas in very similar attitudes and poses, with one leg crossed over the other, the most famous example being the young man in A Reading from Homer of 1885. Other examples include Goldfish of 1900, Love's Votaries of 1891, A Secret of 1887, The Roses of Heliogabalus of 1888 and the watercolour Counting the Passers-By (Sotheby's, 18th June 1998, lot 32). This correlation may be coincidental, but it does demonstrate how Burne-Jones took a pose, which would not have been regarded as unusual for a fanciful painting, and interpreted a portrait in the same terms. It is interesting to compare Burne-Jones' portrait of Katie with Tadema's portrait of the sitter's sister Miss Alice Lewis of 1884, which is upright, delicate, contained and conventional, with all the demure elegance and constriction which Burne-Jones wanted to avoid.

The story Katie is reading so intently is not just any story, but that of Saint George and the Dragon. The story of Saint George was one close to Burne-Jones' heart as he had painted several pictures of the subject, but perhaps he was also suggesting that Katie was a girl who enjoyed the romance and violence of this sort of story, rather than the simpering tales that little girls were supposed to enjoy. He had used the symbolism of an open illustrated book before in another highly personal portrait, of his sometime mistress Maria Zambaco, who like Katie Lewis was a fiery and passionate young woman. In Burne-Jones' portrait of Zambaco, the book has an illustration of his painting of The Chant d'Amour, suggesting a sexual passion, whereas Katie's interest is absorbed by the idea of chivalry and the gruesome excitement of the slippery dragon. It was Katie's personality which gained her so much admiration as a child. Oscar Wilde wrote from his tour of America in 1882, to Katie's mother, as it had been reported to him that Katie had 'ceased to be the modern Nero and is now angelic, and gives up to Gertie (her sister Gertrude). If she does I no longer adore her: her fascinating villainy touched my artistic soul.' (ed. Rupert Hart-Davis, The Letters of Oscar Wilde, p. 95)
As with many of his projects Burne-Jones did not rush to complete the portrait, which presumably changed as Katie grew. Started when she was four years old, she was eight when it was completed and the portrait was not given to her father for another ten years. When George Lewis finally received Portrait of Katie Lewis, he was beside himself with excitement and vowed that it was exactly like his daughter, although this cannot possibly be true considering the time that had lapsed. Burne-Jones wrote of his amusement at Lewis's reaction to the portrait 'He didn't know what to do to thank me. His wife did it quite well but he couldn't. All he could do was to make me take away as many boxes of cigars as he could lay his hands on. He fidgeted about the room to try and find something to give me that I would like, and couldn't satisfy himself at all.' (ibid Lago, p. 184)
Burne-Jones was not a professional portrait painter and only painted the likenesses of men, women and children in his social circle. The resulting small group of portraits that he made during his life have an intimacy and personality which sets them apart from the majority of Victorian portraits. Portrait of Katie Lewis is an icon of devotion which records an intimate and endearing friendship between two fascinating characters.
(Sothebys.com )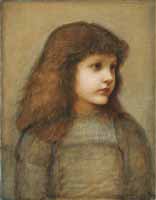 Portrait of Gertie Lewis, half-length
c. 1884
Notes:
Provenance
Given by the artist to the sitter's father, Sir George Lewis, in 1897;
Lady Elizabeth Lewis;
Katherine Lewis, the sitter;
Thence by descent to her neice, Elizabeth Wansbrough;
Sotheby's, 7 June 1995, lo 149;
London, Mallett Gallery;
Private collection

Exhibited
London, Grosvenor Gallery, 1887, no. 235;
London, New Gallery, Exhibition of Works of Sir Edward Burne-Jones, Bart., 1898-9, no. 77;
London, Tate Gallery, Centenary Exhibition of Paintings and Drawings by Sir Edward Burne-Jones, Bart. (1833-1898), 1933, no. 32;
London, Hayward Gallery, Southampton Art Gallery and Birmingham City Art Gallery, Burne-Jones: The Paintings, Graphic and Decorative Work of Sir Edward Burne-Jones, Arts Council of Great Britain, 1975-6, no. 240;
London, Sotheby's, Childhood, loan exhibition, 1988, no.273;
New York, Metroplitan Museum of Art, Birmingham City Art Gallery and Paris, Musee d'Orsay, Edward Burne-Jones; Victorian Artist-Dreamer, 1998-1999, no.118

Bibliography

Malcolm Bell, Sir Edward Burne-Jones, A Record and Review, 1898, p. 64;
Martin Harrison and Bill Waters, Burne-Jones, 1973, pl. 38;
Burne-Jones Talking - His Conversations 1895-1898 Preserved by his Studio Assistant Thomas Rooke, edited by Mary Lago, 1981, pp. 164-5;
Arts Council, Burne-Jones: The Paintings, Graphic and Decorative Work of Sir Edward Burne-Jones, 1975-6, exhibition catalogue by John Christian
Sales

Offering for sale, Sothebys; London, New Bond Street; Sale L03123, lot 29 , Session 1
27 Nov 03 11:00 AM; Estimated 180,000—250,000 GBP