Portrait of Gertie Lewis, half-length
Edward Coley Burne-Jones -- (1833-1898) Pre-Raphaelelite
c. 1884
Oil on canvas
55.2 x 43.4 cm. (21¾ x 17 1/8 in.)
Jpg: Christies
From: Christies
During his later career, particularly in the 1880s when his reputation was at its height, Burne-Jones was often asked to paint portraits. It was not an art form he relished. He had the highest standards, claiming that portraiture should be 'the expression of character and moral quality, not of anything, temporary, fleeting, accidental'. There was also the problem of reconciling the demands of 'likeness' with his own very clearly perceived aesthetic ideal. 'I do not easily get portraiture', he wrote, 'and the perpetual hunt to find in a face what I like, and leave out what mislikes me, is a bad school for it'. Given these two imperatives, it is not surprising that he was often most successful when painting his own family and friends or those who conformed to his particular vision, namely children and young girls.
Katie Lewis (fig.2) was the youngest child of George Lewis, the most famous solicitor of the day, and his wife, Elizabeth. Born in 1833, the same year as Burne-Jones, Lewis came from a Sephardic Jewish family that had probably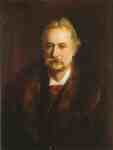 emigrated to England from the Netherlands in the eighteenth century. Excluded from Oxford and Cambridge on account of his religion, he entered University College, London, in 1847, joining his father's firm of Lewis and Lewis three years later. He soon gained a reputation for exceptional shrewdness and ability, making his name by representing the relatives of the poisoned Charles Bravo in the so-called Balham Mystery of 1876; and from then on for some thirty years he was involved in nearly every cause célèbre that came to court in London. Though a genial, kindly man, he was prepared to fight ruthlessly for his clients, drawing on all the resources of his formidable intuition, an unrivalled knowledge of criminal records, and a network of underworld contacts at home and abroad which gave him something of the status of a private detective. His services were particularly sought in connection with society scandals. The strong-room at his offices in Ely Place, Holborn, was a legendary repository of secrets, and he refused to write his memoirs or even to keep a diary, boasting that 'when I die the confidences of London society die with me'. Inevitably he became associated with the Prince of Wales, extricating him from the embarrassing Tranby Croft baccarat affair (1890-91) and advising him in other cases where his mistresses, horse-racing and gambling were involved. Lewis's greatest public service was performed in connection with the Parnell Commission, when he exposed the forger Pigott, and for this Gladstone gave him a knighthood in 1893. In later years - by now a famous figure, whose side-whiskers, eyeglass and perennial fur coat were a gift to the caricaturists - he devoted much of his time to overdue reforms in criminal law, one of his major concerns being the injustices of divorce. At the Coronation of 1902 he was created a baronet by a King who had good reason to be grateful for his services.
Lewis married twice. His first wife died in 1865 and two years later he married Elizabeth Eberstadt, the third of five daughters of Ferdinand Eberstadt of Mannheim. Eleven years younger than her husband, she was blessed with good looks, great strength of character, boundless energy and a genius for friendship. Graham Robertson, who knew her well, described her as 'a strange woman... with a wonderful gift of sympathy and understanding. I would as soon take her opinion of a man as anyone's. (She doesn't know so much about women)'. Elizabeth came from a highly cultured background and was passionately devoted to the arts. As Max Beerbohm wrote when she died, 'good looks, good plays, good pictures and, above all, good music were for her no mere topics of conversation, but vital needs of her nature'. George, whose work often brought him into contact with the stage, shared her aesthetic interests, while his growing success and rapidly expanding income gave her the scope to indulge them.
The Lewises were already entertaining artists during the early years of their marriage, but it was when they moved to 88 Portland Place in 1876 that Elizabeth's career as a hostess took wing, and she was able to launch a salon on the grand scale. A glance at the books in which she kept a record of her dinner guests reveals an astonishing galaxy of talent: Burne-Jones, Whistler, Du Maurier, Alma-Tadema, Sargent, Sullivan, Paderewski, Rubinstein, Sarasate, Joachim, Goerge Henschel, Browning, Henry James, Oscar Wilde, J.M. Barrie, Ellen Terry, Henry Irving and Lillie Langtry - these are only some of the more famous names. Nor were they by any means mere social trophies. Wilde's letters to Elizabeth during his tour of America in 1882 show with what affection and gratitude he regarded the Lewises, and Whistler, who was among the most prickly of men, remained a close friend for many years, George representing him when he was declared bankrupt after his libel action against Ruskin in 1878. Famous musicians and actors gladly took part in the Lewis's entertainments, and Sargent executed portraits of George and Elizabeth.
But by far the closest of these artistic friendships was with Burne-Jones, his wife and children. How and when the two families met is unclear, but they were on intimate terms by the late 1870s and from then on the artist was a frequent visitor to Portland Place and Ashley Cottage, the Lewis's country retreat at Walton-on-Thames. He sought George's help over legal matters and wrote constantly to Elizabeth, relying on her for sympathy and practical advice. Perhaps he was a little in love with her, as he was with so many of his woman friends. Certainly after his death she destroyed many of his letters, considering them too intimate to survive.
George Lewis's eldest child, Alice, was the daughter of his first wife. By Elizabeth he had three children: George, born in 1868, who was to take over the firm and inherit the baronetcy; Gertrude (or Gertie), born in 1871, and Katherine (Katie), born in 1878. These two girls made a striking contrast. Gertie was quiet, gentle and sympathetic, while Kate was alarmingly strong-willed and high-spirited. Oscar Wilde, writing to Elizabeth from Boston in June 1882, called her 'that trenchant critic of life'. In another letter from Chicago he wrote that he had heard 'that she has ceased to be the modern Nero and is now angelic, and gives up to Gertie. If she does I no longer adore her: her fascinating villainy touched my artistic soul'.
Burne-Jones would have agreed with these sentiments. He had recently started sending Katie a series of illustrated letters which are among the most charming and characteristic of their kind and have twice been published under the title Letters to Katie (fig. 3). She had entered his life at an opportune moment, filling what Graham Robertson, in his introduction to the first edition of the letters, called the 'babyless void' between the infancy of his own children and the arrival of his grandchildren, Angela and Denis Mackail in the 1890s.

John Singer Sargent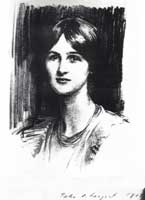 Angela Mackail
(at the time of the drawing she was
Mrs. James Campbell-McInnes,
later Mrs. George Lancelot Thirkell)
1915

He was a man who responded to precocious little girls (Angela Mackail would be another), and Katie for her part no doubt played up to him, being quite shrewd enough to appreciate what it meant to have someone so famous for an admirer. Among the letters is a revealing note that he wrote to his son Philip when he was staying at Ashley Cottage in May 1882. 'Katie has turned wonderfully affectionate to me and embarrasses me with gifts, and this morning appeared before I got up in my bedroom and insisted with screams on stopping while I got into my tub - and I never had such trouble to get free in all my life... She says tomorrow she will see me in my tub, which fills me with terror'. It was Katie who coined the name 'Mr Beak' with which he signs all his letters to her, sometimes in pictorial form.
It is perhaps not surprising that Katie never married. As a child, the baby of her family with men like Burne-Jones and Wilde eager to pay her court, she seems to have been more than a little spoilt, and in later life, rich, witty and self-centred, she could well have deterred suitors. After her father's death in 1911 she continued to live in Portland Place with her mother, to whom she was devoted. Then when Elizabeth died in 1931 she moved to Evelyn Gardens, South Kensington, before settling in the Cotswold village of Broadway during the Second World War. She never lost her vitality and personal magnetism, and continued to attract the talented and famous until the end of her life. Max Beerbohm, Osbert Sitwell, Margot Asquith, Sybil Colefax (who decorated her flat in Evelyn Gardens), Rex Whistler, Desmond MacCarthy and Rupert Hart-Davis were among her devoted friends, and she appears in many memoirs of the time. Her greatest love, however, was Bernard Berenson, with whom she conducted a lively and flirtatious correspondence from 1914 until his death in 1959. She herself died in 1961, leaving her treasured Burne-Jones letters to the British Museum.
During the early 1880s Burne-Jones made several paintings and drawings of Katie Lewis. He also painted a portrait of her elder sister, Gertie, and drew their mother, Elizabeth, although the painting of her projected in 1882 was apparently never carried out. The present portrait is undated but seems to show the sitter at the age of four or five, which would give it a date of about 1884. Katie certainly sat to Burne-Jones that year for a drawing; it was included in the memorial exhibition of his drawings and studies shown at the Burlington Fine Arts Club in 1899 (no.184), and re-appeared in the Arts Council's Burne-Jones Exhibition mounted in 1975 (no.241).
1884 was the year that Burne-Jones scored one of the great successes of his career, the exhibition of King Cophetua and the Beggar Maid (Tate Gallery) at the Grosvenor Gallery. It was also the year that the photograph of him illustrated here (fig.1) was taken. Three years later his Grosvenor exhibits would include another and better known likeness of Katie, sold in these Rooms on 14 June 2000 (fig. 5), showing the sitter lying on her tummy absorbed in a book, with a pekinese curled up on her legs, it is both a more informal image than the present half-length and a more considered performance; indeed, the echoes of Jan Van Eyck's so-called Arnolfini marriage portrait in the National Gallery, a picture that Burne-Jones, like so many Pre-Raphaelites, enormously admired, even give it a certain air of self-conscious contrivance. The sitter herself has obviously grown during the intervening period, while her features perhaps have more of the 'fascinating villainy' that Oscar Wilde had noted. It should be stressed, however, that his comments date from 1882. In other words, for all her apparent wide-eyed innocence, Katie was already the 'trenchant critic of life' and 'modern Nero' when she sat for the present portrait.
(Christies )


Notes:
Provenance
Commissioned by the sitter's parents, and by family descent.

Exhibited
London, Grosvenor Gallery, 1887, no. 235;
London, New Gallery, Exhibition of Works of Sir Edward Burne-Jones, Bart., 1898-9, no. 77;
London, Tate Gallery, Centenary Exhibition of Paintings and Drawings by Sir Edward Burne-Jones, Bart. (1833-1898), 1933, no. 32;
London, Hayward Gallery, Southampton Art Gallery and Birmingham City Art Gallery, Burne-Jones: The Paintings, Graphic and Decorative Work of Sir Edward Burne-Jones, Arts Council of Great Britain, 1975-6, no. 240;
London, Sotheby's, Childhood, loan exhibition, 1988, no.273;
New York, Metroplitan Museum of Art, Birmingham City Art Gallery and Paris, Musee d'Orsay, Edward Burne-Jones; Victorian Artist-Dreamer, 1998-1999, no.118

Bibliography

Malcolm Bell, Sir Edward Burne-Jones, A Record and Review, 1898, p. 64;
Martin Harrison and Bill Waters, Burne-Jones, 1973, pl. 38;
Burne-Jones Talking - His Conversations 1895-1898 Preserved by his Studio Assistant Thomas Rooke, edited by Mary Lago, 1981, pp. 164-5;
Arts Council, Burne-Jones: The Paintings, Graphic and Decorative Work of Sir Edward Burne-Jones, 1975-6, exhibition catalogue by John Christian
Sales

Offering for sale, Christies; London, King Street; Nov 26, 2003; Sale Number 6831, Lot 18; Estimated 60,000 - 80,000 British pounds