Ena and Betty, Daughters of Asher and Mrs. Wertheimer
1901
Tate Gallery, London
Oil on canvas
185.4 x 130.8 cm (73 x 51 1/2 in.)
Presented by the widow and family of Asher Wertheimer in accordance with his wishes 1922
Jpg: Tate Gallery

(click on the image to step closer)
The painting was shown at the Royal Academy in 1901.
Harry Furniss
Illustrator



"The Strong Woman"
The Sketch magazine
May 8, 1901
"Rough Jottings at the Royal Academy"
Both women would be painted again by Sargent independently.


Portrait of Ena Wertheimer: A Vele Gonfie
1905

Betty Wertheimer
1908



Betty Wertheimer Salaman
Date?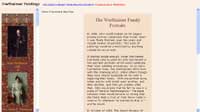 The Wertheimer paintings

Notes:
Special thanks to Philip Rsheph, of London, a friend of the JSS Gallery, for help with this image and information.

Exhibitions
John Singer Sargent, An Exhibition
-- Whitney Museum, NY & The Art Institute of Chicago 1986-1987