The Pavement
John Singer Sargent -- American painter
1898
Collection of Mr. and Mrs. Steven J. Ross
Oil on canvas
53.3 x 72.4 cm (21 x 28 1/2 in.)
Jpg: The Pragmatic Romanticist

(Click on image to Step Closer)

A stunning painting of the interior of San Marco in Venice.
After almost two full decades since his Venetian Studies of 1880 and 1882, Sargent seems to be captivated once again by the dark interiors and play of light of this wonderful city. What is different this time, at least in the case of this painting, is a higher degree of realism which he seems to apply -- the inner laid twelfth century mosaic floor and the reflected shine of the light just blows me away. Sargent is THE Master of light.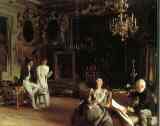 What brought on the revisit of this wonderful period in his art is unknown. Possibly it was the interior painting he did for the Curtis family that year at their luxurious Palazzo Barbaro where he stayed.


| | |
| --- | --- |
| For a long time I didn't know where within the Basilica San Marco (floorplan right) this was, but Philip Resheph, has it pegged exactly -- way to go Philip. | |
Notes:
Exhibitions
John Singer Sargent, An Exhibition
-- Whitney Museum, NY & The Art Institute of Chicago 1986-1987
Forum
As a painter, 'The Pavement' inspires my awe; Sargent has brought this damp, dark scene alive for us through his subtle use of color and perceptive rendering of light. -- Andy Curran