Side Canal in Venice
John Singer Sargent -- American painter
1902
Private collection
watercolor on paper
45.7 x 30.5 cm. (18 x 12 in.)
inscribed with best wishes to . . .Cassels Brown, l.l.
Sargent did numerous paintings of side canals over the course of his verious trips. This one we see is done in a gondola, as many of them were. A stone bridge is in the distance and such a delightful sense of the shimmering water.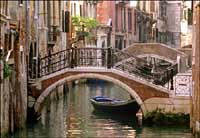 Photos of Side Canals
Note:
Sold at Sotherbys, 20-May-1998; lot 29
See the year in review 1902



Other Paintings of Side Canals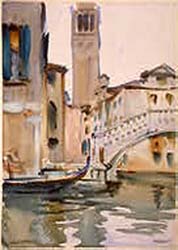 Bridge and Campanile, Venice
Date?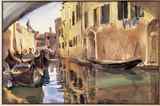 Small Channel in Venice
c. 1907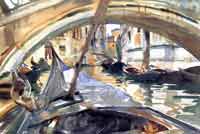 Rio de Santa Maria Formosa
1905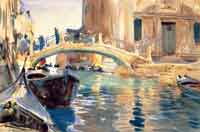 Ponte San Giuseppe di Castello, Venice
c. 1903-1904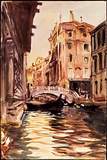 Ponte Della Canonica, Venice
Date?