Charles Sprague Sargent ("Mug")
John Singer Sargent -- American painter 1920
Owner?
Charcoal
Size?
Jpg: arboretum.harvard
Charles Sprague Sargent (1841-1927) A Harvard Grad. Was apponted director of Harvard's Botanic Garden in 1872. In 1873 he was appointed the first director of the Arnold Arboretum.
"The Arnold Arboretum is a research and educational institution. It manages a collection of hardy trees, shrubs, and vines located on 265 acres in Boston, Massachusetts and associated herbarium and library collections. The grounds were planned and designed by the Arboretum's first director,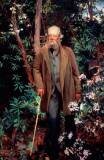 Charles Sprague Sargent, in collaboration with the landscape architect, Frederick Law Olmsted [whom Sargent painted in 1895 --thumbnail] as part of Boston's Emerald Necklace park system Founded in 1872 and named for its benefactor James Arnold, the Arboretum continues to collect woody plants from around the world and offer horticultural education in accordance with its mission.."
(arboretum.harvard)

Notes:
Special thanks to Matt Davies, of Kansas City, a friend of the JSS Gallery, for learning the correct date of this drawing.
Forum:

From: Matt Davies
Matt Da vies@JSSGallery.org
Date: Mon, 7 Feb 2005

Some time ago I purchased a book entitled, "Later Years of the Saturday Club: 1870-1920," by M. A. DeWolfe Howe, published by Houghton Mifflin Company in 1927. This drawing wa sin it and you can see the date is 1920.


From: Diana Johnson
<pedi ob ius@hotmail.com>
Date: Tue, 05 Nov 2002


Hello, Natasha! I was visiting the JSS Virtual Gallery website. An excellent site!

I found John Singer Sargent's Charles Sprague Sargent "Mug". Here's my question: Are these two men related? I searched the genealogy page, and I didn't find Charles Sprague Sargent listed. I'm still curious, though. I thought he might not be listed...maybe he is a distant relative.

Any information (or referrals) you can provide would be much appreciated!

Thanks,
Diana Johnson

From: Natasha

Thanks Diana,

Yes they are related, apparently they're second cousins or more distant still (if my genealogy page is complete -- it might not be).

Two sources I would recommend you looking up. On P. 262 of Stanley Olson's book, he writes: "He [JSS] supported his cousin, Charles Sprague Sargent (1841-1927), the great arboriculturist and director of the Arnold Arboretum, in his campaign to compile a Sargent genealogy. He gave the dinning-room wallpaper to the Sargent family seat in Gloucester, the Sargent House [museum]."