Mrs. Ernest G. Raphael
(Flora Cecilia Sassoon)
John Singer Sargent -- American painter
1905
Private collection
Oil on canvas
163.8 by 114.3 cm (64½ by 45 in.)
signed John S. Sargent, u.l. and dated 1905, u.r.
Jpg: sothebys
(Click on image to Step Closer)
From: Sothebys
The present work depicts Flora Cecilia Sassoon, the daughter of Kate Ezekiel and Reuben Sassoon who married Ernest Raphael, a London financier, in May 1893. It is one of three portraits of the Raphael family Sargent painted between 1904 and 1906. Each depicts the wife of one of the Raphael cousins, descendants of Mr. R. Raphael who founded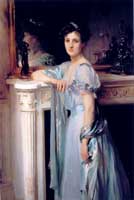 the London branch of the family bank in 1787. According to Elaine Kilmurray, "The studio accessories comprise a French Empire chair with gilt swan's neck arms, a round Empire table, a cast of the Venus Kalipigge (all still in the Ormond family collection) and, in the left background, one leaf of an unidentified screen. Family tradition has it that the pearl, ruby and diamond brooch worn by Mrs. Raphael once belonged to Empress Eugenie, wife of Napoleon III." This painting will be included in the forthcoming J.S. Sargent catalogue raisonné by Richard Ormond and Elaine Kilmurray, in collaboration with Warren Adelson and Elizabeth Oustinoff.
(sothebys)

Provenance:
Ernest G. Raphael (the sitter's husband) Cyril Raphael (his son), 1945 (sold: Christie's, New York, June 3, 1983, lot 194A, illustrated in color) Kennedy Galleries, New York Acquired by the present owners from the above, 1985
Exhibited:
London, England, The New Gallery, Summer Exhibition, April 1905, no. 216 Belfast, Ireland, Corporation Art Gallery, 1906 London, England, The New Gallery, Society of Portrait Painters, 18th Exhibition, 1908 London, England, Royal Academy, Exhibition of Works by the Late John S. Sargent, R.A., Winter Exhibition, January-March 1926, no. 375
Literature:
"B.S.," "The New Gallery," Academy, 68, May 6, 1905, p. 499 Frank Rinder, "The New Gallery," Art Journal, 1905, pp. 182-83 "The New Gallery," Athenaeum, no. 4046, May 13, 1905, p. 599 "The New Gallery," Graphic, May 6, 1905, p. 534 "London Exhibitions," Art Journal, January 1908, p. 29 "Passing Events," Art Journal, November 1908, p. 349 William Howe Downes, John S. Sargent: His Life and Work, Boston, Massachusetts, 1925, p. 217 Evan Charteris, John Sargent, London, England, 1927, p. 272 Charles Merrill Mount, John Singer Sargent: A Biography, New York, 1955, p. 439 David McKibbin, Sargent's Boston, Boston, Massachusetts, Museum of Fine Arts, 1956, p. 118 "Art in America: Talking with Lawrence Fleischman," Assets Magazine, 1, 1984, p. 15, illustrated, also illustrated on the cover Stanley Chapman, Raphael Bicentenary 1787-1987, privately printed, 1987, p. 33

Notes:
Gratitude to Theodore Frangulescu for letting me know about this sale.

Offered but did not sell at Sothebys 22 May 2002; lot 54 (212 lots in this auction); Sale N07802; estimated 700,000—900,000
Offered from the colelction of Milton and Adrienne Porter, Pittsburgh

See the year in review 1905