Fanny Watts
Close-up Image D

(Close-up)

Jpg: Mark Stephenson
From Mark Stephenson (10/8/2008)
It sure is not easy to take a picture that close with a wide-open aperture and slow shutter speed. Some places are a bit blurred and some not.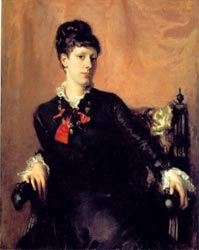 Frances Sherborne Ridley Watts
("Fanny" Watts)
1877

Notes:
Special thanks to Mark Stephenson, a contributing friend of the JSS Gallery, for taking this picture to share with us. See some of Mark's paintings at his website.