Romaine Brooks' Self-Portrait (1923)
Romaine Brooks (1874 - 1970)
American/British painter
1922
National Museum of American Art,
Smithsonian Institution
Oil on canvas
46 1/4 x 26 7/8 in.
Jpg: djuna.nkino.com
Born Beatrice Romaine Goddard in Rome, Italy of wealthy American parents -- her mother (Ella Watermann) divorced from her father (Henry Goddard) before her birth. Though born American she always felt her home was Italy and went by her middle name which was after her birth city. Her family life was bitter and unloved. Her mother was emotionally distant and abusive forbidding her to even draw, though Romaine managed to do it in hiding. Her brother, emotionally unstable suffered from a form of insanity and received most of the attention from her mother -- who probably suffered from mental illness herself.
Romaine found herself raised in boarding schools. At at the age of 21 she sued her mother and won an annuity that allowed her to study in Italy from 1896 to 1899. Afterwards she opened a studio on the island of Capri and married in 1902 to John Ellingham Brooks, who was himself gay. The marriage was of one convenience as he tried to hide from the sort of retribution that befell Oscar Wilde when he went to prison for his homosexuality in '95 -- the marriage lasted only a few months.
After the death of her brother and mother (which came close together in 1902) she inherited a huge fortune which was split between herself and her sister making both independently wealthy. She moved to Paris in 1905 where she established herself with other American expatriates, the European aristocrats, socialites, artists, literary writers, and the gay community.
Between 1911 and 1914 she was romantically involved with the a Russian dancer and actress Ida Rubenstein and painted her repeatedly in a series of Weeping Venus portraits -- one such named La Venus triste.
In 1915 she met the writer Natalie Clifford Barney,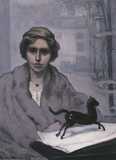 , an American poet and expatriate whom would become her lover and companion for fifty years. Brooks' portrait of Barney called "L'Amazone" is considered to be one of her signature pieces.
Her art was almost strictly of portraiture. During the 1920's she painted many of these "Amazon" portraits depicting women of accomplishment, independence and in many ways defining the image for the upper crust lesbian in a masculinized femininity.
She had a brief love affair with the pianist Renata Borgatti which she painted in 1920 called "Renata Borgatti au Piano". That same year she was made Croix de la Legion d'Honneur by France.
Not needing to sell her work to support herself, many of her paintings were almost harsh in their honesty -- dark, muted colors in grays and stark reality which were greatly influenced by the interesting mix of the painter James McNeill Whistler and her own unhappy childhood.
"My dead mother gets between me and life," she would say in 1958. It would be this inner conflict, probably touched by the same emotional problems her brother and mother suffered, which would tinge her life and work. Never was she more painfully honest than in many of her self portraits and in particularly this self-portrait of 1923 (above) and the one earlier of 1905.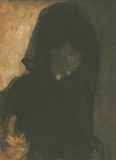 Self-Portrait (ca. 1905)
Her career reached its height in 1925 when she held exhibitions in the three major cities: London, Paris, and New York; but by the 1930's Brooks, who had largely associated herself with the leisure classes, found herself growingly alienated by socialist and communist leanings that underscore the wake of world war I. She left Paris for Italy -- the land where she felt most at home and found herself among Fascist Mussolini and his sympathizers.
As a result, her work fell out of favor to many and was almost completely forgotten. As she grew older she became more reclusive and spent more of her time on drawing than painting. She would write her autobiography "No Pleasant Memories," which was never published. She eventually settled in the south of France where she died in 1970.


A biography, Between Me and Life , by Meryle Secrest, was written shortly after her death.


Notes:
See more paintings at http://djuna.nkino.com/romaine/