Mrs. Violet Hammersley
1907
Philip Wilson Steer -- English Artist
Art Gallery of New South Wales, Sydney
Oil on canvas
214.0 x 153.7 cm
May Grainger Bequest Fund in 1955
jpg: nga.gov.au
From: National Gallery of Australia
The Edwardians: Secrets and Desires
(Kenneth McConkey, 1987)
Violet Hammersley's brother-in-law, Hugh Hammersley, was a wealthy banker whose home was The Grove, Hampstead. Steer often visited The Grove for Sunday afternoon teas held by Mrs. Hugh Hammersley. Sargent had portrayed Mrs. Hugh Hammersley in 1892.
John Singer Sargent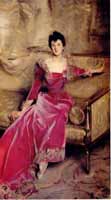 Mrs. Hugh Hammersley
1892-93
(sister-in-law to Violet)
Steer's portrait of Mrs. Violet Hammersley is one which can truly be described as being in "the grand manner," evocative in particular of the works of Gainsborough. In Gainsboough's works, "the figure is often seen against a backdrop of feathery foliage, which opens up to reveal a distant landscape. Efforts were made to achieve the right effect in the picture and Mrs. Hammersley borrowed an unfashionable oyster-coloured satin dress, designed by Worth, in which to pose. This must have provided the closest approximation to Boucher's Mme. de Pompadour (1758, Victoria and Albert Museum, London) upon which the pose was probably based. Mrs. Hammersley recalled that, displeased with the dress's blue satin bows, Steer 'replaced them with white': I sat to him all through the winter and spring and into the summer of 1907, and we had near a hundred sittings. These took place at 109 Cheyne Walk, and I sat on a sofa at the end of his charming drawing room … The sitting lasted about three hours and I do not remember ever being bored for a moment. (quoted in MacColl, 1945)"
(nga.gov.au)



Note:
Special thanks to Matt Davies, of Kansas City, a friend of the JSS Gallery, for sending me a link to the information.