Queen Marie of Rumania
Philip Alexius de Laszlo -- British painter (1869-1937)
1924
Owner?
Oil
Size?
Jpg: Friend of the JSS Gallery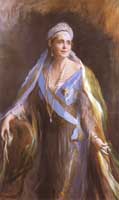 Queen Marie of Roumania
née Princess Marie of Edinburgh
1936
(later portrait)

Notes

"This painting is actually found in old Pond's ads."

De Laszlo painted her several times, and wasn't sure if this was from 1924 or 1936, but Knew it was re-produced in a Pond's ad. It turns out it is the portrait from 1924.
The ad was created by the J. Walter Thompson advertising agency, and according to their Web site it was the first-ever testimonial.