H.M. Queen Marie, the Queen Mother of Roumania
(née Princess Marie of Edinburgh)
Philip Alexius de Laszlo -- British painter (1869-1937)
1936
The Artist family
Oil on canvas
Size?
Jpg: Friend of the JSS Gallery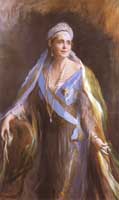 Queen Marie of Roumania
née Princess Marie of Edinburgh
1936
(daughter to Queen Mother)


Notes
Special thanks to Sérgio, a friend of the JSS Gallery, for sending me this image.



image from "A Brush With Grandeur - Philip Alexius de László (1869-1937)" by Paul
Holberton Publishing, London, 2004.