President Theodore Roosevelt
Philip Alexius de Laszlo -- British painter (1869-1937)
1910
The White House, Washington, D.C.?
Oil
Size?
Jpg: www.ku.edu


From: Valerie Colston
(www.artmuseums.com)
Date: found 10/13/2005

Bill Clinton at a recent unveiling of his presidential portrait spoke of the meaning he gleaned from the past presidential portraits. The following transcript reveals the meaning and solace he gleaned from these masterpieces.


John S Sargent



President Theodore Roosevelt
1903

I like John Singer Sargent's portrait of Theodore Roosevelt over there. But there's one over in the Cabinet Room by a man named Laszlo of Theodore Roosevelt [the one above]. I used to look at it all the time when I felt bad and I worried, "Was the war in Bosnia going to come out all right? Would the Kosovar refugees ever be able to go home?"
Because if you look at that picture, Theodore Roosevelt, who was known as our most macho, bully, self-confident president, you look at that picture and you see here's a human being who's scared to death and not sure it's going to come out all right. And he does the right thing, anyway. That's what I saw in that picture.

(Clinton quoted in the Washington Post Online)

* * *


De Laszlo was introduced to Roosevelt in 1908 by Arthur Lee, later Viscount Lee of Fareham. In 1908 de Laszlo and his wife Lucy traveled to the U.S., where he executed portraits of Roosevelt and his wife Edith. This was the subsequent portrait, painted in 1910. A copy of the first one is below: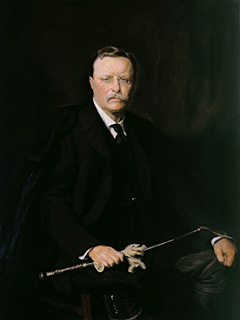 Theodore Roosevelt 1908
(1967) copy after
by Adrian Lamb, after Philip de Laszlo's

Notes