The Execution of Lady Jane Grey
Paul Delaroche (1797 - 1856) French romantic painter
1833
National Portrait Gallery, London
Oil on canvas
246 x 297cm
Jpg: mezzo-mondo
From: H2g2 (Ashley)

The Execution of Lady Jane Grey by Paul Delaroche is one of the most famous paintings in London's National Gallery. Standing at a hefty 246 x 297cm, the painting dominates its display room in the Gallery. If you still can't find it, head for the hordes of crowds who always surround it. The painting's first exhibition was at the Paris Salon of 1834 and was later bequeathed to the British nation in 1902 by Lord Cheylesmore. It is currently hanging in Room 41.

Painted in 1833, the portrait depicts the execution of the young Jane Grey (1537 - 54) who was nominated by her cousin Edward VI to be England's next Protestant monarch. However, the Catholic Mary I, who had a greater claim to the throne (she was Edward's sister and Henry VIII's eldest daughter), had other plans. After reigning for only nine days, Lady Jane was deposed by Mary and was executed the following year. It is the purely tragic figure of Jane that keeps her memory alive in the British conscience - she was young, intelligent and a political pawn whose destiny was out of her control.

The painting shows a blindfolded Lady Jane about to be executed in one of the chambers of the Tower of London. She is being led to the block by Sir John Brydges who was Lieutenant of the Tower at the time. The executioner stands to the right of the painting and two grieving ladies-in-waiting are to the left. One of the women is on her knees, the other has her back to the audience, hands plaintively pressed against the wall in despair. Under the block is a mound of hay ready to soak up the blood of the young executee.
(H2g2)

The painting was first purchased by Anatole N. Demidoff, 1st Prince of San Donato and patron of Delaroche's.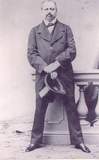 Anatole N. Demidoff, 1st Prince of San Donato (1813-1870)

John Singer Sargent would paint for the 2nd Prince of Donato.

Notes: