Sir John Lavery (1856-1941) -- Irish Painter
It remained as the main image on Irish banknotes until the mid-1970s and from then until 2002 as the watermark.
*****
Speel Demond
Sir John Lavery RA (1856-1941)
The artist John Lavery was born in Belfast, and studied in Scotland at the Glasgow School of Art from about 1874. He was in London from 1879-81 (he studied at Heatherley's School of Art for six months), and later in Paris, where he was influenced by Bastien-Lepage. He then returned to Glasgow, becoming a leading member of informal group of painters known as the Glasgow School (James Guthrie was another member), with work characterised by lack of a storyline, but great energy. Lavery achieved his pinnacle in the 1880s, with exhibitions in Europe and America, and as a leading portraitist, he was chosen to paint the State visit of Queen Victoria to the Glasgow International Exhibition in 1888 - there were some 250 portraits in that picture. From 1890 he visited Morocco frequently, and he changed his British base to London in 1896, where he used a studio belonging to Alfred East. He was elected ARA in 1911, the same year as Shannon, and became a full Academician in 1921 (his diploma work was The Van Dyck Room, Wilton. In the 1930s he returned to Ireland.
During the First World War Lavery was an Official War Artist, and the Imperial War Museum has examples of his work. A portrait of Sybil Sassoon by Lavery is in the Southampton gallery. He donated 39 paintings to what is now the
Ulster Museum, Belfast, Ireland.
*****
SIR JOHN LAVERY
(1856 - 1941) painter
Born Belfast
Exact date of birth uncertain, son of an impoverished publican. His father was drowned when he was three, and his mother died soon after. He was sent to relatives in Scotland and apprenticed to a painter-photographer in Glasgow at seventeen. After studying at the Glasgow School of Art he set up as an independent artist at twenty-three. He then studied in London and Paris.
His first success came with the showing of his Tennis Party at the Royal Academy, London, in 1886; it was much admired and, better still, bought for the Neue Pinakothek in Munich. Two years later he received a commission to paint the state visit of Queen Victoria to the Glasgow Exhibition, and this gave him social connections that brought him valuable commissions for the next fifty years. His career from then on was one of uninterrupted success. Knighted 1918, elected member of the RA 1921; he was also a member of the RHA, Royal Scottish Academy, and the academies of Rome, Antwerp, Milan, Brussels, and Stockholm. He received honorary degrees from QUB and TCD and was made a freeman of Belfast and Dublin. At eighty-four he published his autobiography, The Life of a Painter (1940). Died at Rosenarra House, Kilkenny, 10 January 1941.
Lavery's works are on exhibition in galleries all over the world. He followed the movement for independence with sympathetic interest and painted dramatic pictures of the trial of Sir Roger Casement and of the lying in state of Terence MacSwiney. His conversation pieces showed famous contemporaries, such as George Moore and Ramsay MacDonald, at ease in their homes and, with his portraits, are of great historical interest. The Government commissioned his portrait of Hazel Lavery, his American-born wife, which was reproduced on banknotes from 1928.
Source: A Dictionary of Irish Biography, Henry Boylan (ed.), Gill & Macmillan, Dublin, 1998.
http://www.rte.ie/millennia/people/laveryjohn.html
****
Galway Advertiser August 22 2002
They lived in a splendid house at 15Cadogan Gardens, in SouthKensington, and when they were askedin October 1921 to lend their home tothe Irish delegation in London to nego-tiate the Anglo-Irish Treaty, they gladlyagreed. There was tough talk, threats,frustration and some disappointmentsduring the three months of negotiation,but on December 6 the Treaty wassigned. Arthur Griffth led the Irish del-egation, which included MichaelCollins who once had a £5,000 rewardon his head for his ruthless killing ofBritish agents. His personal bodyguard, EmmetDalton, a distinguished soldier in WorldWar 1, was worried. He felt Collins was"too exposed to the enemy" and hadpurchased an aircraft which was kept atCroyden, to speed Collins away shouldthe talks break down. But it wasn'tBritish agents who got him in the endbut society ladies. For a man who livedthe previous few years on the run andin constant danger, Collins may wellhave been seduced by the attentions ofLondon's most attractive and influentialwomen. There is written evidence that he had anaffair with Lady Edith Londonderry, afamous political hostess, and HazelLavery, who openly admired Collins.On the night he signed the Treaty he isreputed to have phoned her and said; "Ihave signed your damn Treaty." But hewrote prophetically to another friend;"Will anyone be satisfied at the bar-gain? Will anyone? I tell you this, Ihave signed my own death warrant."
****

***
crawfordartgallery
John Lavery, born in Belfast into a Catholic family, was orphaned early in life. He moved to Glasgow and worked as a photographer.s assistant, before taking art classes at the Haldene Academy. In 1881 he attended the Academie Julian in Paris, and, on a visit to Grez three years later, was influenced by the work of Frank O'Meara and other 'plein air' painters who worked there. He subsequently painted in Scotland and England as well as Ireland, but his plein air work is mainly associated with France and with Tangiers, where he bought a house. In England, his fashionable portrait practice thrived, particularly after he painted the British royal family in 1913. Lavery was an official war artist for Britain÷s Royal Navy during the First World War. He was a highly versatile artist and moved easily in the highest echelons of society, both in Britain and on the Continent.
On a painting trip to Brittany in 1904, Lavery, a widower since 1891, met Hazel Martyn (1887-1935), the daughter of a Chicago industrialist of Irish extraction. She was then engaged to a Canadian doctor, who died shortly after their marriage. In 1909 she and Lavery married. Hazel, a beautiful and fashionable woman who herself liked to draw and paint, became Lavery's most frequent sitter. Her well known face and the characteristic red, purple and gold colour harmonies make The Red Rose immediately recognisable as a portrait of her. However, the canvas was begun in 1892 as a portrait of Mrs William Burrell. In 1912, it was transformed into a portrait of Sarah Bernhardt, and in the early twenties it was, for a brief period, a portrait of Viscountess Curzon.
Hazel Lavery's face became well known to Irish people because it was her engraved portrait which graced the Irish pound note until the 1970s. The Irish Free State government invited Lavery to paint his wife's portrait for the currency as a token of gratitude for the help he and Hazel - by then Sir John and Lady Lavery - gave to the Irish delegation during the negotiations for the Anglo-Irish Treaty in London in 1921. The Laverys lent their splendid house at Cromwell Place in South Kensington to the Irish delegation, led by Michael Collins. It was the acceptance of the terms of that Treaty by Collins and his delegation that led to the subsequent Civil War in Ireland.
Vera Ryan
****
Irish painter. The son of an unsuccessful publican, he was orphaned at the age of three and was brought up by relatives, initially in the north of Ireland and then in Ayrshire. He became an apprentice retoucher to a Glasgow photographer and attended the Haldane Academy, Glasgow, in the 1870s. After spending a winter term at Heatherley's School of Art, London, he moved in 1881 to Paris where he studied at the Académie Julian. At this time he was influenced by Jules Bastien-Lepage and painted in a plein-air naturalist style (e.g. Under the Cherry Tree, 1884; Belfast, Ulster Mus.), working at the village of Grez-sur-Loing with an international community of artists.
After Lavery's return to Glasgow in 1885, renderings of the urban middle class replaced his earlier interest in peasant subject-matter. With such important works as the Tennis Party (1885; Aberdeen, A.G.), Lavery became one of the leaders of the Glasgow boys, a group of young painters committed to the ideals of naturalism. In 1888, the year of Queen Victoria's Jubilee, Lavery was selected to depict the Queen's visit to the International Exhibition in Glasgow (1888; Aberdeen, A.G.). He obtained a sitting from the Queen and thereafter his position as the premier young portraitist of his generation was assured. During these years he became friendly with Whistler; Lavery's full-length figure-pieces, such as Mrs Fitzroy Bell (1894; Glasgow, A.G. & Mus.; see Dress, fig. 55), have parallels with those of Whistler. Lavery moved to London in 1896. He became vice-president of the International Society, which was set up in 1897 to hold regular international exhibitions in London, under the successive presidencies of Whistler and Rodin.
Lavery's work was favoured in Paris, Rome and Berlin rather than in London. He exhibited at all the major European salons and secessions and in the early 20th century two of his paintings, Father and Daughter (1898) and Spring (1904; both Paris, Mus. d'Orsay), were acquired for the Louvre. During these years he travelled widely and established a studio at Tangier. He was honoured with a one-man exhibition at the Venice Biennale in 1910 and it was only after this that he was elected ARA (1911). Not having shown at the Royal Academy since 1896, he exhibited on his return there an imposing canvas entitled The Amazon (Belfast, Ulster Mus.). He was elected RA in 1921.
In 1910 he married Hazel Martyn Trudeau, the daughter of a Chicago industrialist. She became a central figure in London society and Lavery often claimed his success as a portraitist was in part due to her social accomplishments. In 1912 he was commissioned by the publisher Hugh Spottiswoode to paint The King, The Queen, The Prince of Wales, The Princess Mary, Buckingham Palace, 1913 for donation to the National Portrait Gallery, London.
When World War I broke out Lavery began recording scenes at military camps, naval bases and munitions factories. He was appointed Official War Artist in 1917, assigned to the Royal Navy; one of his duties was to paint the surrender of the German Fleet at Rosyth (Fife) in 1918. At the end of the war Lavery became involved in Irish affairs, painting his friend, Michael Collins, the negotiator of the Irish Treaty, on his deathbed (1922; Dublin, Hugh Lane Mun. Gal.).
Lavery travelled widely between World War I and World War II, producing many 'portrait interiors' of the rich and famous, caught in a mood of elegant relaxation. His sitters included George Bernard Shaw (1927; Dublin, Hugh Lane Mun. Gal.) and J. M. Barrie (1936; Edinburgh, N.P.G.). He also painted horse-racing, swimming-pool and casino subjects. Through the art dealer Joseph Duveen, he attained a formidable reputation in the United States. After his wife's death in 1935, Lavery went to Hollywood with the idea of painting portraits of the 'stars'; however, the only result was a self-portrait with Shirley Temple (untraced). At the outbreak of World War II, he retreated to Kilkenny.
Bibliography
W. Shaw-Sparrow: John Lavery and his Work (London, 1911)
Sir John Lavery R.A. 1856–1941 (exh. cat. by K. McConkey, Edinburgh, F. A. Soc.; London, F. A. Soc.; Belfast, Ulster Mus.; Dublin, N.G.; 1984–5)
K. McConkey: Sir John Lavery: Portrait of an Artist (Belfast, 1987)
KENNETH McCONKEY
*****
Lavery became a stylish portrait painter, especially of women, and like Whistler had a preference for dark colours and elongated proportions, but with a sharper sense of fashion. He began his career in Glasgow, where with Guthrie he belonged to a group of artists known as the 'Glasgow Boys'. They followed a French interest in painting out of doors. Lavery often began a new subject with a very small study, painted directly in front of his model.
(Tate Gallery)
Note:

see also SIR JOHN LAVERY & THE GLASGOW INTERN EXHN 1888 Fine Art Society

1988)
SIR JOHN LAVERY & HIS WORK (Sparrow)
JOHN LAVERY - THE EARLY CAREER 1180-95 (Scruton)
SIR JOHN LAVERY & THE 1888 INTERNL EXHIBITION (S K Hunter),

John Singer Sargent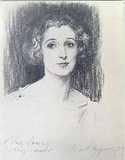 Hazel Lady Lavery
1923