Phaethon
Gustave Moreau (1826-1898) -- French Painter
1878-79
Musée du Louvre, Paris.
Watercolor over graphite on paper
Jpg: CGFA
(click on image to Step Closer)
Gustave Moreau (1826-1898) was a French Symbolist painter. He's known for his mythological subjects in a highly romantic style. He is also known for the use of Oriental color harmonies within some of his work. In 1892 he became a professor at the Ecole des Beaux-Arts and proved to be a great teacher. His pupils included Marquet and Matisse, but his favorite was Rouault, who became the first curator of the Moreau Museum in Paris (which was his former home).
For discussion of Phaethon, see John Singer Sargent's Phaethon.

Other Moreau Paintings: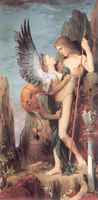 Oedipus and the Sphinx
Gustave Moreau
Natasha
Notes: