Diana of the Tower (cast)
Augustus Saint-Gaudens -
American sculpture (1848-1907)
Above conceived 1892/1893, cast 1899
National Gallery of Art, Washington D.C.
bronze
96.6 x 48.5 x 28.9 cm (38 x 19 1/8 x 11 3/8 in.)
Pepita Milmore Memorial Fund
1975.12.11891
Jpg: NGA
From: The Shaw Memorial Project NGA
Diana of the Tower is a reduced version of a huge statue that Augustus Saint-Gaudens created to top the tower of Madison Square Gardens [see right], an athletic arena in New York City designed by the architect Stanford White. The classical goddess of the hunt not only proclaimed that the building was devoted to sports but also rotated so that her bow and arrow acted as a weather vane.
Hoisted onto the tower in October 1891, the first Diana was an eighteen-feet nude colossus serving as a "beacon in the night sky" when electric spotlights gleamed over its gilded surface. The highest point in Manhattan, its head rose 347 feet above the street; however, both the sculptor and the architect felt it looked too big for its site. So, in September 1892, Saint-Gaudens replaced it with a similar statue of gilded, hollow copper -- this time, "only" thirteen feet tall!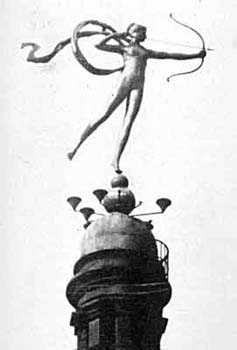 Second Version "Diana of the Tower"
JPG: Saint-Gaudens National Historic Site
(The first version has been lost; the second was acquired by the Philadelphia Museum of Art after White's arena was demolished in 1925.)
Saint-Gaudens made several smaller variants in bronze of the second Diana of the Tower. Some of these statuettes, cast at a foundry in Paris in 1899, stand upon tripod pedestals supported by griffins, mythical hybrids of lions and eagles, symbolizing strength.
(The Shaw Memorial Project NGA)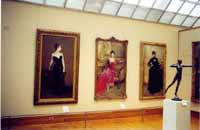 See a copy as displayed at the Met
2002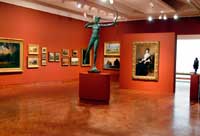 Photo: Princeton American Wing

Notes
A second version, redesigned by Saint-Gaudens, made the figure more delicate in pose and in features. The figure's position was altered to give a different thrust to the body. Thirteen feet high, this version was placed on the Madison Square Tower in November 1893. This figure is now on permanent exhibition in the Philadelphia Museum of Art. (.sgnhs.org)