John Singer Sargent -- Letters (Frontpage)

Letter from Sargent to Violet Paget (Vernon Lee)
Early 1884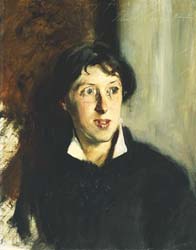 Vernon Lee

41 Boulevard Berthier
[Paris]

The spirit moves me to write to you, irresistably, illegibly (1).

On getting back here I had to plunge at once into a lot of work that was awaiting me and I have done nothing as of yet of the two or three notions that i brought back in my head from Italy this last time. When I have a chance I shall certainly do a sort of pastiche of that figure from the fresco in Siena Cathedral.

And have you written either of those stories? You must warn me when they are to appear as indeed anything else of yours s.v.p.

Henry James is here who thinks you have "remarkable ability". I remember you asserting positively that he had "style" which I cannot be convinced of. His last book, a recueil of essays I shall send you unless you can get it at [Vi . . . . . .x]. "Portraits of Places". He is certainly very intelligent, nothing escapes him but tell me if you don't find it disagreeable reading (2).

Will you be in England next Summer? If so I shall see you therefor I am to paint several portraits in your country and three ugly young women at Sheffield, dingy hole. By the way one of them is in Florence so zitto [keep quiet!] It will take me probably from the 15th July to 15th September (3).

Sheffield dingy hole is near Liverpool so I shall see Dante Rossettie.

Mrs. Stillman will I hope help me to see the others in London. It would be very pleasant being in London with you, Mrs. Robinson & Mrs. Stillman. Is there any chance?

I am going to run over there in a month for a short time, to get Emily who is still agitating the Fernians (4) and to see the Reynolds exhibition.

Everybody is well in Nice (5).

Please remember me to the Lemons and Villaris and HeathWilson, and most affectionately to your people.

Your friend

John S. Sargent

(Letter from Sargent to Violet Paget Vernon Lee Early 1884, Colby Library, Main, quoted in "The Misses Vickers, The Centenary of the Painting"; James Hamilton, Sheffield Arts Department; Septmeber 28, 1984, P.53)
Footnotes
(1)
The illegibility of John's handwriting is notorious – want to try and read one?



(2)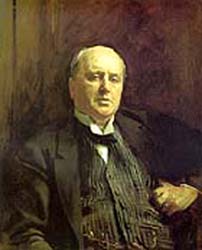 Henry James
Sargent having grown up all over Europe was much more found of French literature than anything English and I don't think he particularly cared much for Henry James' work, though unquestionably they would grow to become great friends and as fellow expatriates "who had made good across the pond" only added to their bond of friendship. He may have developed a taste for James' books later, though I doubt it. First of all, Sargent didn't particular care for english authors. Secondly, if he liked writing " . . .that put before him definite images and portraits," as Chartris states in his biography, then James was often the antithesis of doing this. James was known for his psychological novels and spent most of this time developing characters, dialogue and inner character monologues. Very little time with is spent with descriptions of the surroundings of his characters.
I recently read James' "The Ambassadors" with a keen sense of following James' construction of the book. While his expatriates American characters are traveling throughout the various cities in Europe, he tells you where they are by name and location, but he really doesn't give you a sense of any of the places. The characters could really be in any city anywhere. In Fairness to James, that was really secondary to what he was trying to do, but I think it's revealing as to why Sargent might not have cared much for it. Sargent was a very visual person -- no surprise to you, I'm sure.
It's my guess that James never knew he didn't care for his work. It's purely speculation on my part, but it would fit Sargent's personality to be polite and supportive of his friends. When Charteris describes Sargent's taste in reading (which is the best account from anyone that knew him) the absence of mentioning James, when they were such good friends, seems to me to be a revealing omission:
Sargent read widely. In English prose, which he knew less well than French, he admired particularly Sir Thomas Browne, Smollet, Sterne, Swift, Defoe, Gibbon, Peter Doughty's "Arabia Deserta", Samuel Butler. He seldom read English novels, and he could never appreciate Dickens. He preferred French poetry to English. He had read and remembered a great deal of Shakespeare and Shelly, but he cared little for Keats, still less for Pope: on the latter point he was very positive. I never heard of him reading modern English verse, with the exception of Flecker, whose "Hassan" certainly gave him pleasure.

War poetry he refused to read, with the exception of Julian Grenfell's "Into Battle," of which he wrote: "These verses are very fine and moving – there is something unusual in the sensation conveyed of all his perceptions and all his sympathies being keyed up in a high pitch by something enormous that is behind the scenes." [Editor --somebody look that poem up for me and e-mail please] As a rule what he liked in books was travel, adventure and strange personal experience.

He loved writing that put before him definite images and portraits, such as Beckford's, Gobineau's and St. Simon's, and the wit and finish of Max Beerbohm's essay delighted him.
(Hon. Evan Charteris, John Sargent, Benjamon Blom, Inc. New York 1972, P.321)
When Sargent died in bed April 14, 1925, the next morning they found an open book of Voltaire beside him (see 1925).


(3)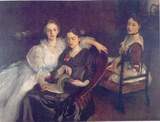 The three ugly women was in reference to the painting "The Misses Vickers". Both photographs of the women and Sargent's painting shows nothing of the sort. His reference should be taken lightly since he was always abasing (self-abasing mostly, but also towards his work) and there is no evidence he had ever met the girls. We also know Vernon Lee liked Sargent (to what degree is unknown since her sexuality seems to be in question). Sargent might have figured she would enjoy hearing him speak of the Misses Vickers (possible rivals?) in that way.



(4)
Emily, Sargent's sister, was in Ireland



(5)
Sargent's parents often stayed in Nice through the winter.


























Updated 4/16/2002