Colonnade Stairway Decorations
Facing front and Library,
looking straight up

Museum of Fine Arts, Boston
Ruth and Carl J. Shapiro Rotunda and Colonnade
Photo
Jpg: sargentmurals.bpl.org
The visitor is approximately in the middle of the Grand Stairs, facing down and we are looking straight up. At the top of the image is the Rotunda.
The bottom of the photo is towards the museum front entrance and second level Library. The mural at the bottom, however, is not flat to the ceiling but vertical on a wall. This photograph is taken with a wide angle lens. This mural, called "The Danaïdes," is in a lunette (a semi-circled/arched area) which decorates the entrance to the library. The stairway is actually an open atrium type space that encompasses two floors.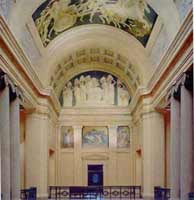 Museum Library Entrance


If we were to continue down the stairs and then turn around to face back up and in, we would see the Grand Stairway as shown below.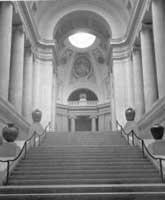 Grand Stairway
Looking up towards the Rotunda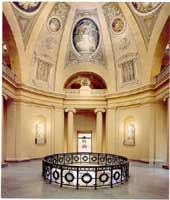 The Rotunda
From the top of the Grand Stairway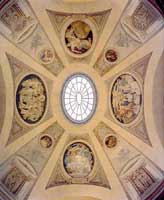 Rodunda Dome Decorations
Looking straight up

Museum of Fine Arts, Boston
Notes: