Huntington Ave location
Museum of Fine Arts, Boston
Photo current location
Jpg: MFA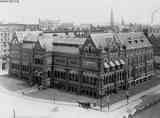 MFA at Copley Square
1st site for Museum

The museum was founded in 1870 with its first building opening in 1876 on Copley Square (thumbnail). In two decades, the museum had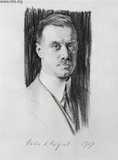 outgrown the land which the building sat. Guy Lowell was commissioned to design a neo-classical building on a much larger site to replace the original Gothic revival structure and accommodate future expansions.
By 1909, the front was completed on Huntington Avenue. Additional expansions nearly doubled the size by 1915.
In 1916, the Trustees of the museum approached John Singer Sargent about decorating the Rotunda with three simple paintings. Sargent suggested a much grander proposal and the Trustees agreed.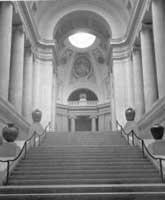 Grand Stairway
Looking up towards the Rotunda

Museum of Fine Arts, Boston
Reset Frames

Notes:
Special thanks to Todd Milligan of Oakville, ON, Canada, a friend of the JSS Gallery, who has been so helpful in pulling these pages together.